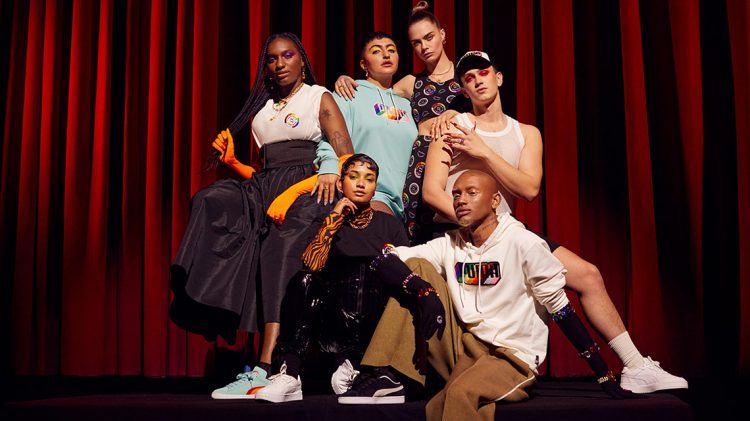 Get the Look:
PUMA TOGETHER FOREVER
Let's Lead with Love
June 16, 2022
Let's Lead with Love
June 16, 2022
Drumroll please: PUMA's TOGETHER FOREVER Pride collection is a
true celebration of love, acceptance and community.
Splashed out in vibrant graphics and design details that deliver a feeling of togetherness and team spirit, the capsule honours self-expression and authenticity.
Today we've styled two totally fluid looks that incorporate items from the new line and this love.
The Shoes
The line is all-inclusive and gender-neutral ─ perfect for anyone and everyone who feels love and pride and is seeking a connection with a community. Unisex footwear offerings include the versatile Leadcat slides (styled in the first outfit), and the classic Suede low-top sneaker in a bright new tone set the stage for the second look.
Outfit #1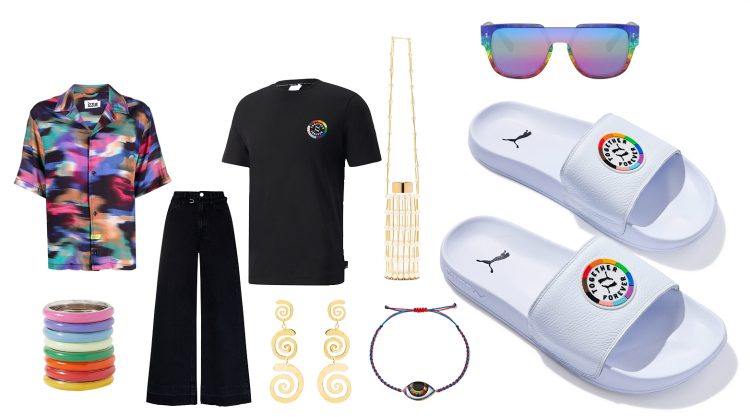 The Outfit
A blossoming partnership between global ambassador Cara Delevinge and queer artist Carra Sykes, this uplifting collection offers an array of hoodies, tees, shorts and more, all featuring details specially designed by Sykes. Drawing inspo from the crests and flags of a sports team uniform, the capsule aims to remind you that you don't have to stand alone… you always have your teammates backing you up.
The first look begins with the essential black tee from the collection, with a neutral elegance completed by a vivid rainbow graphic on the chest. Then we have some baggy high-rise jeans giving a contemporary twist to the timelessness of a good pair of denim. Flared at the leg but with a cinched waist they provide an elongated silhouette ─ the classic tee can be tucked in or worn long overtop. Finally, connect all the dots with a flamboyant short-sleeved button-up that shows off a gorgeously out-there graphic print. The colours are giving rainbow nouveau and offer a subtle way to rep your pride every single day.
The second look leans into sportstyle with a fashionable flair. Stylish as can be, comfy black shorts are an essential and effortless wardrobe addition and form the base of the look. With handy pockets and an adjustable waistband plus that rainbow-coloured badge, it somehow grounds and brightens up the look at the same time. Above, the patterned bralette from the line matches and stands out. With a daring cropped cut and a head-turning all-over print featuring a rainbow icon and iconic "TOGETHER FOREVER" wording, it keeps everything cohesive without being too matchy-match. Then a crisp single-breasted waistcoat in ivory nods to the tailoring trend on the runways this summer and adds modern refinement and a punch of structure to the slouchier layers. Throw on a hoodie and you're good to go ─ especially if it's this classic one from the series in a delightful and refreshing aqua shade that matches the Suedes.
Outfit #2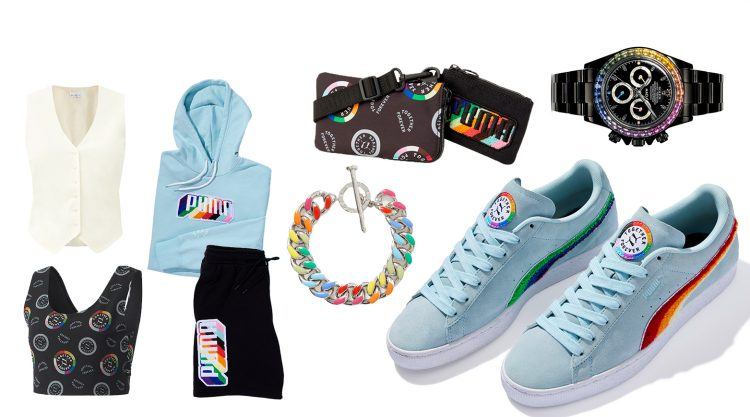 The Accessories
Outfit numero uno goes for flamboyant and expressive. A pair of spiral gold earrings introduce movement and flow from head to toe and match the gold-tone pearl-embellished water bottle bag (which may or may not be just this side of extra). A set of enamel and silver unicorn rings in all the shades of the rainbow adorn the fingers while iridescent rainbow shades shift perspective on the world just a tad. A gold and macrame 'evil eye' bracelet brings some protection to the good vibes.
Our second outfit is slightly more grounded, though no less stylish. First, we have the Pride Multi Pouch serving up passion and practicality in equal measure. With an adjustable shoulder strap and two pouches, it is totally versatile, perfect for storing and revelling in the vibrant Pride atmosphere. Then a silver and enamel unicorn bracelet in rainbow tones drives home the proud message, while a twinkling rainbow and sapphire watch makes a loud statement on your other wrist.
Pride is a celebration that recognizes over half a century of purposeful strides toward equity and community.
Step up and stand up for love, acceptance and your community with the latest TOGETHER FOREVER collection.
This year,
PUMA will donate 20% of the collection proceeds, with a minimum of $250,000, to benefit GLAAD,

an organization helping to ensure fair, accurate, and inclusive representations of the LGBTQIA+ community in media and entertainment.
"Pride is not as simple as just being proud, it's a step you take every day to love yourself, to love your community, to accept others, to lead with love."