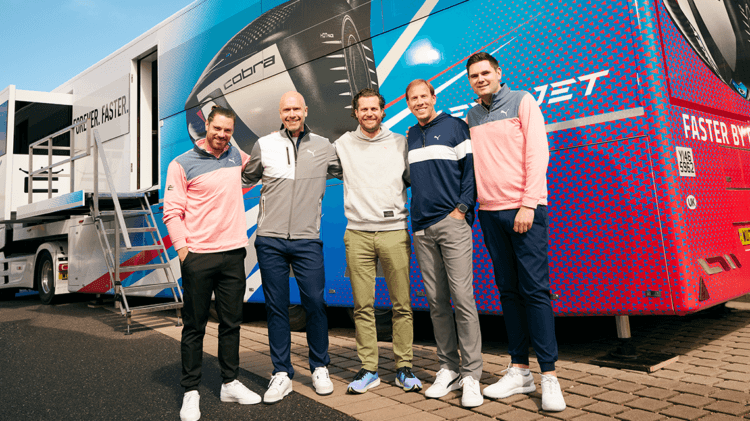 COBRA PUMA GOLF GOES ON TOUR
WE SUPPORT OUR GOLF ATHLETES WITH OUR NEW TOUR TRUCK
May 2, 2023
WE SUPPORT OUR GOLF ATHLETES WITH OUR NEW TOUR TRUCK
May 2, 2023
Today, we celebrate the launch of our state-of-the-art Tour Truck to accompany our Golf Athletes around Europe on their Tournaments. The new Tour Truck is fully equipped with all the cutting-edge gear required to service the needs of players competing on the various European Tours. It features a state of the art work shop, armed with industry leading machinery, to cater to the needs of our athletes and their games.
Last week, the Truck stopped by our Herzo HQ on its way to the first Tour Stop in Rome. Of course, our CEO Arne Freundt took the time to check out the Golf Tour Truck and was shown all its areas including the state of the art work shop and its machinery.
Maximising Space
The purpose-built truck has three main areas maximizing the internal space with a main atrium, workshop, and finally the players' lounge. The atrium area is decked out to give players and support staff a space to sit and grab a coffee or soft drink while waiting for clubs to be built or adjusted.
The workshop is armed with industry leading machinery, to cater to the needs of our athletes, to build or adjust their clubs in order to step up their game.
"This is an important investment for our company in our ambition to continue to gain market share. The new Tour Truck and the first-class support for our athletes are part of our overall strategy to strengthen our position, increase our visibility and help more golfers to enjoy the game."
The players lounge goes a step further, offering athletes a place to relax away from the course, with all the modern amenities including plush couches, TVs, phone chargers, a sound system, Wi-Fi, video games, and more.
"Our number one priority in sports marketing is to ensure we offer our athletes the best service possible. The new Tour truck and all of the technology it provides means we can continue to ensure our athletes are armed with everything they need to go out and perform at the highest level."
2023 will continue to be a busy year for our COBRA PUMA Golf athletes in Europe with upwards of 18 events being supported across a multitude of Tours and countries. Debuting in Rome Italy for the Italian Open, the new Tour truck will also travel through Holland, Germany, Sweden, Denmark, and a number of other mainland European venues throughout the season, servicing players at every stop along the way.