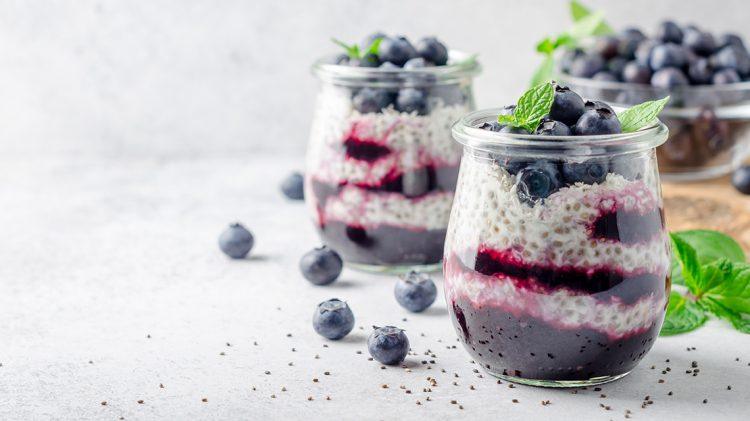 Chia Me Up!
A trend to stay - a treat to love!
November 6, 2018
A trend to stay - a treat to love!
November 6, 2018
Educated guess: the most popular reason for failing low-carb diets is the craving for sweets and snacks. The solution is chia! However these ancient Aztec seeds are still discussed for their benefits as a superfood and a tool for weight loss, but one thing is for sure: this chia pudding recipe is an easy way to fight the temptation of sugary treats. Get started and chia yourself up!
What you need: (for 1 serving)
Only six ingredients will do for the world's healthiest sweet treat. Besides, all ingredients (except milk and fresh berries) are almost non-perishable, so if you keep a little supply of walnuts and grated coconut chia pudding is always available!
3 tablespoons chia seeds
1 cup (200ml) of milk or coconut milk
1 teaspoon grated coconut
1 handful fresh wild berries (frozen berries are a sustainable alternative)
2 teaspoons chopped walnuts
1 teaspoon honey or stevia
BTW: The base is always chia seeds and milk (whatever kind you prefer). You can vary all additional ingredients depending on your taste: exchange walnuts by almonds or add some cocoa or vanilla. The chia world is yours to explore!
How to prepare
Add 3 tablespoons of chia to 200 ml of milk or coconut milk and chill in refrigerator for about 6 hours (if you enjoy chia pudding for breakfast just soak the chia overnight). The portion might look very small now but consider it will grow to double size!
After six hours the texture of the pudding is supposed to be jellylike. Stir honey or stevia, a sugarfree sweetener, into the pudding. Add some grated coconut, fresh wild berries to it and don't forget the chopped walnuts because they are a great energy supplier.
Drink a glass of water while you enjoy your chia – it will help your stomach to easily digest a power breakfast like chia pudding!
Nutritional Value per Serving
3 tblspoons chia: 210 calories (120 come from fat, another 28 are pure protein)
Other ingredients: approx. 150 calories due to milk, berries, nuts and cocoa grain
Image by losinstantes/iStock