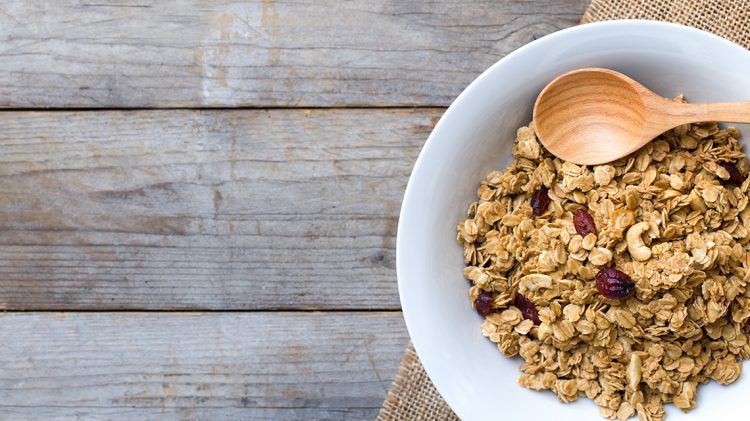 Granola
Goodness
Ditch store-bought for homemade
March 18, 2018
Ditch store-bought for homemade
March 18, 2018
Nothing to kick-start your day like a
good old bowl of granola

. It's crunchy, satisfying and full of delicious ingredients. Our recommendation is to make this on a Sunday so you'll have

a healthy, nutritional breakfast

on hand for the rest of the week. Just add your favourite choice of dairy or non-dairy milk and you're good to go.
WHAT YOU NEED (ABOUT 10 SERVINGS):
500 g rolled oats
A pinch of sea salt
50 g shredded coconut
100 g chopped walnuts, cashews or almonds
1 tsp. cinnamon
5 tbsp. olive oil
5 tbsp. maple syrup
100 g dried cranberries or any other fruit of your choice
HOW TO PREPARE:
Preheat oven to 150 degrees C.
Combine oats, salt, coconut, nuts and cinnamon in a bowl. Mix olive oil and maple syrup in separate bowl. Add mixture to the dry ingredients and mix well.
Place the mixture on a baking sheet or big enough baking dish and bake for 25-30 minutes. Stir the mixture about every 7-10 minutes. Remove from oven, let it cool and add the dried fruit. Store in an airtight container for up to a month. Serve with your favourite choice of (non-dairy) milk, yoghurt or eat it as a healthy snack.
Nutritional Value per Serving: 
366 calories, 7 g protein, 45 g carbohydrates, 20 g fat
Image by Tatomm/iStock