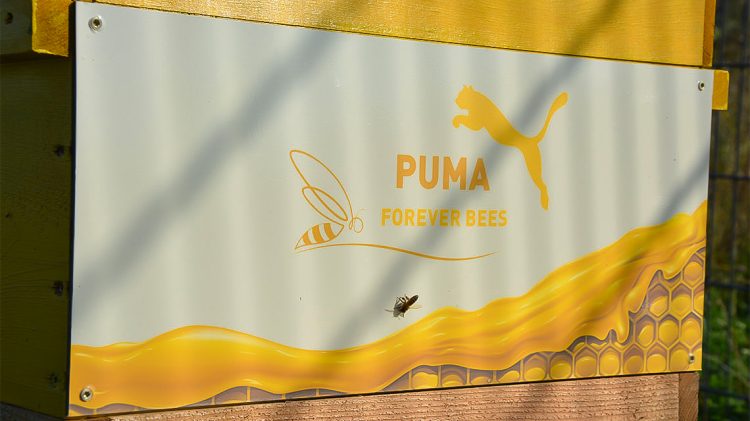 Bees in
Geiselwind!
Bees arrive to make honey on the green roof of our Geiselwind distribution center
September 2, 2021
Bees arrive to make honey on the green roof of our Geiselwind distribution center
September 2, 2021
Our distribution center in Geiselwind received 60,000 new employees on Wednesday… very small ones. Four bee colonies will make honey from the nectar they collect around the center and on its green roof of 14,000 square meters.
Sustainability was an important part of the development of the Geiselwind distribution center, which started operations earlier this year. Apart from the large green roof, the center is also powered by green energy and it has a rain water utilization system. With all of these measures, PUMA aims to receive a LEED-Gold certification, a standard given to very sustainable buildings.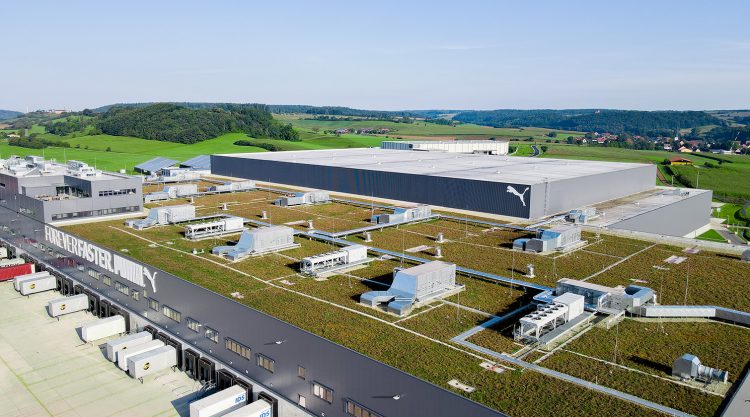 The bees will be looked after by professional beekeeper Matthias Thoma, who has many years of experience in caring for these insects. Once the bee hives have been placed in a certain spot, they can no longer be moved, because the bees get used to their new surroundings. They will now stay in front of the distribution center, overlooking the surrounding hills, and get ready for winter. During that time, we will not be able to harvest any honey, as the bees will need it to survive the cold period. The first PUMA-Geiselwind honey will, depending on the weather, be available in early summer 2022.
As soon as beekeeper Matthias Thoma opened the beehives, a loud buzzing filled the air and thousands of bees took a look outside of their new homes, branded with the logos of PUMA and our logistics partner BLG. "Thirty years ago, we wouldn't have been able to be so relaxed about this, as the bees were much more aggressive back then," Thoma, who says he never wears any protective clothing, explained. "Nowadays, we pick a type of bee with very docile characteristics."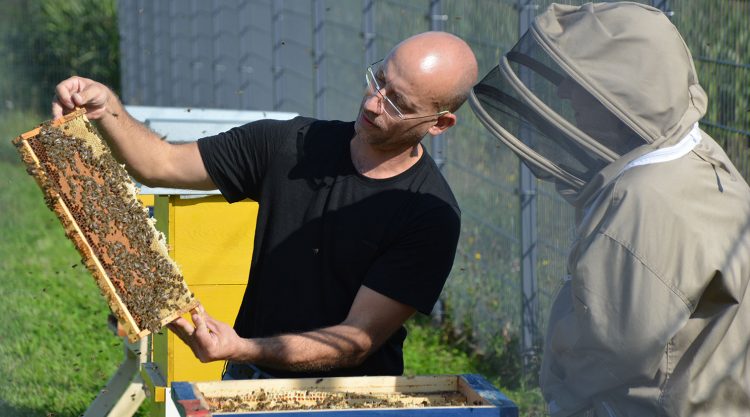 Initially, there will be about 15,000 bees per colony at Geiselwind, or 60,000 in total. They will feed on the available flowers and will also get up to 30kg of sugar as an extra source of nutrition for winter. During winter, the beehive will stay open, as a healthy population of bees will be able to withstand the colder months without any added heating or insulation. By next summer, the number of bees could rise to 60,000 per colony or 240,000 bees in total. To accommodate that increase, we will add additional stacks to each beehive.
Honey bees in Europe face many challenges. Apart from a lack of food sources and certain pesticides, they are also plagued by a cruel enemy called varroa mites. Without regular care by an expert bee keeper, these mites can kill an entire colony in late autumn, Thoma explained.
We want to extend a warm welcome to our new flying employees in Geiselwind and we look forward to the first batch of honey!