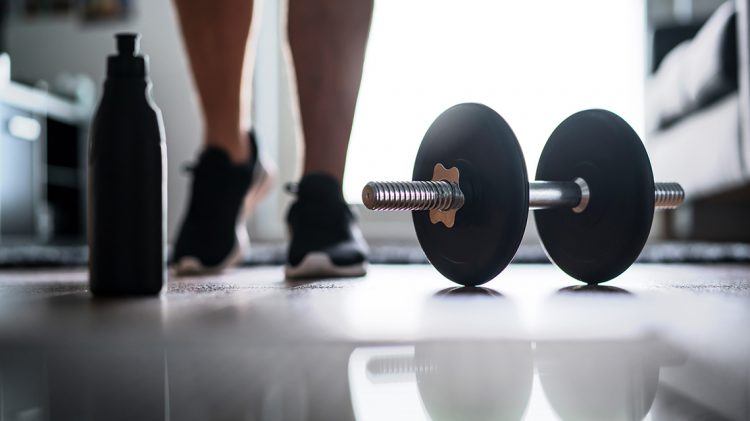 6 Arm-Blasting
Dumbbell Exercises
to do at Home
Or how to use your red wine bottles properly
June 8, 2020
Or how to use your red wine bottles properly
June 8, 2020
In some parts of the world people are still stuck at home without any access to a gym or sports club. We prepared a demanding workout for you, that can easily be done at home and helps to maintain your hard-earned strength and shape.
Sculpting the arms of your dreams can be done in the comfort of your own home! No fancy gym equipment required. In fact, if you don't have a pair of dumbbells handy, you can even opt for two full wine bottles for this fun and simple workout. The average bottle weighs about 2lbs (or around 1kg) which can be effective for activating and toning your biceps, triceps and shoulders.
You can complete this circuit on its own, or in addition to cardio or any other workout routine you enjoy. Let's go!
Biceps Curl
Standing with feet hip-width apart, hold your weights at your side, with palms facing forward, back straight and chest upright.
Engage core and, without moving upper arms, bend your elbows and curl weights towards shoulders.
Lower weights back to starting position with control.
Complete 12 reps
Triceps Kickback
Stand with your feet hip-width apart and knees bent, leaning slightly forward. Hold weights in each hand, elbows bent 90degrees by the side of your body, palms facing each other.
Straighten arms and press weights back and up while squeezing triceps. Keep core engaged and breathe steadily.
Return to start.
Complete 10 reps
Overheard Press
Standing with feet hip-width apart and slight bend in the knees, hold the weights up in the air with your arms bent at a 90degree angle, elbows facing outwards and in line with your shoulders.
Brace core and extend arms straight overhead.
Lower elbows to starting position.
Complete 20 reps
Overhead Triceps Extension
Stand feet wide, slight bend in the knees, engage abs (to keep a steady torso) and lift one weight with both hands overhead until arms are straight.
Slowly lower the weight behind head all the way to the shoulders. Keep biceps close to your ears and neck relaxed. Pause.
Using your core for stability, raise arms overhead and return to start.
Complete 20 reps
Upright Row
Stand feet hip-width apart, straight arms resting down in front of body, holding a weight in each hand, palms facing thighs.
Keeping the weights close to your body, lift them up to chest height in a rowing motion, flaring elbows out during the movement.
Lower back down with control.
Complete 10 reps
Floor Press
Lie on your back with knees bent and feet flat on the ground, holding a weight in each hand
Extend arms straight up, with palms facing each other.
Slowly and with control, bend arms and lower them to your sides, until your triceps brush the floor. The weights will stay raised above wrists, elbows forming a 90degree angle.
Raise weights and begin again.
Complete 12 reps
Flow through this circuit and repeat 3 to 4 times, or until you feel a satisfying burn. Make sure to concentrate on your form and maintain stability. These simple exercises are a great way to keep your upper body active and gain strength at home, even if you have to get a little… creative with the weights. Have fun!