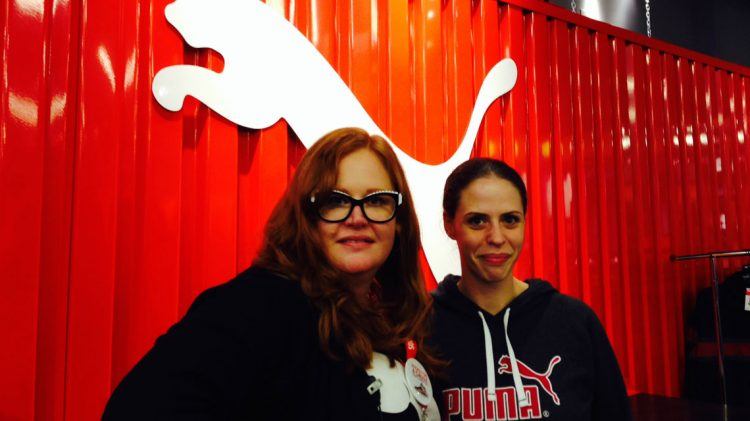 "It felt like a
Workout"
Working in a PUMA store for the first time
February 10, 2015
Working in a PUMA store for the first time
February 10, 2015
For
Claire Rouge

, who works in

Human Resources (HR)

, it was jumping in at the deep end, when she took on part of a shift

at a local PUMA Outlet Store

. "I worked there for four hours and I cannot tell you how exhausting it was," reported the HR Business Partner of the PUMA North America (PNA) Office in Westford, Massachusetts, afterwards. "The most difficult thing for me was to determine the sizes needed for replenishment, going to the stock room to locate the garments, and returning to place them on the floor. It sounds easy, but it was really stressful."

Claire's "one-way job swap" was part of a joint venture between PNA's HR and the Retail operations team. It stemmed directly from the 2013 Employee Opinion Survey results, which had revealed that one of the areas where there was room for improvement, was Training and Development. "Without having additional budget to put towards that particular area, we came up with some creative ways – and the Retail Job Experience was one of them", said Alicia Austin, Director Human Resources at PNA. "We wanted to raise more awareness and train employees at the same time on the huge division of Retail," she added.

When Claire reported for work at the PUMA Store in Merrimack, New Hampshire, the Store Team gave her a lanyard, a walkie talkie and set her to work within minutes, greeting customers and announcing the daily promotion. Claire replenished products, checked sizes, processed stock and assisted customers with product questions and suggestions. "There was not a moment without something to do – straighten a stack of hoodies, tuck a tag into a track jacket, fold straps and stack handbags, check fitting rooms – just everything," she said.
Claire had never had that experience before. As an HR Business Partner for Retail, she supports all PUMA Retail Stores across the U.S. Gaining insight into the different job roles at Retail was tremendously helpful and valuable to understand her clients and stakeholders. "I certainly have a newfound appreciation for the amount of tasks and responsibilities in which our retail associates and managers must engage simultaneously each day to ensure customers feel welcome, experience our brand and find the products they want as quickly and joyfully as possible. I was running around so much, it felt like a workout," she said.
After PNA General Manager Jay Piccola had mandated that all members of his team participate in this program, the next step will be to roll it out to all 275 employees at PNA. "It will be on a voluntary basis," said Alicia Austin. "All employees will be given the possibility to go through the program at some point in time." The initiative runs in cooperation with four local outlets and one full price store. Employees can choose between one full shift of eight hours and half a shift of four.
Alicia expects this program to provide knowledge transfer and help people develop a better understanding of how their roles at PUMA Corporate impact the Retail business, improve their knowledge about the PUMA product range, understand PUMA's marketing strategy for retail and get a feel for PUMA's target consumer.
During her retail day, Claire also realized that this program can provide recruiting synergies by establishing a pipeline of potentially qualified candidates who already worked for the company and know the brand. "I felt there was a lot of interest from sales assistants to supervisors about what kind of jobs are at corporate and I discussed with them the options for positions in merchandising, marketing and customer service."
What Claire enjoyed most was the engagement with customers. "The most fun part was recommending products and see clients getting excited about something when I showed them different options," she said, adding proudly that she sold a dozen pairs of shoes on that day.