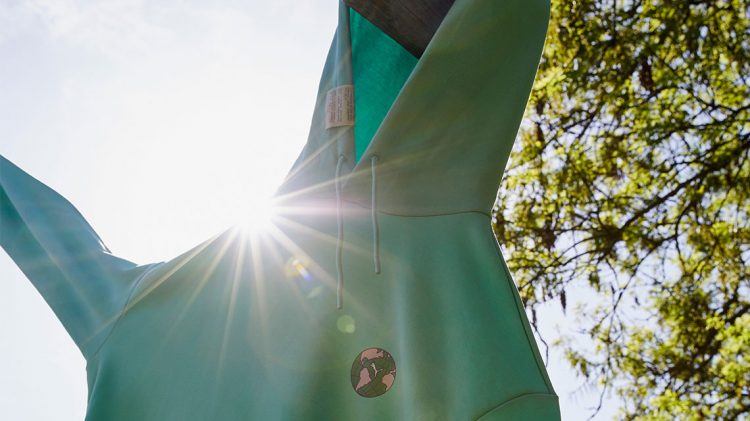 When Fashion
stands up against
Climate Change!
PUMA and ASOS launch sustainable collection with zero carbon footprint
June 15, 2018
PUMA and ASOS launch sustainable collection with zero carbon footprint
June 15, 2018
The production and transportation of one T-Shirt generates around 2.3 kg of CO2 emissions!
PUMA and UK Retailer Asos felt that enough is enough.
The two brands developed a
joint collection

that not only looks great, but is made of

sustainable materials

and boasts a

zero-carbon footprint

!
The Sustainability Pack is made of certified organic cotton, that is grown without using harmful pesticides. After the products are being disposed of, they will eventually biodegrade and go back to the natural cycle, leaving no garbage behind.
"At PUMA, we have a long history in exploring sustainable design options," said Stefan Seidel, PUMA's Head of Corporate Sustainability. "In line with our 10FOR20 sustainability targets, we are currently scaling up the use of more sustainable materials such as bluesign certified polyester (46%) or BCI Cotton (40%) for our products."
The tools and fabrics used in the designs have been carefully selected to make sure that no toxic chemicals find their way into the water supply.
Together with climate expert South Pole, we measured the greenhouse emissions of the collection from the cotton field to the store. "As a special feature, we decided to offset all carbon emissions that the materials, the production process and the shipping of the collection generate to raise awareness of Climate Change", explains Stefan Seidel. The collection was produced in Turkey close to the United Kingdom, where it is sold, to reduce the environmental impact that is usually caused by transportation from Asia.
The pieces consist of airy, bright colors, just in time for summer. Seafoam green hoodies, cream and rainbow crewnecks perfectly go with high-waisted flared denim or with a summer mule.
The colors and prints chosen for the capsule come from a certified supplier which ensures that no harmful chemicals end up in the collection.
The collection is exclusively available through ASOS in the UK. Make sure to get a hand on the pieces to bring your summer style up to speed and to reduce your ecological footprint!