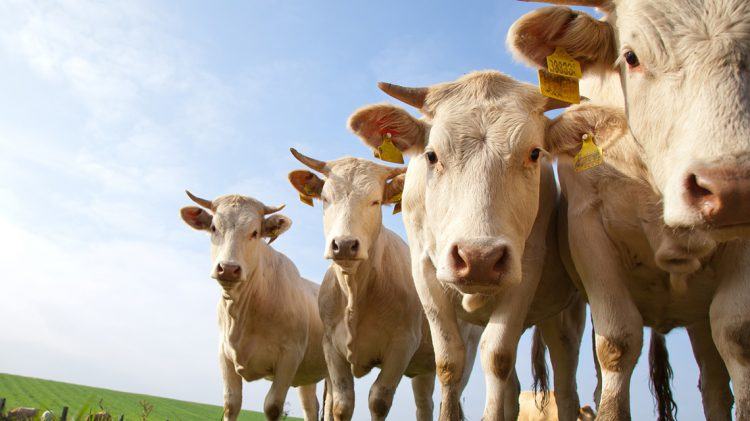 Cows
and
Cotton!
PUMA's environmental footprint decreases 15% since 2013
November 15, 2017
PUMA's environmental footprint decreases 15% since 2013
November 15, 2017
It's cows and cotton!
Who would have thought that these two caused the majority of PUMA's environmental
footprint

in 2016?
In total, the
true costs

of PUMA's impacts on air pollution, carbon emissions, land use, waste generation, water use and water pollution amounted to

457 million Euros

last year.
The highest share of impacts derived from
land use

in the

raw material production

stage of PUMA's supply chain, amounting to 96 million Euros and accounting for 21 percent of the total impacts.
"The impact on land use derives primarily from agricultural land for cows, whose hide is used for leather products, and the cultivation of cotton for apparel," Stefan Seidel, Head of Corporate Sustainability, explains.
Since 2011, when we first published the first-ever Environmental Profit and Loss Account (EP&L), we have put a put a price tag on our environmental impacts every year. This means that we have been investigating the impacts our operations and supply chain have on the environment annually by taking a closer look at six impact categories: air pollution, carbon emissions, land use, waste, water use and water pollution.
Until 2013, the methodology of the PUMA EP&L was optimized and since then, our environmental impacts have gone down about 15%. While the actual figure has gone up by 5% from 432 million Euros in 2013 to 457 million Euros last year, the EP&L value per sales has decreased, because annual sales rose by 20% from 3 billion Euros to 3.6 billion Euros over the same period. "It's obvious that impacts increase when we manufacture and sell more products," Stefan points out. "So by putting this into relation, we see that the impacts have actually become less." Compared with 2015, our impact value decreased 7.5% in 2016.
PUMA has been constantly working on reducing its environmental footprint and through the EP&L we have gained important insights. "One benefit of tagging the impact factors with a price is comparability," Stefan explains. Through the common denominator 'money' you can compare two million tons of CO2 with 1,000 cubic metres of water. "Otherwise you could not tell which one is more important."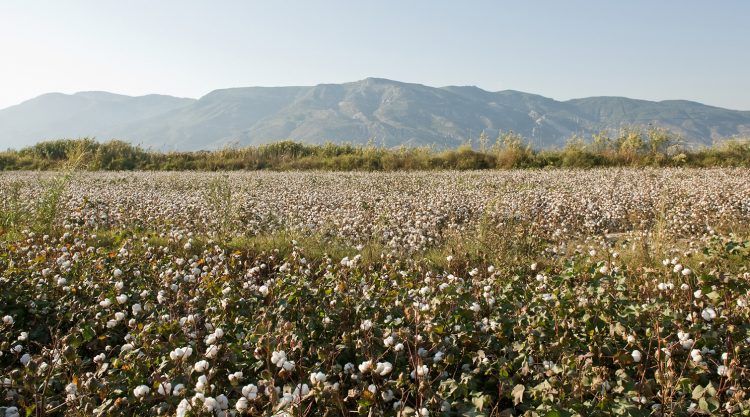 We had been totally wrong!
The most important realization was that we had not been tackling the real hotspots. "Through the EP&L, we found out that the major environmental effects happened in our supply chain and not through our own operations – where until then the focus of our initiatives had been," Stefan says. We had set targets for water usage, for example, in our offices, stores and warehouses. "But this is absolutely insignificant and irrelevant compared with water usage for cotton farming and leather tanning," he added.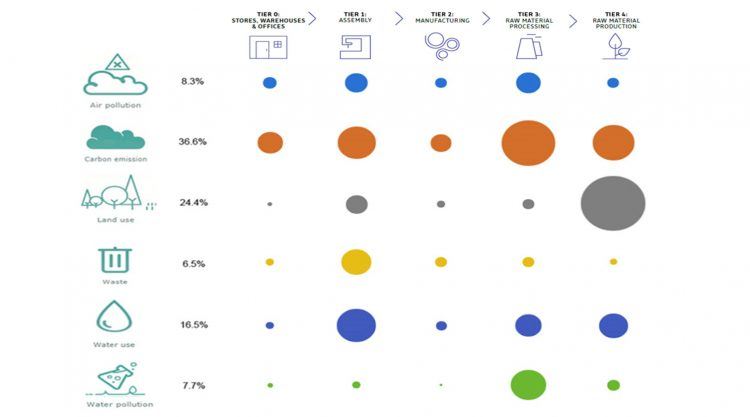 In 2016, 36% of PUMA's impacts on nature were generated in the so-called Tier 4 level of our supply chain, where raw materials are produced, such as cotton and leather. In terms of impact categories, carbon emissions is the baddie with almost 37% of all impacts, amounting to 167 million Euros. Especially, methane emissions from cattle contribute to 42 million Euros of greenhouse gases in Tier 4, while 67 million Euros derive from the third production tier, which represents the processing of raw materials, for example leather tanning, cotton weaving and dyeing and petroleum refining. "The CO2 emissions here come from energy use, mainly for the dying process where you need to heat up a lot of water."
In comparison, only 24 million Euros of impacts derived from PUMA's own operations such as offices, stores, warehouses and transport in 2016.
Finally tackling the hotspots
After we had realized that our supply chain is much, much more significant, we adjusted our environmental targets by requiring that PUMA's main materials must increasingly come from sustainable sources. "If leather generated the largest share of impacts, despite the fact that we do not use a lot of leather, we had to ensure that we use leather from tanneries that keep up a high environmental standard," says Stefan. We are collaborating with the Leather Working Group which sets standards for tanneries that ensure – among others – that leather is not sourced from areas in Brazil where rain forest was destroyed for raising cattle. "Leather that is sourced in an environmentally-respectful manner is valued with a lower price and ultimately brings down the value of our EP&L." In 2016, more than 90% of our leather was sourced from LWG-certified tanneries.
In terms of cotton, we sourced 20% of our cotton in 2016 from the Better Cotton Initiative, which also brings down our impacts. For 2017, we are aiming to increase this share to 30%. We have also introduced efficiency measures and waste water standards in the tanneries we are working with. "Intiatives like these help to reduce environmental impacts and reduce our EP&L value", adds Stefan.