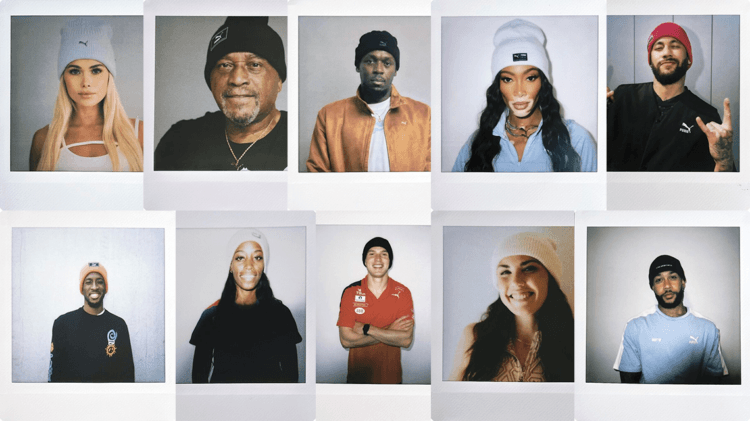 Meet our PUMA "Class of 23"
For our 75th Anniversary, we celebrate our PUMAFam with ambassadors from all around the world
October 16, 2023
For our 75th Anniversary, we celebrate our PUMAFam with ambassadors from all around the world
October 16, 2023
In our grand celebration of PUMA's 75th anniversary, we shine the spotlight on our

incredible ambassadors

who have been an integral part of our

global PUMA Family

. This year's beanies campaign,

"Class of 23"

, unites our ambassadors from across the globe

to represent our close-knit #PUMAFam.
As 2023 marks a great milestone in our history, we want to celebrate the remarkable people behind PUMA. "Class of '23" stands as a testament to the inspiring ambassadors and talents that PUMA has been privileged to call part of the PUMAFam over the past seven and a half decades.
Each talent, from Neymar Jr. and Pamela Reif to Gianmarco Tamberi and Winnie Harlow, was captured in a personalized way, wearing their favorite PUMA beanies from the 2023 collection. These beanies symbolize their membership in our closely-knit PUMA family, a family that spans continents, cultures, diverse talents and fields of expertise.
"Our PUMA family is the heartbeat of our brand, co-created with the brilliance of our exceptional athletes and ambassadors who continually redefine the essence of sports. As we proudly mark our 75th Anniversary this year, we've chosen a humble yet symbolic product, the beanie, to pay tribute to the remarkable individuals who have etched their legacy in our brand's history – our PUMA ambassadors. Together, they come as the Class of '23, exemplifying the spirit of innovation and excellence that defines PUMA".
Jack Grealish, as one of the participants of this initiative, shared that it's unbelievable for him to be part of the PUMA family.
"Obviously ever since I have joined, my performances on the pitch have got better. I love the brand, I love the boots, and I think the second half of the last season was the best I have ever played in my career and luckily it coincided with joining PUMA. Joining the family is a dream come true because it's such an iconic brand."
This marks the first occasion where PUMA brings together all the company's ambassadors for a memorable occasion, celebrating our collective journey throughout the years.
Here's to the extraordinary individuals who have shaped PUMA's history and continue to inspire us all.
#Forever.Faster. since 1948 🥂.