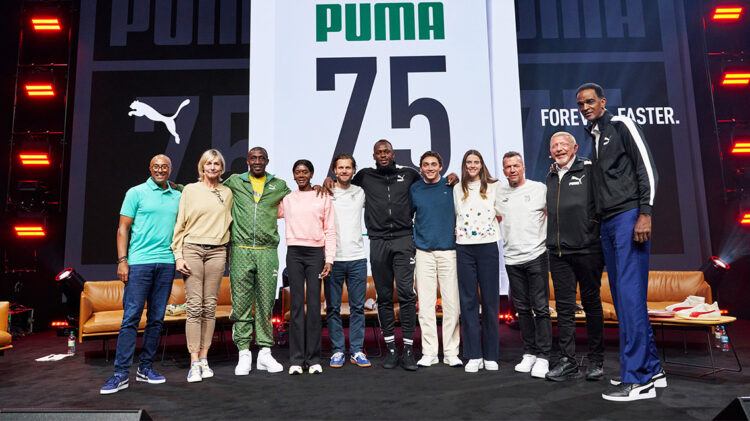 PUMA 75
PUMA legends celebrate PUMA's 75th anniversary at our HQ
September 28, 2023
PUMA legends celebrate PUMA's 75th anniversary at our HQ
September 28, 2023
Some of our most famous PUMA athletes came to Herzogenaurach on Thursday to celebrate our 75th anniversary with us and to share their success stories as well as their personal PUMA moments.
The "PUMA World Team": Colin Jackson, Linford Christie, Heike Drechsler and Merlene Ottey were joined on stage by PUMA Legends Usain Bolt, Ralph Sampson, Yaroslava Mahuchikh, Armand "Mondo" Duplantis, Lothar Matthäus and Boris Becker.
Hosted by PUMA CEO Arne Freundt and Colin Jackson, the panellists shared their vision of greatness in sports and how they perceived the PUMA Family spirit.
Over the years, I've just seen a very youthful, positive attitude. I think that's continued from our day and that's really lovely to see. And I guess that's why we talk about a family situation, that is why the family gives you that sense of warmth. You're there. It's camaraderie. There's nobody who's bigger than everybody. We're all in this together. And I think that is so, so magical about the PUMA brand.
The athletes also spoke about the right winning mindset that prepared them for greatness. Usain Bolt, who became an icon, not just because of the World records he broke but also because of the way in which he did it, explained how he combined hard work with having fun.
"Success came from what happened in the background. It was all about the training and the dedication and the sacrifice that you made in the background. So that's where I put all the work. But when I competed, I enjoyed it. I tried to show people my personality. It was a performance for me. I'm going out there to perform, not just to just go out there and run. And I kind of think I changed the game by just showing people, you can relax, you can enjoy what you do."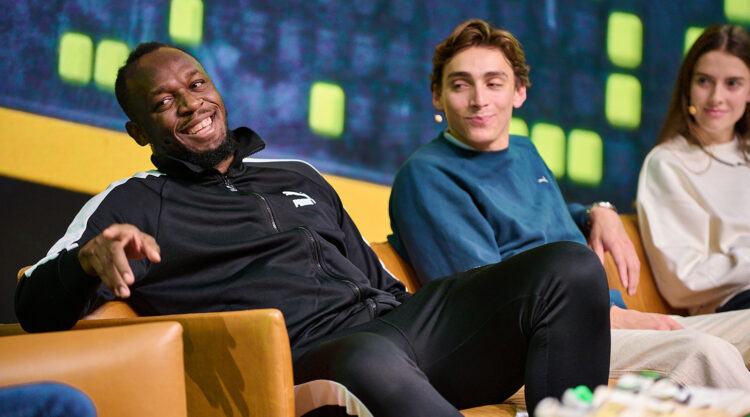 PUMA founder Rudolf Dassler had the vision to create products which would give his athletes the agility and performance of a big cat. From the spikes that helped PUMA's track and field athletes win titles and set records, to the tennis rackets 17-year-old Boris Becker used to conquer Wimbledon, or the football boots in which legendary players such as Lothar Matthäus played: PUMA has stood by this vision for 75 years.
Throughout its history, PUMA established a culture of firsts to help athletes peform at the highest level with innovative designs such as the first football boot with screw-in studs in 1952, the legendary brush spike of 1968, the pioneering RS-Computer Shoe in 1986, the first laceless sports shoe DISC in 1991 or, most recently, PUMA's state of the art foam technology NITRO for running shoes. During the panel discussion, Olympic Champion Heike Drechsler described how PUMA helped her create better long jump shoes:
"Normal shoes were not good for the long jump as they were very unstable. I worked together with PUMA, gave some feedback and they created a really good shoe. This helped me a lot."
It was a memorable event for all involved! Thanks PUMA Family for making this happen!