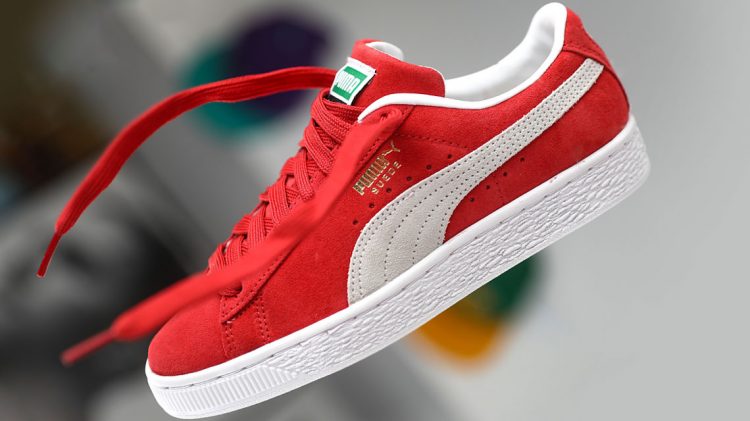 Don't call our
Formstrip a stripe
The history of our PUMA Formstrip
September 9, 2021
The history of our PUMA Formstrip
September 9, 2021
Apart from the leaping cat, the PUMA Formstrip is one of our most iconic trademarks. In this article, we want to tell you about the history of the Formstrip and why it is so much more than just a stripe.
In the early 20th century, football boots were a clunky affair and players needed to be thick skinned to play in them for 90 minutes. This all started to change when lighter materials became available in the 1950s. This, however, led to stability problems. That was why Rudolf Dassler was looking for ways to use those lighter materials but also guarantee the same level of stability and control for the players.
In time for the 1958 World Cup, PUMA launched football boots with the Formstrip, literally a strip of leather on the side of the shoe for added lateral support.
"A formstrip shoe cradles the foot securely while not compromising on range of motion and without adding too much pressure. It also prevents twisting the ankle or stretching the leather too much to the side or towards the heel," the product description said at the time.
With the introduction of the PUMA Formstrip, every PUMA shoe became immediately recognisable and distinctive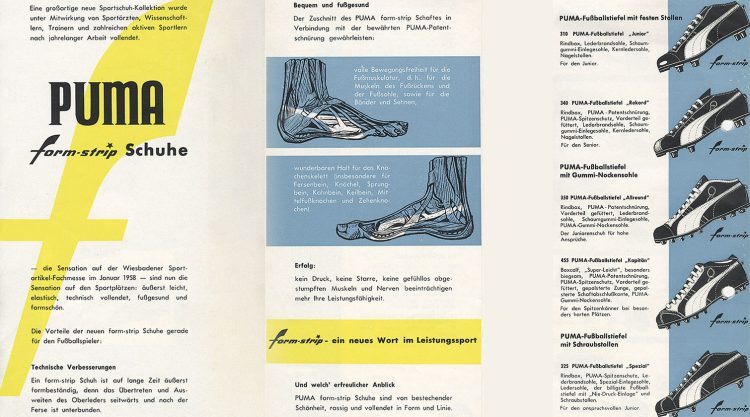 Because the Formstrip came in a different color, it also worked as a very recognisable and fashion forward design element. The design merged the two lines seen on early PUMA models, and put a space in between to create a wavy look. As such, it symbolizes the claws which come out of the paws of an attacking cat.
The boots for the 1958 World Cup were a big success for PUMA. Not only were they worn by the players of the Brazilian team that won the event, they also drew attention to the brand by being very visible on pitch.
"For the first time in our history, we have won the World Cup. We are excited to tell you, that the PUMA Football boots have been a big part of this success, as they gave us a big advantage," an ad signed by the players of Brazilian team said after the event.
The formstrip was also used in track and field spikes and training shoes at the time.
So next time you see our PUMA Formstrip, whether it is on a SUEDE, on a Mayze or one of our performance shoes, think about its heritage!
For more information, you can always reach out to the PUMA Archive.
.