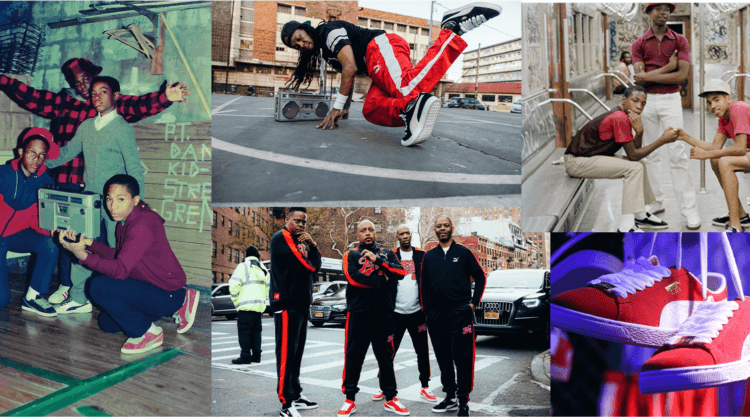 The Fabric of Hip Hop
We celebrate 50 years of hip hop and spotlight PUMAs ties in the history of this groundbreaking culture
August 23, 2023
We celebrate 50 years of hip hop and spotlight PUMAs ties in the history of this groundbreaking culture
August 23, 2023
Within Hip Hop's historic tapestry, PUMA can be found woven into every fiber. As we celebrate the 50th anniversary of Hip Hop, we are also celebrating our role in Hip Hop history. In an expansive campaign, we spotlight our profound ties and track our footsteps which are woven into the very fabric of Hip Hop history.
Delve into the range of activities that have ignited the celebration of 50 years of Hip Hop across North America!
Where It All Began: The Suede Era
Rewinding to the nascent days of Hip Hop, the iconic Suede, seen on the feet of those who defied logic and gravity, elevated a culture that changed the world. Straight-legged denim paired with customized PUMA Suede sneakers, featuring fat laces, etched a mark on the culture's ascent within New York's inner cities. In commemoration of this era, PUMA embarked on a journey through time, celebrating the Suede with a sequence of drops that trace the evolution of hip-hop over five transformative decades.
Memorable Monograms: The Dapper Dan Collection
Paying homage to those influential days, our newest Dapper Dan collection serves as an ode to hip-hop's 50th anniversary too. This collection intertwines a distinctive monogram, an essential style code in the fabric of hip-hop history, forming the core graphic foundation of the ensemble.
The Sound of a Legacy: our Anthem Video
Our celebrations go beyond visual elements. Our anthem video featuring Hip Hop legend Slick Rick and rap's young ambassador Flau'jae narrating our manifesto and spotlighting PUMA's role in the culture.
Iconic Marks: Suede Footprints
There are many iconic legends who have paved the way in Hip Hop. ​To pay homage to their legacy, impact and music, we have commissioned local artists to put their own spin on six-foot stencils of the classic PUMA Suede shoe print or posted larger-than-life vinyl shoe prints at locations throughout North America. Each installation continues to provide space for communities to celebrate the 50th anniversary and PUMA's contribution to the Fabric of Hip Hop.
PUMA's commemoration of HipHop 50 is being highlighted in cities where the sound of Hip Hop has become the soundtrack of the culture. Embrace the culture by visiting one of the footprint installations in:
Atlanta
Boston: PUMA Headquarters
Chicago: 2014 S Michigan Ave., Chicago IL 60616 (To Come)
Detroit: 1533 Winder St., Detroit, MI 48207
Los Angeles: 7951 Melrose Ave., Los Angeles, CA 90046 (To Come)
New York: PUMA Flagship: 609 5th Ave, New York, NY 10017
Toronto: 14 Dundas St W, Toronto ON, M5G 2C2 & 1 Ossington Ave.,Toronto ON, M6J 2Y8
Where the Party starts: Our New York City Flagship Store
Our flagship store in New York transformed into a vibrant celebration arena over the past few weeks. From the HOT 97 SUMMER JAM BBOY DANCE BATTLE, where customers secured Summer Jam tickets and savored dance battles, to the Dapper Dan Collection Launch, featuring an exclusive meet & greet, and dynamic graffiti events where artists personalized sneakers and tees – these weeks flowed with festivities for our customers. Further collection launches, punctuated by DJ battles and other events, make this anniversary summer of hip hop unforgettable.
View this post on Instagram
View this post on Instagram
The celebrations continue!
Throughout the whole summer, celebrations will continue across North America. Watch out for more events and groove along in Los Angeles, Chicago, Detroit, Atlanta, Boston or Toronto!
For the past 50 years, PUMA has been the fabric of Hip Hop and our celebrations continue to honor our profound connection with this iconic cultural movement.
To many more years of shaping sports and culture 🎉!