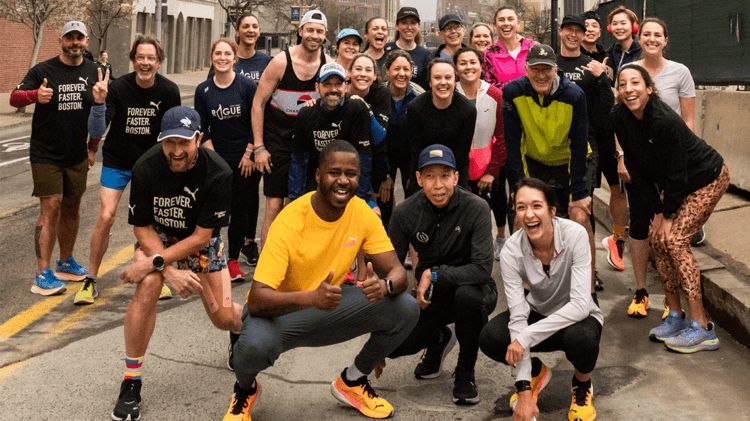 Running & Training
Forever.Faster. at Boston Marathon 🏃
Recap on our PUMA activities around the 127th Boston Marathon
April 24, 2023
Recap on our PUMA activities around the 127th Boston Marathon
April 24, 2023
On April 17, the marathon season has officially been kicked off with one of the most famous marathons in the world – the Boston Marathon! Check out, how our Bostonian PUMA Fam celebrated the week and which PUMA Athletes have been competing in this iconic running event!
Over 30.000 athletes, including our PUMA athletes Annie Frisbie, Dakotah Lindwurm, Hendrik Pfeiffer, Edna Kiplagat and Hannah Lindholm, participated that day and in the race and run the 26.2 miles (42.16481 km) in the 127th edition of this annual marathon spectacle.
| Name |   Time |   Place overall     | Place Gender Division |
| --- | --- | --- | --- |
| Hendrick Pfeiffer |   02:12:22 |   16 | 16 |
| Annie Frisbie |   02:28:45 |   20 | 124 |
| Dakotah Lindwurm |   02:33:53 |   27 | 271 |
| Edna Kiplagat |   02:34:40 |   31 | 313 |
| Hanna Lindholm |   02:39:16 |   39 | 593 |
Along with our PUMA Athletes, several PUMA employees joined the patriot's day race, as the marathon is called in Boston!
Congratulations to all of you for these fantastic performances 🎉!
Celebrating Forever.Faster in Boston
Already before the actual Boston Marathon, our PUMA Fam kicked off the festivities for the marathon event with several activities to represent the fastest sports brand in the world in and around Boston. Our Boston HQ has been getting in the spirit with several activities leading up to the marathon. On Friday, 14th of April, 215 PUMAs and guests were having a kick off event at a local brewery in Boston and fueled the anticipation for the big event. 9 PUMA Athletes joined the get together and participated in a panel discussion.
On Saturday, 15th of April, our PUMA Fam as well as their guests participated in the Forever. Faster. shakeout run, where 110 PUMA demo pairs were given out, and our 5 PUMA athletes shared advice for the Marathon. Followed by Sundays Marathon Sports Community Run which was lead by World Champion and Olympic Athlete Jenny Simpson, where 150 attendees participated. These two running events led to a $15,000 donation towards the Martin Richard Foundation.
Showing off our new NITRO technology
In addition to our many representatives joining in on the Boston Marathon festivities, our PUMA brand has been showcased and displayed all around the city through various out of home activities, including a Back Bay T-Station Spectacular, Green line Trolly & Train wraps as well as urban panels & bus wraps. Also, the NITRO Bronco was hitting the streets as a central component of the activities and events around the marathon.