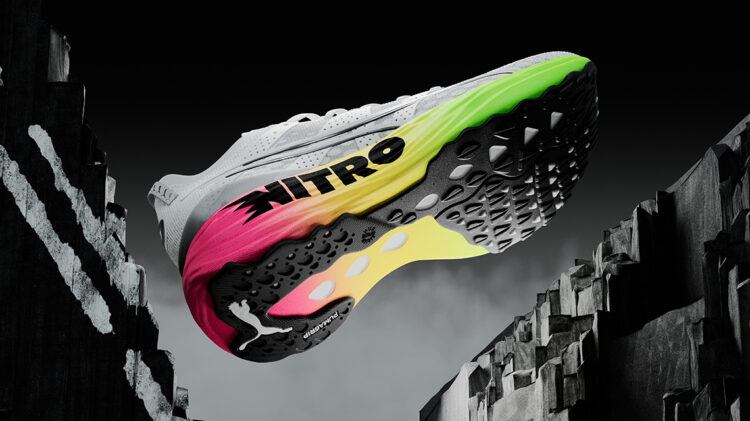 Get the Look
Blurring Borders
Get the Look: PUMA FOREVERRUN NITRO
April 21, 2023
Get the Look: PUMA FOREVERRUN NITRO
April 21, 2023
Inspired by PUMA running technology,
the latest ForeverRun NITRO sneakers represent the convergence of sport and fashion.

Leveraging performance innovations in the form of a stylish shoe that blurs the borders between style distinctions.

Inspired by the fashionably flashy colour gradient and sleek sport vibes, we styled a look that suits the runway and the streets.
The Shoes
The ForeverRun NITRO represents a new era of lightweight stability shoes, cultivating a combination of unparalleled cushioning and enhanced guidance through the PUMA RUNGUIDE system. A sporty silhouette for the stylishly -inclined, the kicks include PUMA NITRO™ cushioning, a specialized, nitrogen-infused foam that maximizes response and bounce while still remaining super-lightweight. This nitrogen infusion amplifies the inherent properties of foam, resulting in a springy and soft core with mega comfort.
The whole Outfit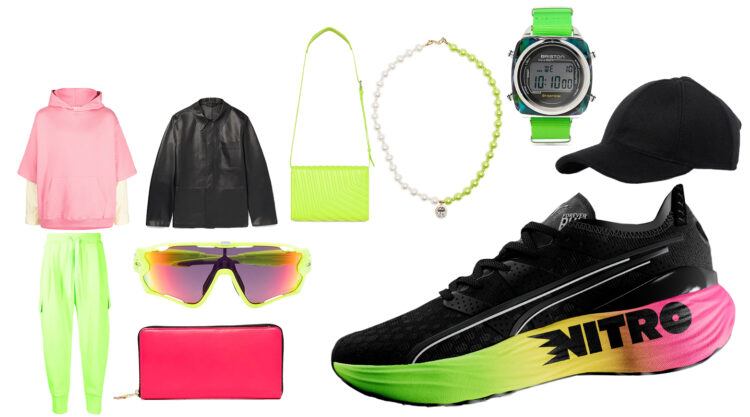 The Outfit
The first colourways of the shoe offer a choice of an all-white or all-black upper, paired with an unmissable gradient-hued sole unit and NITRO™ text branding. Inspired by the vibrant shades we put together a look that's equal parts flashy and comfy.
On the legs we stayed true to classic athleisure comfort, incorporating a pair of fluorescent green drawstring-waist multi-pocket track pants. The flashy colour, slim fit and elasticized ankle gives a very sportstyle feel while still being fresh ─ perfect for spring. Above comes a unique short-sleeve cotton hoodie in a vivid flamingo pink. To balance out all that light and bright, we finished up with a sleek black leather overcoat with a relaxed fit and minimal tailoring that gives off a timeless quality. Plus, we loved how the gradient of the materials on the inner layers and the black top-off lowkey mimics the design of the sneakers.
The Accessories
Sticking with this vivid fadeout effect the merges form and function, our accessories are both vibrant and practical. A strappy shoulder bag in bold yellow neon flashes while a bright pink leather wallet matches shades and materials seen elsewhere in the outfit. A digital watch with green straps is contemporary yet retro-inspired, while a pair of vibrant shades with gradient lenses up top are sure to turn heads while protecting eyes. A two-tone pearl necklace with glittering pendant ups the ante, while an evergreen item ─ a black baseball cap ─ nonchalantly tops it all off.
The latest PUMA FOREVERRUN NITROs are sure to help you hit your stride in style.
Debuted on the runway but still perfect for a casual run anyway,

these incredibly comfortable sneakers blur the lines between sport and fashion,

making them perfect for the streets, the catwalk and beyond.

🛍 Shop FOREVERRUN NITROs HERE.