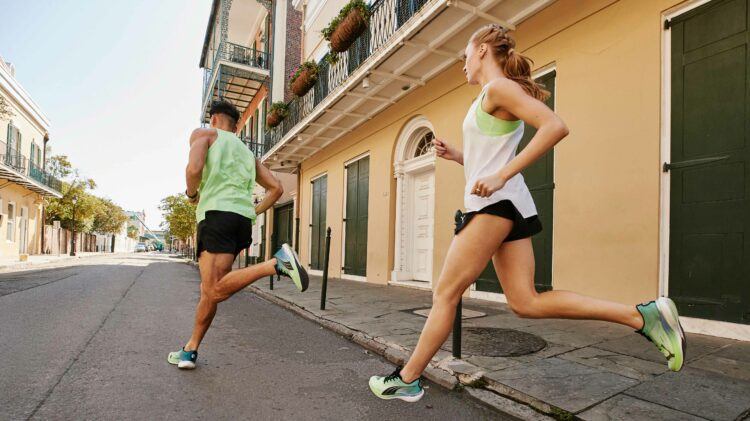 Get the Look
Spring in Your Step
Get the Look: PUMA Deviate NITRO Elite 2
March 14, 2023
Get the Look: PUMA Deviate NITRO Elite 2
March 14, 2023
Rework your running with the new and improved Deviate NITRO Elite 2.
Made with the latest and greatest engineering technology they're a high-performance product for the elite runner.

Inspired by this snazzy sneaker we've styled a

versatile sport/street wear look

that really puts the spring in your step.
The Shoe
A top-of-the-line racing shoe, the Deviate NITRO Elite 2 steps things up a notch from where its predecessor left off. Designed for explosive propulsion and going faster with less effort, the shoes include next-level cushioning that won't weigh you down and a carbon fiber PWRPLATE for stabilization. A durable PUMAGRIP rubber supports multisurface traction and a reworked collar reduces heel slippage. A cheerful and bright colour scheme with asymmetrical detailing gives you the perfect palette for a spring style pairing.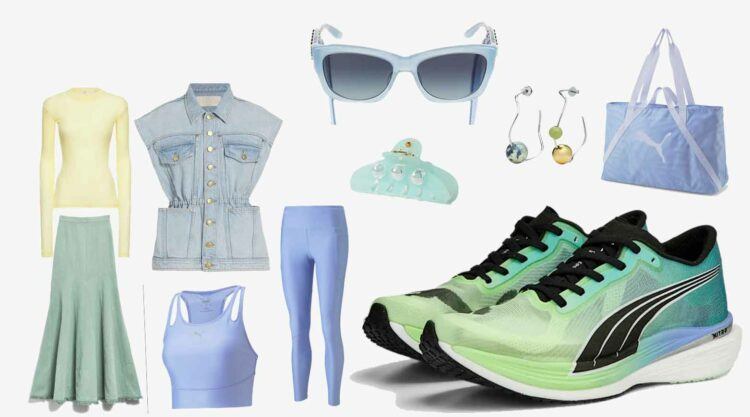 The Outfit
The athleisure trend has forever left an impact on the fashion industry, and as a result everywhere we look we can see everyday outfits styled with running shoes indicating the crossover is nearly complete. For the outfit(s) today we are serving options ─ comfortable and chic, whether out for a run or stroll on the streets.
Part one of the look is all form and function without compromising on the fashion. A sleek matching set in a stunning electro purple features ultraform running leggings and a coordinating cropped tank, adding an slick edge to a classic running ensemble. With moisture-wicking tech and curve-enhancing fabric, they perfectly complement and support the easy-breezy sneakers.
The second part of the look can easily be mixed and matched with elements of the first. Highly inspired by Spring Runway 2023 trends, start with a washed out cotton skirt with a raw hemline that grounds the look for an effortless and earthy feeling. Above comes a freshly transformed staple in the shape of a super simple and delicate semi-sheer long sleeve in a softly cheerful yellow. Sheer is super in this season, and introduces an interesting textural element. Wrap up with a anything-but-basic denim vest with cap sleeves and a flared peplum hem. Complete with oversized patch pockets that tuck in at the waist for a super lightweight memorable finish.
The Accessories
When accessorizing, think practicality and lightness ─ a claw clip is a Y2k staple, and this one in a pastel blue with iridescent baubles mimics the buds on the trees and ties into the theme. A pair of artful glass and resin mismatched hoop earrings carry a similar resemblance. A pair of sunglasses in a matching soft blue dangle from the neck by a silk cord (when not protecting your eyes from the emerging sun). Finally, calling in some more functionality, a side bag in a shade of spring lavender can accommodate all your workout essentials and outfit changes as you switch from sport to city and back again.
The new Deviate NITRO Elite 2 are made to help you excel. Both athletically and fashionably,
the innovative new running shoe is the ultimate wardrobe addition to help you spring into spring.
🛍 Shop your running outfit.