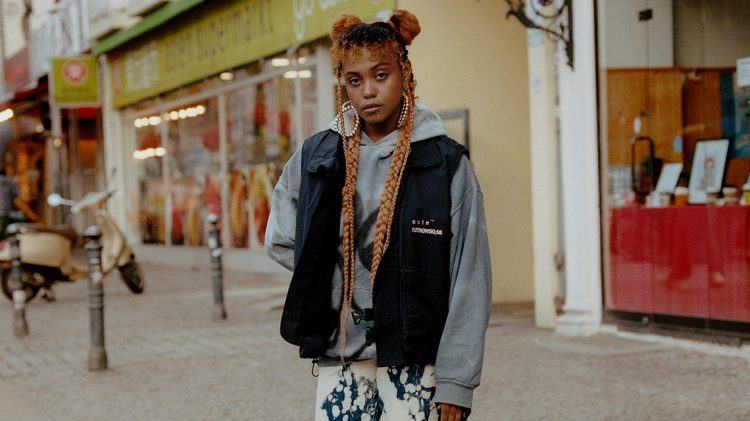 Get the Look
Get the look:
WILD RIDER
Futro Collage
April 23, 2021
Futro Collage
April 23, 2021
Meet the Wild Rider –  a progressive new member of the Rider family
inspired by the movement and motion of city life.

With references to decades past combined with contemporary tech and futuristic features, these sneakers represent a stylistic collage of fashion and function.

Peep the outfit influenced by all that the dynamic new Wild Riders stand for.
The Shoes
Driving PUMA's 'Futro' style up a notch, the design of Wild Rider takes archival direction from the Easy Rider II OG, merging past and future for a collage of fresh layers and innovative features. Futuristic concave holes decorate the rubber midsole while an embossed and studded wrap completes this level. Signature Rider foam forms the cushioned base and comfortable terry towel material lines the interior. TPU details run along the eyelet and heel while deco stitching stands out on a nylon upper interspersed with suede and leather overlays.
Unique features are liberally sprinkled throughout – a flowing formstrip finishes into a functional heel pull, the wording 'Designed by PUMA' is emblazoned on the back adjacent to a hairy suede overlay, and a futro inspired accent juts out from the heel to emphasize the idea of motion. Vibrant colours with an industrial vibe complete the classic silhouette.
The whole Outfit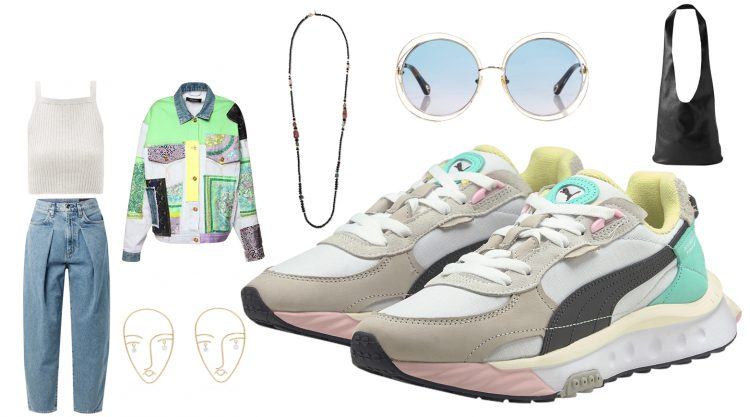 The Outfit 
Rolling on with this futuristic collage as motivation, a denim jacket with bold and bright cotton panels is the piece your wardrobe is crying out for. A brightly hued statement coat will always help you stand out from the crowd and the patchwork-slash-embroidery motif is still going strong for Spring 2021. With a mixture of funky paisley patterns and seasonal shades of pastel combined with vivid fluorescence, it effortlessly complements the progressive Wild Riders.
Sweatpants may be a girl's best friend, but they'll never displace a good pair of denim. Get the best of both worlds with a pair of oversized jeans which are as cool as they are comfortable. By matching the same material on top and bottom you have a kind of industrial uniform, but these high-rise jeans, with their thoughtful pleating and tapered legs, have a vintage yet modern feel and low-key aesthetic that downplays the flashiness of the jacket.
Pop a fitted crop up on top to avoid drowning in layers. This ribbed cotton and cashmere knit piece is supportive and breathable with a soft grey shade that matches with the shoes. Luxurious materials and a subtle square neck with slender straps give it a sophisticated sentiment, plus ribbed knits are on the up and up for future fashion seasons.
The Accessories
Multifunctionality is favoured in sportstyle trends, and this practical slouchy leather shoulder bag is going to carry that idea (along with everything else you need). A stylish beaded necklace combines onyx and multi-coloured gemstones to give a chill but glamorous effect; leave it to dangle down or wrap it once around to create a throwback choker necklace. Lightweight golden earrings in the form of an abstract visage give the look a quirky artistic character that interacts with the statement jacket, while a pair of blue ombre round frame sunglasses bring a modern touch with a retro finish.
Get moving with the new Wild Riders. Inspired by the dynamic flow of city life that drives us forward, further and faster,
combine your favourite fashion influences for a collage of individual expression and don't forget to enjoy the ride.