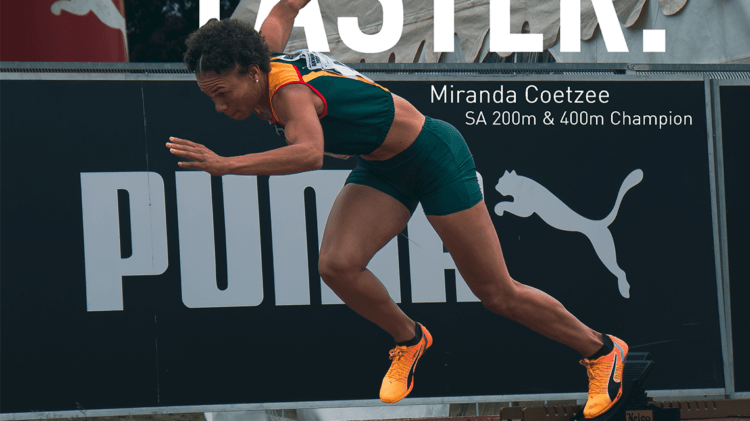 FOREVER.FASTER in
South Africa
PUMA Athletes Stand out at the Athletics South Africa Championships 2023
April 14, 2023
PUMA Athletes Stand out at the Athletics South Africa Championships 2023
April 14, 2023
The Athletics South Africa (ASA) Championships 2023 saw PUMA Athletes claim medals and break records. South African PUMA Athletes
Armand van der Walt, Miranda Coetzee, Glenrose Xaba and Gena Löfstrand

all medalled in their disciplines, including

Precious Mashele

breaking the eight-year-old South African 10K road record with a time of 27 minutes and 35 seconds! Check out the other results below.

🇿🇦
Armand van der Walt took the South African 200m champion title with his time of 20.50s.
Miranda Coetzee was crowned the South African 200m and 400m champion! With her times of 22.74s in the 200m and 51.04s in the 400m, she was unbeatable.
Glenrose Xaba continued to add to her impressive collection of medals by taking the South African 10,000m title. This is the eighth 10,000m national title she has won, with a time of 33:02.13!
Gena Löfstrand secured the South African 800m silver medal with a time of 2:05.10!
Last but certainly not least, PUMA road runner Precious Mashele smashed the eight-year-old 10K road record at the Absa Run Your City Gqeberha 10K on Sunday 2 April 2023! This was the fastest 10k run by a South African male anywhere in the world – 27 minutes and 35 seconds.
Our South African PUMA Athletes never fail to impress.
#FOREVER.FASTER