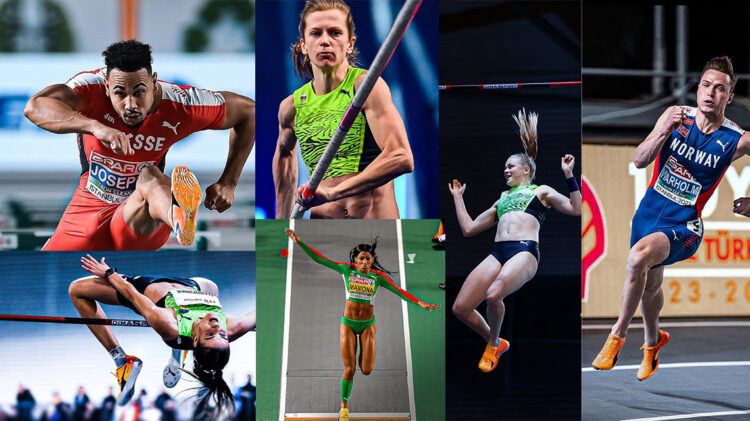 Winning with NITRO
PUMA Running Athletes Shine at the 2023 European Athletics Indoor Championships in Istanbul
March 17, 2023
PUMA Running Athletes Shine at the 2023 European Athletics Indoor Championships in Istanbul
March 17, 2023
It's the end of another successful championship for our PUMA athletes! At this year's European Athletics Indoor Championships in Istanbul, PUMA athletes collected an array of medals across disciplines, with PUMA sponsored Norway coming out on top of the medal table! Our athletes won
6 gold medals, 9 silver medals and 4 bronze medals.

Check out the results below.

⬇️
🥇6 GOLD MEDALISTS
Jason Joseph

won the 60m hurdles for Switzerland, with a time of 7.41 making him the Swiss national record holder and fastest European of the year! This time also makes him the third fastest in the European Indoor Championships, with only Colin Jackson outrunning him twice.

Yaroslava Mahuchikh

won the high jump for Ukraine.

Karsten Warholm

won the 400m for Norway.

Pedro Pichardo

won the triple jump for Portugal, with a distance of 17.60m in his first attempt, adding another gold medal title for the Olympic, World and European champion.

Wilma Murto

won the pole vault for Finland with a height of 4.80m and therefore obtaining the national record!

Sondre Guttormsen

won the pole vault for Norway with a height of 5.80m. All while he is still a student in the USA!
View this post on Instagram
🥈9 SILVER MEDALISTS
Ewa Swoboda

(Poland) in the 60m.

Adrianna Sulek

(Poland) in the pentathlon, claiming a new national record.

Larissa Iapichino

(Italy) in the long jump, claiming a new national record.

Tina Sutej

(Slovenia) in the pole vault

Jakub Szymanski

(Poland) in the 60m hurdles

Julien Vatrin

(Belgium) in the 400m, claiming a new national record with 45.44.

Thobias Montler

(Sweden) in the long jump

Piotr Lisek

(Poland) in the pole vault

Emmanouil Karalis

(Greece) in the pole vault
🥉4 BRONZE MEDALISTS
Patricia Mamona

(Portugal) in the triple jump

Amalie Svabikova

(Czech Republic) in the pole vault

Thomas Carmoy

(Belgium) in the high jump

Ditaji Kambundli

(Switzerland) in the 60m hurdles