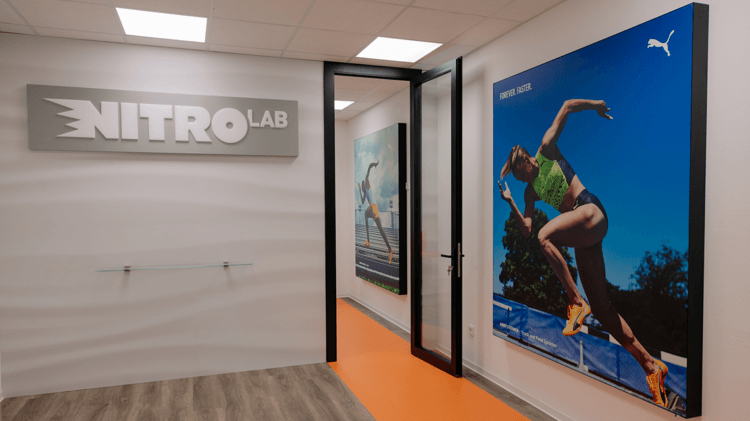 ENTER THE
PUMA NITRO LAB
PUMA's New NITRO LAB Offers Athletes of all Running Abilities High-Quality Testing for a Better Performance
March 10, 2023
PUMA's New NITRO LAB Offers Athletes of all Running Abilities High-Quality Testing for a Better Performance
March 10, 2023
Take a step inside the PUMA NITRO LAB!

PUMA has teamed up with Hartmann Orthopaedics & Sports to launch a high-performance testing facility as its dedicated innovation centre for elite and amateur runners. Located in Dillenburg, Germany,

the lab provides athletes with detailed full-body insights through a series of tests and scans to create customisable solutions for each athlete.

PUMA's elite athletes will regularly visit the PUMA NITRO LAB, but it also open to the public for runners of all levels to improve their performance.

"The PUMA NITRO LAB is a natural progression for us as we ascent in the world of running. At PUMA everything starts with our athletes. We work with the fastest men and women in the world to help them perform better then we use our learnings to innovate our products for the benefit of runners at all levels. The PUMA NITRO LAB becomes critical in driving the insights that will drive the next generation of product development on and off the track." – Romain Girard, Senior Head of Innovation at PUMA
To celebrate the opening of the new lab, PUMA invited journalists and influencers to take part in an event at the lab this week. Our recently signed PUMA athlete Marcell Jacobs – 100m Men's World, European and Olympic Champion – was one of the first to use the facility! We also welcomed other PUMA athletes from the past and present, such as Gesa Krause, Patrick Schneider, Marc Ruether and Isayah Boers and Kevin Lopez to the lab, with middle-distance running legend and three-time 800m world champion Wilson Kipketer the host of the event. During the event, athletes and participants received direct feedback from the Hartmann experts after performing a series of tests. They will receive specialised insoles and a mould of their foot ten days after the event.
The aim of the event was to raise visibility and awareness of PUMA products and our NITRO technology, while demonstrating our credibility in the running world. "PUMA is committed to learning from external experts who provide new perspectives and fresh insights that challenge our thinking and facilitate innovation in our products. Hartmann Orthopedics & Sports is the perfect partner given their experience over 20 years of working with elite athletes to minimize risk of injuries and optimize performance through testing and customization," says Romain Girard.
The event also supported the launch of our new ForeverRun shoe!
View this post on Instagram
What greater way to elevate our NITRO performance shoes and continue to provide the FASTEST athletes with the FASTEST products!