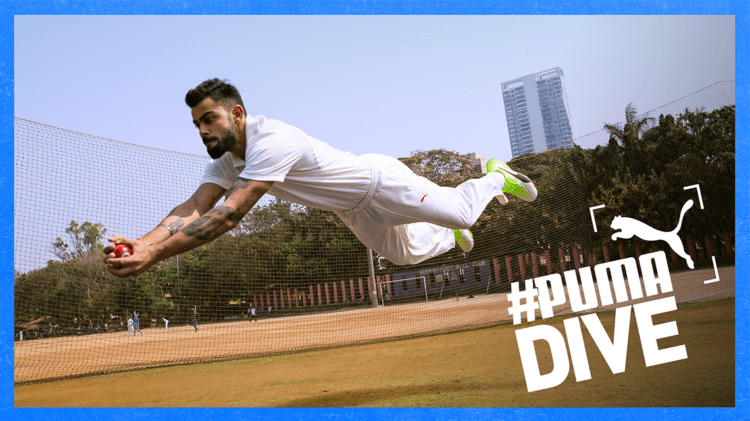 "It all started with a dive"
Virat Kohli leaps into the sporting season with #PUMADIVE campaign
October 18, 2023
Virat Kohli leaps into the sporting season with #PUMADIVE campaign
October 18, 2023
In the world of sports, it's often said that
greatness begins with a single leap

– and

Virat Kohli, Indian cricket star

and

PUMA ambassador

who's known for his

iconic dives on the pitch

would certainly agree. Recently, PUMA and Virat unveiled the innovative and fun

new campaign #PUMADIVE

that celebrates the art of diving and invites enthusiasts from all walks of life to showcase their leaps online. Read on and dive into the story!
Virat Kohli's iconic dives on the cricket pitch have often been compared to PUMA's iconic leaping cat logo, creating viral content. This season, PUMA has decided to take this connection to a whole new level by launching the #PUMADive campaign.
The campaign was introduced to the world through social media as Virat Kohli showcased his diving prowess in a an image he shared on the platform X (formerly Twitter) where he set the stage for an exciting challenge. In his tweet, he invited fans to rate it, posting, "Think this definitely is a 100% score. What do you guys think? #PUMADive."
The Indian star cricketer received praise from former South African cricket-pro Jonty Rhodes for his diving skills when he announced the AI-led campaign. Jonty Rodhes, one of the best fielders of all-time, replied to Virats post, "Nice one, Virat! It all started with a dive for me too. Reminiscing some special memories. Hope you make some this year. Not against us though #PUMADive." As part of his reply to Virat, Jonty also posted a diving image of himself from a historic game in the year 1992.
The campaign is making waves also outside the cricket world, as more and more people are sharing their #PUMADives on social media too – like our PUMA legend Usain Bolt who claimed the fastest dive in space with his picture.
View this post on Instagram
Everybody is invited to dive!
Under the two-month-long campaign, participants are invited to upload images of the best dives in their everyday life – be it swimming, sky diving, during concerts or shopping at PUMA's stores – this season wears the hashtag #PUMADive.
What makes PUMA DIVE unique is the integration of generative AI, which will assess the accuracy of each dive in relation to the PUMA's iconic leaping cat logo, in under a minute. The closer a participant's image of a dive matches the PUMA logo, the greater the reward they receive.
"Fans are the heart and soul of the sporting culture of our country. As a brand, PUMA wants to give these fans a fun way to engage to celebrate iconic moments. Our #PUMADive campaign is a reflection of PUMA's unique approach to capturing a collective emotion and creating innovative ways for people to own and express it. This campaign is an immersive mix of fun and AI-led technology with once-in-a-lifetime rewards such as playing a game with our star ambassador Virat Kohli, building an all-round fan experience."
Top entries have the unique chance to play a real life cricket match against PUMA brand ambassador Virat Kohli or win his special boots. But not only the best ones win – every participant is guaranteed a reward.
So, whether you're soaring through the air, making waves in the water, or diving into new adventures, don't forget to capture your moments and share them with the world.
Join PUMA and Virat Kohli, show off your #PUMADive and let the art of the leap take center stage!