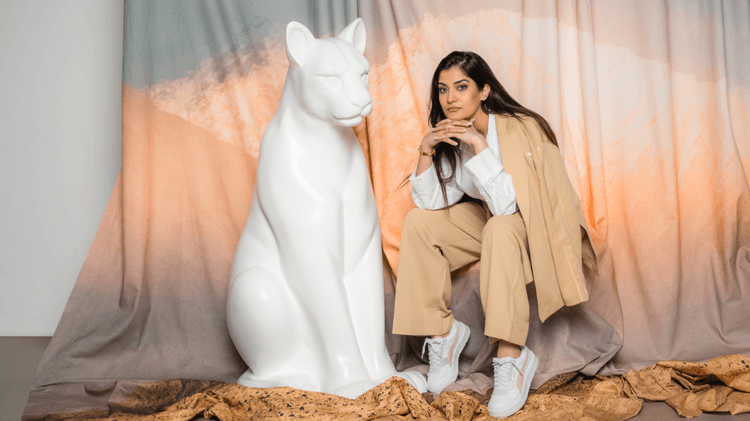 A New Voice of a RE:GENERATION
PUMA Welcomes Indian Sustainable Fashion Advocate Aishwarya Sharma as its new Voice of a RE:GENERATION
September 26, 2023
PUMA Welcomes Indian Sustainable Fashion Advocate Aishwarya Sharma as its new Voice of a RE:GENERATION
September 26, 2023
Meet Aishwarya Sharma, PUMA's new Voice of a RE:GENERATION.

The Indian sustainable fashion advocate joins the team to help PUMA identify key areas for improvement in its sustainability efforts. Aishwarya has made a name for herself with her beliefs on women's rights, fashion, social media and climate change.

Aishwarya joins three other next-gen thinkers, Andrew Burgess, Jade Roche and Luke Jaque-Rodney, as part of PUMA's year-long project to advance its sustainability efforts by collaborating with young environmentalists. CATch Up had the opportunity to chat with Aishwarya on her journey in fashion activism and her role as one of PUMA's Voices of a RE:GENERATION.
VOICES OF A RE:GENERATION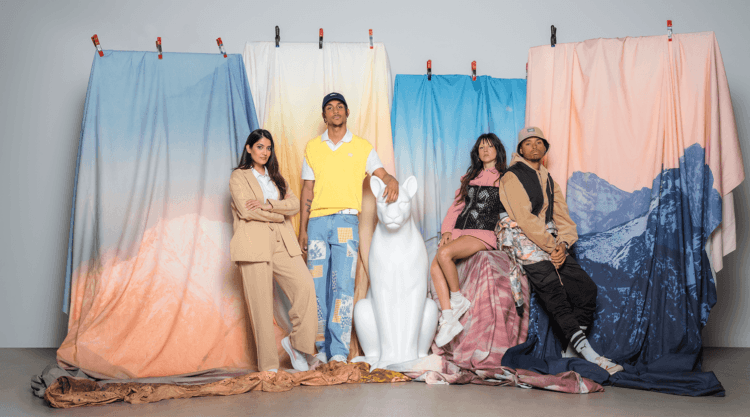 Can you tell us about your journey?
Aishwarya: Back in 2017 during my college internships, I started working with an organisation which was based in India and focused on rehabilitation of acid attack victims and sexual assault survivors. That was the beginning of my first ever blog – and viral campaign – which combined fashion and activism and focused on how women are suffering in the world today. We kept working with brands all around the world, in India, and Corporate Social Responsibility partners and non-governmental organisations. In 2020, I joined as a UN global goal ambassador for goal ten, followed by goal five and anything focused on fashion, sustainability and activism. We kept combining and bridging the gap between these three things and kept reaching more people.
My journey has been super challenging: when you come from a country like India, there is a lesser understanding of what fashion can do in terms of activism. Either it is activism or it is fashion, combining the two means you are doing something frivolous: there's a general stereotypical mindset that fashion is a frivolous industry. So how can a fashion influencer talk about acid attacks, sexual assault, social injustices, fair income or labour rights? That was a challenging question to answer for many years. Wherever I went, people would say you can either become a person in fashion or you become a social NGO or a social worker. People were not ready to accept that you could do both. I'm happy that we have come to a point where fashion activism is being considered as a parallel industry to the fashion industry.
What prompted you to become involved in sustainability?
Aishwarya: The Rana Plaza collapse in Bangladesh in 2013 was a wake up call for the world and for me. I remember I was studying in high school at that  time and every news channel covered it. It claimed more than 1100 lives. We kept asking, what are these factories? How can a factory just collapse?
At that time, we were not aware of labour rights or health and working conditions, especially in the fashion industry, and so a lot of research really started then. I read a lot and I started to understand what Bangladesh and the activists in Bangladesh were advocating for, and apparently they were advocating for change for years and it wasn't ever covered in the news. The only thing in the news was that the factory collapsed. It took the loss of so many people for this issue to make headlines.
My relationship with sustainability started way before I even realised what sustainability even is. It has developed into an understanding that we cannot live without reducing our impact on the planet.
Which sustainability topic is crucially important for you?
Aishwarya: As a teenager, I had an obsession with fashion magazines. I wanted the newest trends, but that quickly changed to what's good for me rather than the glamorisation of fast fashion. Now, there's an understanding that we want to stick to our own style, which defines us and also reduces our overall impact on the planet. Don't blindly follow trends. Almost 50% of my audience or followers are women from ages of 18-26, I want someone who is 18 and following me to know that she needs to stick to her own style and not give into trends. I want to change the whole conversation because I don't want more girls to be caught up in what I was caught up with when I was 17. I want them to be themselves.
What would you consider your biggest achievement yet?
Aishwarya: I think my biggest achievement yet, in the simplest way, is how I was able to gain a considerable amount of followers even while I was doing something unconventional. While most of my peers my age were indulging in fashion blogging as a full-time career, I looked for ways that fashion blogging could be different. When you want to do something which is unconventional, there's always a fear of failing. So, I took the risk and I did what I wanted to do because I wanted to help people through my platform. In India, there are not a lot of opportunities for fashion activists and people don't even understand what this is. Just to create that understanding sort of changed the ball game in the past four years, and now in India today, people and brands are being more conscious.
What I do focuses on human rights, on women and sustainability, so becoming a UN global goal ambassador is another huge achievement for me. In 2021, I was asked to chair the India Coordinator for Global Peace Accord. Coming from the Global South, being on these boards is really important because the Global South is the most susceptible to climate change. We can see it happening right in front of us, it is a not distant conversation, it's our everyday reality. It is important to take lead and be unified in our fight against climate change and to put credible solutions on the table and demand more.
With all of this, it makes me happy that people understand the value of a fashion activist to even be on these boards, especially when I was questioned on what I was trying to do with my platform in the past. I feel like I, alongside others, opened the space for more people globally to follow.
What principles do you live by regarding sustainability?
Aishwarya: To be guided by my inner voice, by my own consciousness, and to live in a way that is healthy for me, not how somebody else dictates it. Sustainability for people in the Global South is completely different from the rest of the world because we live in constant guilt. We see so much around us that even though I'm grateful for what I have got, I wonder how can I do more with the resources I have to help others. There is constant guilt if you're indulging too much into things that are definitely harmful for other people, especially if those other people are right in front of us. For us, the people affected is not an imaginary number – it is the people who are right next to us.
How do you plan to use your platform with PUMA to help make the fashion world more sustainable?
Aishwarya: If you look at PUMA, they're ready to be more transparent, they are ready to have those tough conversations by saying "we know we are not the best brand when it comes to having the best sustainable initiatives, but we are trying to do better." They are engaged in a lot of sustainability initiatives and so much is happening at a global level. My association with them is special because what I have been advocating for years can be wider spread through our collaboration, and help make fashion more sustainable.
It's more complex than we can put onto paper but if one company can do it, maybe others can too. The goal is to reduce our footprint on this planet. How you do this as a brand, an individual company, organisation, whoever you are, in whatever part of the world, is going to be a message to everyone that we can work together. The world would be such a better place if we were to collaborate more and compete less.
What do you hope to achieve as PUMA´s newest Voice of a RE:GENERATION?
Aishwarya: Definitely more social impact, a wider digital awareness so we can spread our messages of sustainability globally. PUMA is catering to millions, if not billions of people around the globe, and awareness of sustainability is so important. As a young climate activist, a person who is so passionate about creating change, this is going to be a global platform for me to reach other people and show that fashion activism is the way of the future; sustainability is the way of the future. That we can come together to do things better because the power of people is incredible. One person multiplied by millions of people who think the same and do the same things around climate action in terms of finding solutions and being more sustainable, has a massive impact. As PUMA's newest RE:GENERATION voice, especially from India and the Global South, I think this is going to be a huge opportunity for me to be involved in the process and to see things from a different perspective. I hope to achieve peace through fashion and sustainability.
What tips do you have for people who want to dress more sustainably?
Aishwarya: Sustainability starts at home. You can do your part. Because even if you choose to rewear the same dress or the same shirt or the same sari ten more times, it keeps its lifecycle renewed – it doesn't end. Re-wearing it, I feel is the ultimate sustainability in terms of fashion.  Further to that is upcycling and recycling. You can always rewear something and make it look cool. You don't have to indulge in the mindset that if I don't have more, people will think I don't have more. That is exactly what you want people to think, that you don't have more. No more of more is the policy. If you wear a dress five more times, you should be proud and that's what makes you cool. According to the new wave, the new Gen Z, the young people, it makes you cool, it makes you conscious, and it makes us respect you more.