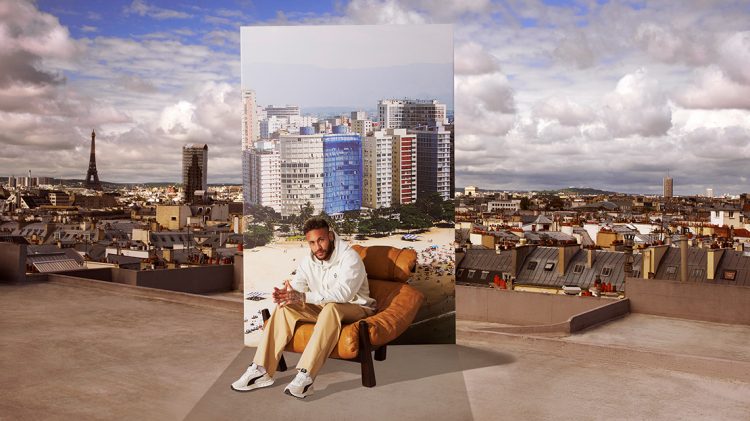 BLESSED
NEYMAR JR.'S NEW LIFESTYLE COLLECTION WITH PUMA
September 28, 2021
NEYMAR JR.'S NEW LIFESTYLE COLLECTION WITH PUMA
September 28, 2021
We have teamed up with

Neymar Jr

.

for

his

first

lifestyle

c

ollection

, which celebrates his

life's

journey from São Vicente to Paris

. As a co-creator of the collection

the

pieces feature

meaningful graphics

inspired by

his origins

in Brazil

.
The lifestyle collection tells Neymar Jr.'s history through its graphics, the coordinates are from São Vicente, his hometown in Brazil. The word "Blessed" which he has tattooed on his back serves as a centrepiece for the collection, using the word throughout the items feels special to him, as it's a word that describes gratitude and how he feels about his life and career. The designs even include one of his favourite phrases that really speaks to his own life mantra, "It's not always all about being the best or the greatest but instead, to inspire future generations." 
The most important thing to Neymar Jr. when going through the process was designing with comfort in mind, something that can be worn every day. While product designs are minimalistic, heavy fabric and premium details elevate the pieces.  
We asked PUMA´s Global Creative Director, Heiko Desens about the work with Neymar Jr. as well as the collection:
Tell us about what it was like to work with Neymar Jr. on the design process. 
Heiko: The design team and I went to Paris last year to meet Neymar Jr. for the first time in his house, which was quite an exciting moment to start this collection. We know Neymar Jr. as well dressed, sometimes with opulent and quite exciting style, so we brought bold design examples. When we showed up at his house, we felt really welcomed, but found out he had something quite different in mind for his own collection; a simple, toned-down look. We were surprised but happy – as designers we like simplicity and focusing on detail for more of a minimal look. We decided to do a collection with personal touches and subtle designs, and that was the starting point. We were all excited and Neymar Jr. was a great partner to work with throughout the process.
What are the key details that make this collection unique? 
Heiko: 'Blessed' is a tattoo of his and he wanted to use this as a decorative element in the collection. It can be seen well executed on the hoodie with rich looking embroidery. He also wanted a bit more of a hidden detailing, like where he came from, so we used the coordinates of his hometown as a small tape in the contrast yellow on some of the items. He also created a message for his fans, a phrase which is close to his heart and kind of his life mantra.  
Who is the collection for? 
Heiko: Neymar Jr. really wanted to make sure that he loves to wear it himself, so he wanted to do something for himself but also for the cool kid out there. That is why it's quite a toned-down look, so it's really attracting a cool crowd of people, which was our aim for this collection.