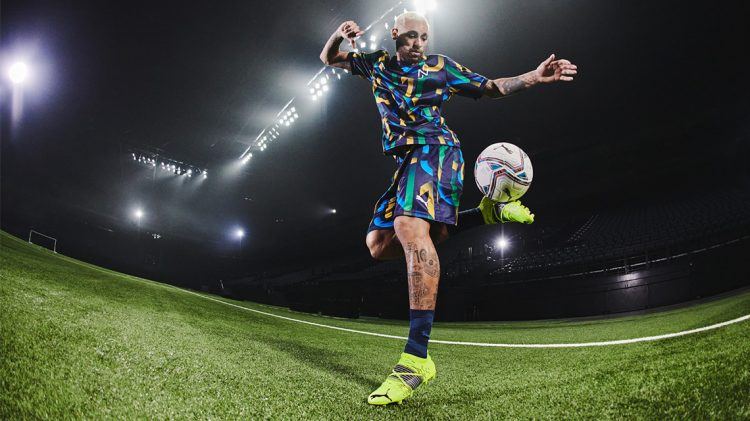 Drive them craZy!
PUMA AND NEYMAR JR. INVITE YOU INTO THE WORLD OF FUTURE Z
January 12, 2021
PUMA AND NEYMAR JR. INVITE YOU INTO THE WORLD OF FUTURE Z
January 12, 2021
LOCK IN. DRIVE THEM CRAZY. Sports company PUMA has launched the groundbreaking new FUTURE Z 1.1 football boot, which will be worn by the world's most dynamic and creative playmakers –
Neymar Jr

.,

James Maddison

,

Eugénie le Sommer

,

Marco Reus

and

Dzsenifer Marozsán

. To mark the launch of the new boot, PUMA has created a cool video with Neymar Jr., which you can watch below.
PUMA continues to push boundaries with the FUTURE Z by developing a lightweight new tooling system – the Dynamic Motion System outsole. The eye-catching Z-shaped soleplate reduces weight, provides 360-degree lock-in around the foot and maintains a stable plate for playmakers to perform devastating accelerations, movements and skills.
The biggest innovation of the FUTURE Z is the FUZIONFIT+ compression band, placed at the mid-foot. The band was developed using a special combination of polyester and spandex yarns, along with special technical yarns to create the perfect balance of compression, comfort and durability, giving the wearer that second-skin feeling.
The FUTURE Z has been designed with the help of medical staff from some of PUMA's top clubs from around the world to ensure the boot has the optimal stud configuration, including the placement of the middle stud at the pivot point of the boot to enhance rapid changes of direction.