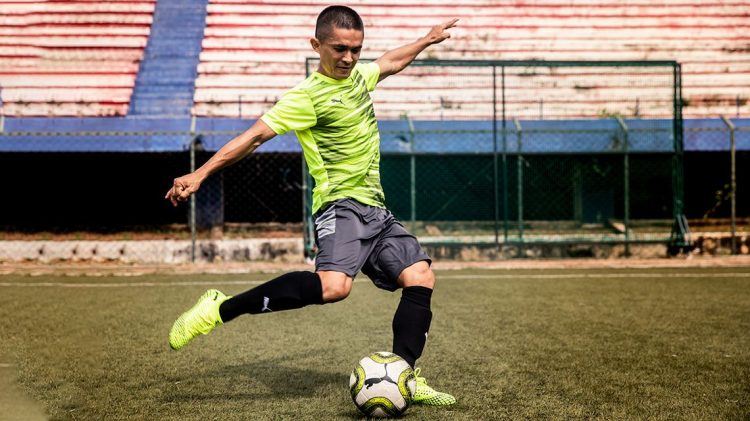 "Captain Fantastic"
joins forces
with PUMA
Sunil Chhetri's thoughts on his 3-year contract with PUMA
December 13, 2019
Sunil Chhetri's thoughts on his 3-year contract with PUMA
December 13, 2019
It's official. PUMA announced the signing of striker and winger
Sunil Chhetri

, affectionately known by Indian fans as "Captain Fantastic".

Chhetri is reputed to be one of the best Indian football players in history, thanks to achievements like "most-capped player" and "all-time top goal-scorer for the Indian national team".
Indian men's football team captain Sunil Chhetri has signed a three-year deal with PUMA.
The Bengaluru FC skipper is currently the second-highest goal-scorer in international football after Portugal's Cristiano Ronaldo.
"Sunil Chhetri is synonymous with football. A living legend and an inspiration for the youth, he has made a huge impact to grow the sport and its following in India. His passion is very much in line with PUMA's vision. Together, we are invested in growing the culture of football, inspiring and achieving new levels in the game."
Sunil's passion is contagious and nowhere is it more visible than when he is talking about his career as a professional athlete. What he likes best about his job?
"You get a shot at being a better version of yourself every day. Life as a professional athlete is about learning every single day, and that is the most satisfying aspect."
Want more on our interview with Sunil? Just scroll down. Happy reading!
CATch up INTERVIEW WITH SUNIL CHHETRI
Favorite sports hero: Lionel Messi. The man is exceptional at what he does.
What are three reasons you like being part of Bengaluru FC?
This is family first and a football club later.
It's a team that wants to keep raising the bar on and off the field, every season.
It's a team that has the mentality of champions.
What do you consider to be the turning point in your career?
There have been many pivotal and key moments through my career, and it's tough to pick out one. I think it would be my debut for the Indian national team. That one will always be special.
Do you ever get nervous? If so, what's your technique for dealing with it?
Not nervous, but anxious in anticipation of a game. I think experience teaches you to calm down. The key is backing yourself and believing that you've worked hard enough for the moment is what helps in dealing with nerves.
Who do you wish was watching you perform at every game or match?
My family turns up for as many games as they can, so there's no one else really. But I'd like a packed stadium every time we play. Not for me, but for the sport and the atmosphere.
Do you have a routine before competing? Like listening to a favorite song? Can you tell us a little bit about this?
I like things to be in order, but I don't have a routine to be honest. I just want the simple things done right. I do however have a go-to song, it's Lose Yourself by Eminem. It's been my matchday song for some time now.
Why did you decide to work with PUMA?
There are few important factors – the primary one being the 4.1 Future boots. I tried them before signing and I really like to play in them. PUMA's stylish products and design being the second one and finally the vision that PUMA India has with regards to football in India.
What are three words that come to mind when you think about PUMA?
Contemporary, fresh, and Usain Bolt.