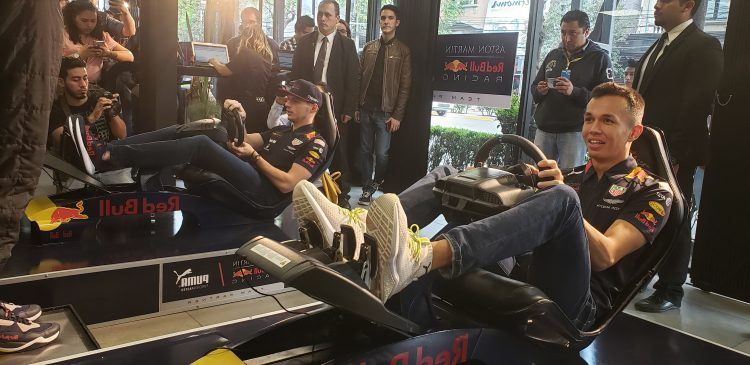 Racing Fans Unite:
Don't Miss This
Weekend's F1 Virtual GP!
F1 Racing and Sim Racing team on an epic global tour
April 17, 2020
F1 Racing and Sim Racing team on an epic global tour
April 17, 2020
Sim Racing

, or simulated race car driving, has been around since the late 80's. But in the past weeks, motor racing fans have had to face the postponement and/or cancellation of the first eight races of the

F1 season

. And what better way to cope than to flock to the

online version of the sport

? Hundreds of thousands have been tuning in every weekend, taking

front row seats at virtual races

where current and former F1 drivers compete against celebrities and professional sim racers alike. And

this weekend's Virtual Chinese Grand Prix will be no exception

.
Alex Albon
, a Formula 1 race car driver from the
PUMA-sponsored Aston Martin Red Bull Racing team
, is preparing for a tough race. This weekend, on April 19th, he'll be competing against
Charles LeClerc
, a Formula 1 driver from the
PUMA-sponsored Scuderia Ferrari team
. Both drivers have more than enough experience under their belt, and race simulators are familiar territory for these pros, but this Sunday they'll be stretching their e-sports muscles, in the
Virtual F1 Grand Prix
.
The Origins of Sim Racing
Generally acknowledged to have really taken off in 1989 with the introduction of Papyrus Design Group's Indianapolis 500: The Simulation, SIM Racing has come a long way since 16-bit computer hardware.
The simulator is good for practicing consistency and precision. Top drivers don't make mistakes.
This is new terrain for F1, too
. The current Virtual GP series is the sport's innovative solution to the current global crisis. With the competitions at bay, drivers have some time on their hands. And race fans do, too. In solidarity, many brands are jumping on board, from Formula 1 and BMW to motorsport magazines,
Sim Racing events are being launched across the globe
.
And of course, there's the social aspect of
the community coming together.
People are collectively rallying behind the sport that they're so passionate about,
keeping it alive and well through SIM racing
.
It's great that SIM Racing is experiencing this boom, and we love that it's bringing the community together in tough times. And of course, PUMA is happy to support our drivers on this new frontier.