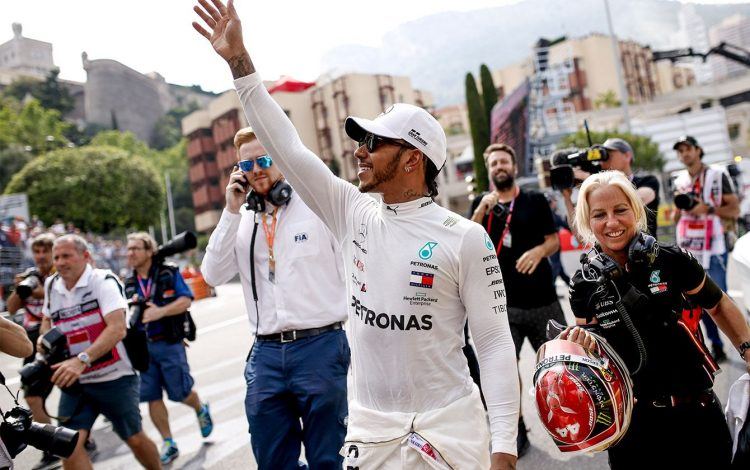 Triumphing in
the two biggest
races of the year
PUMA Motorsport snatched away two titles in one day
May 29, 2019
PUMA Motorsport snatched away two titles in one day
May 29, 2019
What a weekend it was for PUMA Motorsport winning the
two biggest races of the year

in one day!
First,
Lewis Hamilton

won the Formula 1 Monaco Grand Prix – a very special one as the F1 world remembered and honored F1 legend Niki Lauda, who passed away last week at the age of 70.
Then, PUMA supplied driver
Simon Pagenaud

of Team Penske won the Indianapolis 500, arguably the most prestigious race of the calendar.
The F1 Monaco Grand Prix was the fourth win of the 2019 season for Five-time Formula 1 champion Lewis Hamilton, but it was a special one. Partly because he was left out on the track by his team for around 60 out of the 78 laps and particularly because the F1 Monaco Grand Prix was held in honor of his friend, former F1 World Champion and Mercedes AMG Petronas team colleague Niki Lauda.
Despite the difficult circumstances, Lewis led the race at Formula 1's greatest backdrop from pole to flag . "That was definitely the hardest race I've had. I really was fighting with the spirit of Niki. I was trying to stay focused and make him proud," Lewis Hamilton said after the race according to reuters.com
With his win, PUMA team Mercedes extended their winning run to six. Lewis Hamilton has 137 points, 17 more than runner-up Valtteri Bottas.
Team Penske driver Simon Pagenaud arrived at the Indianapolis Motor Speedway with the pleasant benefit of starting the Indy 500 from pole position, which he claimed last week for the first time. He left the speedway as the new Indianapolis 500 champion, also for the first time.
Having swapped leads with runner-up Alexander Rossi five times over the final 13 laps, Simon Pagenaud finished with a margin of 0.2086 seconds ahead of his rival, the seventh-closest finish in the 103 years of the race.
Simon Pagenaud will soon find his face engraved on the Borg-Warner trophy that is presented to the winner of the Indianapolis 500 race, paying tribute to the most revered drivers in auto racing. It comes with the honor of having a little square with one's face sculpted onto the 79-year-old trophy.
Simon Pagenaud now leads the 2019 IndyCar Series Standings with 250 points. Even better: his team colleague and PUMA supplied driver Josef Newgarden is ranked 2nd just one point behind Simon.
Cover Picture Credit: PUMA sponsored team MERCEDES AMG PETRONAS MOTORSPORT / Tom Fitzpatrick, Partner Executive