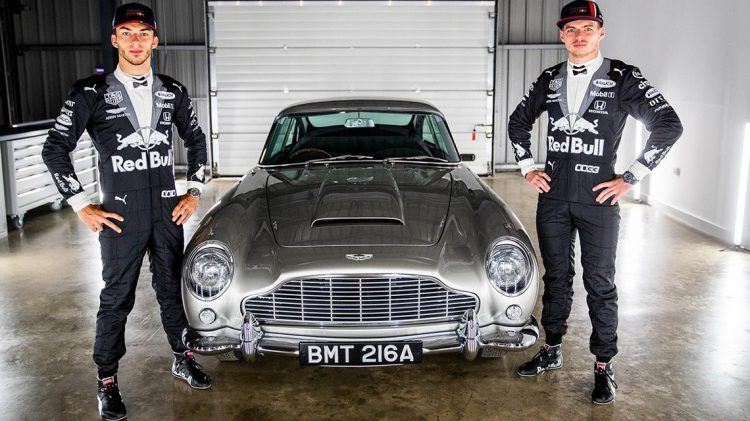 0033 and 0010
Reporting
For Duty
Max Verstappen and Pierre Gasly suit up for the 1,007th Formula 1 Race
July 15, 2019
Max Verstappen and Pierre Gasly suit up for the 1,007th Formula 1 Race
July 15, 2019
The 2019 British Grand Prix at Silverstone last weekend was not just any
Formula 1

Grand Prix.
It just so happened that Aston Martin Red Bull's home race in Silverstone, Great Britain, was the World Championship's 1,007th race.
The 1,007th race taking place in James Bond's home country called for a special celebration. And for special celebrations you suit up, don't you?
Red Bull Racing drivers Max Verstappen and Pierre Gasly (car numbers 33 and 10) swapped their standard racing overalls for something a little more elegant: PUMA designed unique race suits to emulate the classic single-breasted dinner suit, including shawl lapel, sported by Daniel Craig's 007. Of course, the suits met all relevant Fédération Internationale de l'Automobile (FIA) requirements.
While the two Aston Martin Red Bull Racing F1TM cars were not equipped with any James Bond gadgetry (rockets anyone?) , they still featured the iconic 007 logo and Bond number plates on the back of their rear wings. Max Verstappen's RB15 Formula 1 car ran the number plate from the Aston Martin DB5 in GOLDFINGER (1964) while Pierre Gasly's car featured the Aston Martin V8 plate from THE LIVING DAYLIGHTS (1987).
In the end, neither 0033 nor 0010 climbed onto the podium, but at least they were the best dressed drivers on track. Pierre Gasly finished 4th, ahead of Max Verstappen who finished 5th.