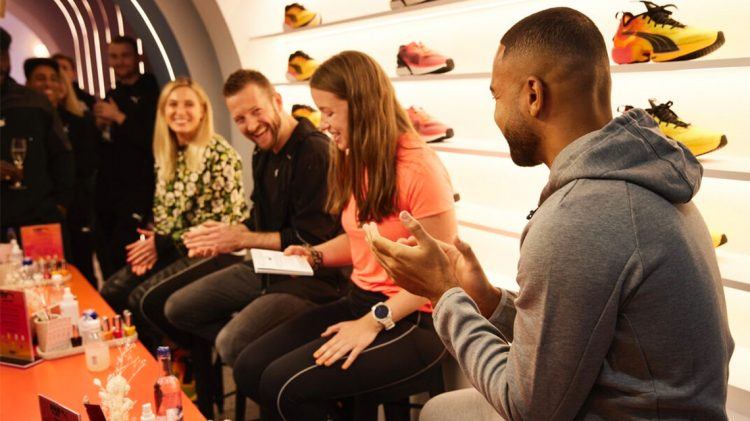 Running & Training
London
Marathon
Run PUMA celebrates the London Marathon and running culture in style at the Run PUMA House
October 5, 2022
Run PUMA celebrates the London Marathon and running culture in style at the Run PUMA House
October 5, 2022
Run PUMA signed off on an incredible London Marathon Weekend! The 42nd annual London Marathon on 2 October 2022 saw an estimated 42,000 people take on the demanding 26.2-mile distance – and PUMA provided runners with the care they needed.
 

PUMA welcomed runners across the marathon weekend to the 

Run PUMA House of Rest and Recovery

located on 20 Buckingham Palace Road. Take a look!
The launch panel talk, hosted by TheRunningChannel's Sarah Hartley, featured Rose Harvey (PUMA athlete & pro marathon runner), Reece Parkinson (BBC broadcaster) and our very own Todd Falker (Team Head, Product Line Management, Run/Train Footwear).
Our Run PUMA House offered runners a weekend filled with free treatments such as:
Pre and post race massages
Speedy manicures and pedicures
A shakeout run with our friends at TheRunningChannel
Personalised sliders for finishers, detailed with their marathon time
And much more!
Not only did PUMA Running's Rose Harvey take part in the launch panel talk, but she made her mark in the London Marathon as well. As both a finance lawyer and professional marathon runner, the PUMA athlete completed the marathon in 10th place with a time of 2:27:59, marking her as the British champion and fastest European runner. Way to go, Rose!
To everyone who celebrated London with us in the Run PUMA House: thank you!🙏🏼
And to everyone who ran the London Marathon: congratulations on an amazing achievement!
View this post on Instagram