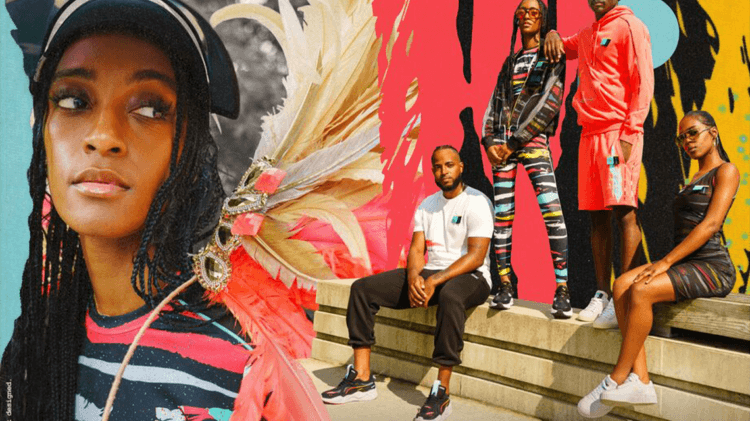 Celebrating Culture
and Creativity
PUMAs We Are Legends Returns with vibrant "Mas Camp" Collection
October 9, 2023
PUMAs We Are Legends Returns with vibrant "Mas Camp" Collection
October 9, 2023
In August, PUMA's first
employee-led collective of Black creatives,

We Are Legends

,

returned with the launch of its second collection, "Mas Camp".

A celebration of culture, design and fashion, this collection

pays homage to the global tradition of Carnival

, a vibrant tradition that unites Black communities worldwide through dance, self-expression, and festivity.

"Mas Camp" captures the essence of Carnival through its lively colors, feathered prints, and intricate masquerade-inspired details.
We Are Legends brought this dazzling collection to life by educating, celebrating and highlighting the importance of diversity and creativity. Read on to get an exclusive look behind the scenes of the celebrations!
Cultural Celebration and Education
At the heart of We Are Legends' mission is a commitment to celebrating and educating. PUMA employees at the Somerville office were treated to an enriching experience that included live panel discussions, a captivating fashion show, soca dance lessons, and the opportunity to savor Caribbean-inspired drinks courtesy of Hue Boston. This immersive event served as a platform to deepen employees' understanding of the cultural significance of Carnival and its influence on art and fashion.
Partnership with the West Indian American Day Carnival Association
We Are Legends also forged a strategic partnership with the West Indian American Day Carnival Association, renowned organizers of the largest Caribbean Carnival in North America. This collaboration allowed We Are Legends to tap into the rich tapestry of Carnival culture, further enriching their designs and connecting with a wider audience.
Social, Digital, and TV Integrations
We Are Legends' reach extended beyond the walls of our PUMA's offices. The collective leveraged social media and digital platforms to share the vibrancy of "Mas Camp" with the world. Additionally, their presence on TV, notably with a live debut on PIX 11 during the NYC Caribbean Carnival, showcased their creations with over 100K views on social media and a reach of over 700K TV viewers in the New York and New Jersey area.
The impact of We Are Legends' "Mas Camp" collection has been nothing short of remarkable with over 600 pieces sold so far. However, We Are Legends is not just about fashion; it's a movement with a purpose. Rooted in three pillars — community, education, and donation — the collective seeks to empower a new generation of Black creatives. Through its endeavors, We Are Legends aims to uplift, inspire, and make a tangible impact on the creative landscape.
By supporting We Are Legends, you're not just purchasing fashion; you're contributing to a cultural movement that celebrates diversity, fosters education, and uplifts the Black creative community. We Are Legends is more than a collection; it's a legacy in the making, and together, we can continue to write its story.
🎊 To join the celebration and explore the "Mas Camp" collection, visit PUMA.com 🛒.