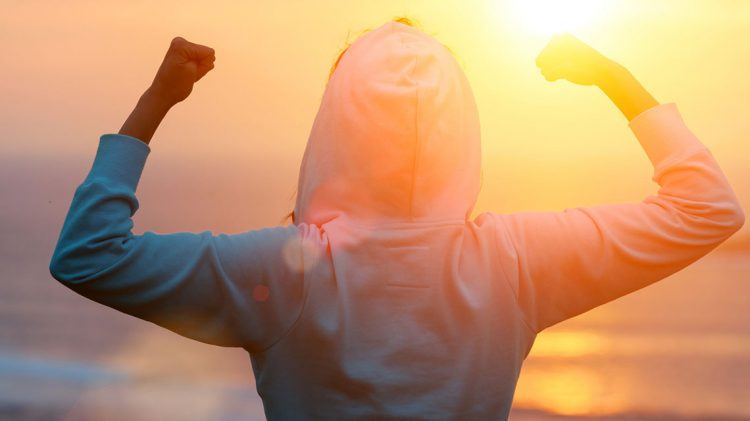 It just
gets better
and better
PUMA's Sales and Profits grew again strongly in the first quarter
April 24, 2018
PUMA's Sales and Profits grew again strongly in the first quarter
April 24, 2018
What a kick-off to the new year!
PUMA's
sales and profitability

took another huge leap in the first quarter of this year, with our

Footwear

business growing an amazing 26 percent.
In fact, the quarter was so good that we had to
upgrade our business outlook

for the full year.
Total sales increased by 21.5% currency-adjusted to 1.1 billion Euros. All regions supported this sales growth with a double-digit increase. Particularly our Asia/ Pacific region, driven by China, achieved an extraordinary sales growth of 35%. Americas grew 16%, while sales in EMEA rose 19%.
Our product segments also performed brilliantly. Footwear continued to be the main growth driver with 26%, while Apparel increased 21% and Accessories grew 11%. Running and Training as well as Sportstyle showed the strongest growth rates.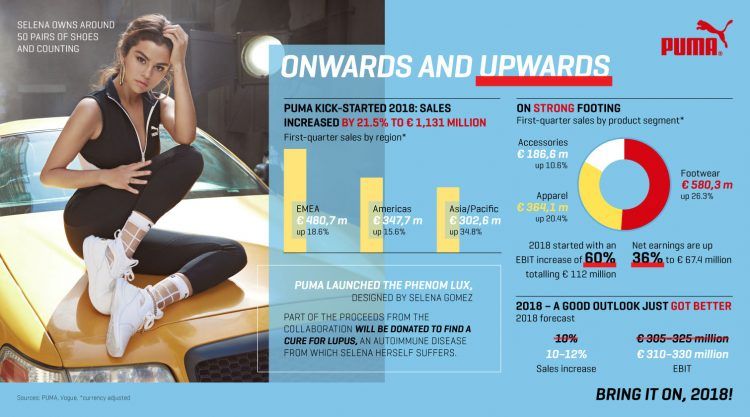 "We started the year with both first-quarter sales and profitability (EBIT) coming in stronger than we had expected," said our CEO Bjørn Gulden. "The double-digit sales growth in all regions and product segments, including an exceptionally high growth in Asia, led to a very strong 21.5% organic sales increase."
Our operating expenses grew by 7.5% to € 437.3 million, as we had higher marketing and retail investments as well as higher sales-related variable costs. The operating result, called EBIT, increased by 60% from € 70.2 million to € 112.2 million. Net earnings went up by 36% to € 67.4 million.
This performance in the first quarter was better than we had expected,  so that we had to upgrade our outlook for the full year. However, due to the current business environment, we raised our forecast only slightly.
Because of an uncertain business environment caused by volatile currency rates and the difficult economic trade environment, we raised our outlook for the full year only slightly. We now expect our sales to grow 10% to 12% in local currency (previous 10%) and EBIT to come in between € 310 to € 330 million (previous € 305 to € 325 million).