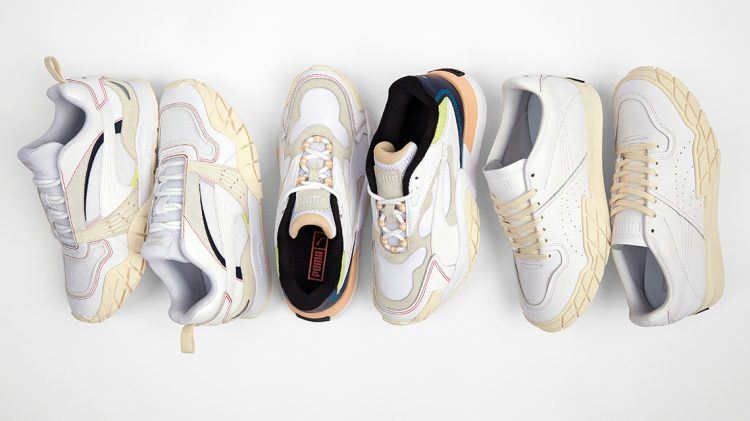 Get the Look
PUMA'S FASHION REBELS COLLECTION
For those who dare to stand out
January 19, 2021
For those who dare to stand out
January 19, 2021
Forget the do's and don'ts that beauty magazines love to dictate;

fashion is about wearing what you feel good in and embracing your own personal style! And the new PUMA FASHION REBELS Collection was designed with this in mind.

Made for rebels and leaders, those who dare to stand out,

don't care for following the rules and aren't afraid to show their wild side. We've woven together a bold outfit inspired by the rebellious nature of the newest additions to the sneaker crew.
The Shoes
Fashion is about experimentation, trying different things and being creative, and now you have three new footwear options to play around with. The Fashion Rebel family grows, welcoming Hedra, Eris & Kyron. The designs of this collection were drawn from the PUMA Archive with an infusion of high fashion elements.
With a muted colour palette and unique wrapping tooling (inspired by running spikes), plus a mixed material of suede and leather, the shoes are at once classic and contemporary, adaptable to the modern lifestyle and perfect for dressing up or down.  Fashion Rule #1 broken: sneakers are definitely no longer just for the gym. They make the perfect base for an everyday or even an every-night outfit.
The whole Outfit
For the Puma Fashion rebels collection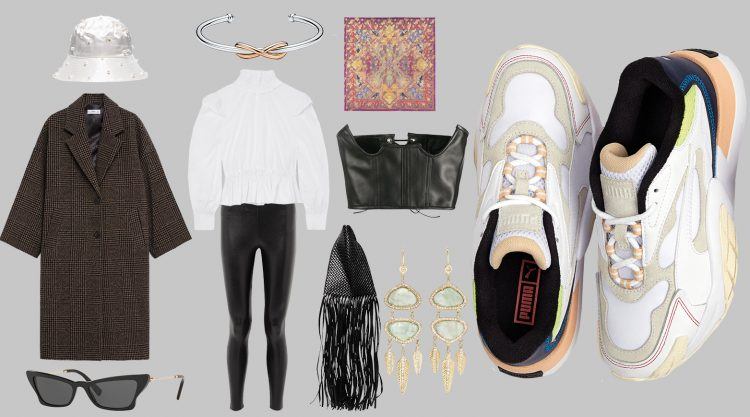 The Outfit
Speaking of dress up, for the outfit we went with something that also included high fashion elements with a bold twist. Bottoms-up: leggings are no longer only for working out (Rule #2 busted). Sportstyle hits the runway and seeps into the everyday, and these black faux-leather leggings are a perfect representative of this. High-waisted and designed to sculpt the figure, they add a rebellious, rock-and-roll edge to the outfit. Plus they're supremely comfortable.
A chic white peplum blouse contrasts with the darker leggings and those sweet/romantic ruffles stand out even more against the edgy bottoms. (For those counting, this is Rule #3 broken, because we are definitely going to continue wearing white after labour day). 
Overtop we have an element from more or less the same time period as the blouse: an incredibly cool leather cut-out corset.  Oh the corset; a symbol of suppression since the Victoria era, somehow the corset is being reframed by the modern woman and embraced as an alluring statement item that highlights and celebrates the female silhouette.
Balancing out the very feminine and fitted elements we wrapped up with an oversized, slightly more masculine wool coat. A warm, practical and somehow unexpected addition that completes the look. This outfit has a way of effortlessly standing out, so be bold about wearing it.
The Accessories 
Finishing up with some accessories we reach Rule #4 that was made to be broken because we simply don't agree that our bags and shoes always have to be the same colour. This freaky fringe captivated our attention, and makes the perfect (and rather eccentric) outfit addition. Bonus rule busted: clutches don't have to be reserved for nights out – this criss-cross clutch has enough attitude for anytime use.
Loving the fringe feature, these dangly earrings with a light green gem sparkle against a silver and gold infinity band bracelet (Rule #5 broken: merging different metals in the same look is totally fine). And you can also go ahead and mix and match patterns to your heart's content (Rule #6), daring yourself to play with bold prints like this bright psychedelic scarf that really pops out against the subtle plaid in the jacket and the more neutral tones throughout the rest of the outfit.
Breaking the rules never looked so good;

PUMA's Fashion Rebel Collection presents three new sneakers that are must-haves for

progressive, innovative and fashionable women who love high-fashion and are courageous enough to make their own unique style choices.