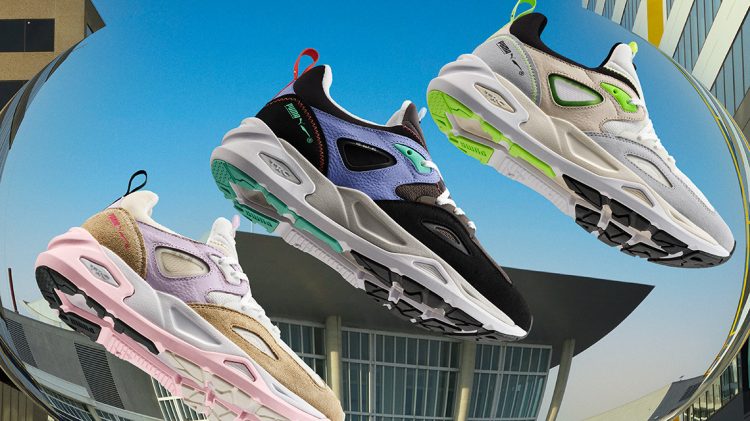 Get the Look
PUMA TRC Blaze the Triangle
The innovative new TRC Blaze paves the way forward while glancing back at the treasures of the past.

Fluent in futro design language (that's future-meets-retro for those of you asking) the latest drop

combines advanced PUMA cushioning tech with contemporary style features.

Motivated by this mashup, our OOTD blends stylistic blasts from the past in a modern manner.
The Shoes
Back in the 90's PUMA came out with advanced cushioning technology called TRINOMIC. An ingenious hexagonal system in the sole, this tech bolstered stability, flexibility, and, of course, comfortable cushioning in a range of PUMA footwear moving forward.
Featuring this padded and plush TRINOMIC cushioning, the new TRC Blaze picks up where its predecessor (the Blaze of Glory) left off in 2006. With some innovative design features including a lightweight double density sole, sleek sock construction and an improved fit, this retro-influenced sneaker specimen also incorporates rich futuristic details like a tooling code call-out and 3-D tongue logo.
The whole outfit for the TRC Blaze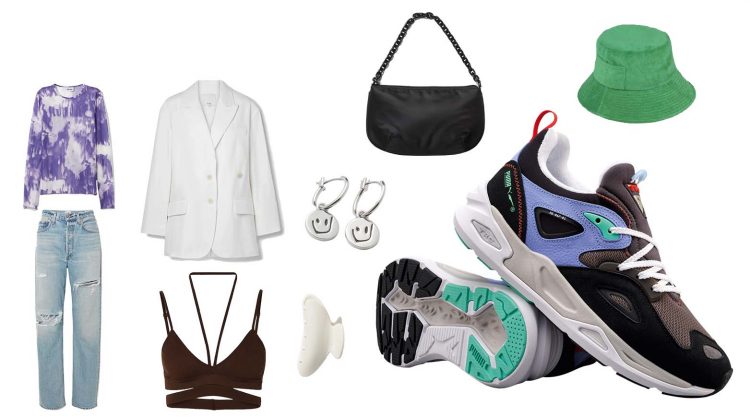 The Outfit
Today's look runs wild with those Back to the Future feels; effortlessly incorporating retro pieces into the modern wardrobe is the current fashion status quo, and this trend perfectly fits today's assignment. Spring/summer style in 2022 is all about the Y2K renaissance, bright colours and a fresh take on sexy.
Midriff-baring cutouts are perfectly on point, as is lingerie worn as outerwear, so this mellow ribbed bra top is right on the money. Bonus points: the soft brown shading adds interest by breaking the black/white schema. Overtop, layer an eccentric sheer long-sleeve that allows the cutout to peek through. With stretchy mesh material and a snug fit, it also has purple accents that tie into details established in the shoes for that nice, cohesive feel.
Next, the trend of big, big blazers has been simmering for long enough and now hits the streets. This oversize white number with an unstructured silhouette gives a vintage nouveau statement, especially when complemented by a pair of distressed denim jeans ─ baggy, relaxed, nonchalant and timeless.
The Accessories 
A pair of minimal hoop earrings with a charming smiley design are made from recycled materials and keep things quirky and fun. A classic baguette bag stores all your essentials, with a glam satin finish juxtaposed by a more streetstyle handle. Simple yet stylish, an iconic bucket hat is soft and durable, matching the feel of the comfy cushioning in the shoes (except for your head); plus the grassy green colour is super big this season. Finally, a white toned hair clip is the quintessential futro detail ─ alternate between hair clipped back and bucket hat for maximum versatility.
Smoothly merging highlights from the past with innovative promises of the future,

the latest TRC Blaze the Triangle from PUMA totally nails the future-meets-retro vibe. With plush TRINOMIC cushioning supporting your every leap and bound,

confidently step towards your future while decked out in all your vintage favourites.