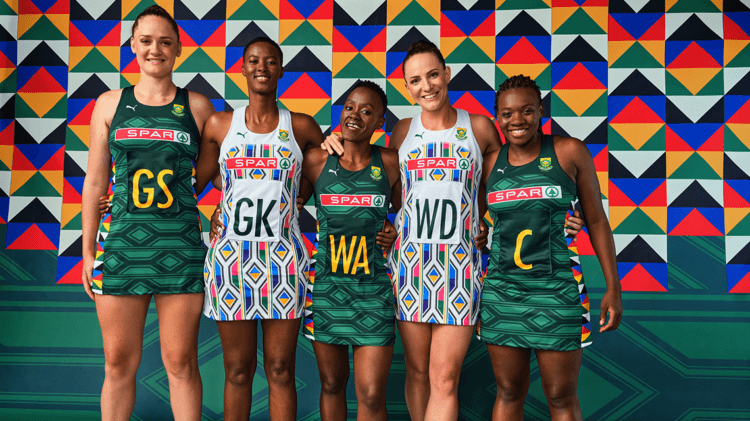 United Women
PUMA South Africa Releases United Warriors Kit for SPAR Proteas Netball Team
March 8, 2023
PUMA South Africa Releases United Warriors Kit for SPAR Proteas Netball Team
March 8, 2023
Happy International Women's Day!

In celebration of the day, PUMA and Netball South Africa are excited to reveal the new SPAR Proteas netball kits. Inspired by African art and South African symbols, the latest United Warriors kits are artistic while featuring the latest PUMA technical fabric. The kits will be worn by the SPAR Proteas team when they compete for glory in the Vitality Netball World Cup in Cape Town in July.
We launched the Home and Away kits on International Woman's Day to honour women across the world and to celebrate the Women's World Cup coming to South Africa. The kit features the latest technical fabric used by PUMA performance teams, and the design is inspired by African art, and our country's symbols.
The campaign video for the new home and away kits features SPAR Proteas players and the inspirational words; "I've waited for this moment. I've sweat. I've bled. I've tried. And cried. I've failed. Then won. I did it all for this moment where I can say "WE". Because this game is greater than me. We did it all to represent YOU. And we would do it again … We are a team. We are a nation of culture. So we will fight. We will play with pride. Because we are united. And together … we are Warriors." Check it out below!
PUMA South Africa have provided a striking kit concept for this passionate team of warriors who continue to fight no matter the odds. The campaign will encourage South Africans to unite behind the team, and we look forward to a wonderful and successful World Cup. I strongly believe that the team will also take to court with pride and full of confidence because this new kit oozes nothing but confidence.
Based on the kits, a range of fanwear across men, women and kids sizes have been made available for the season.
The United Warriors kit will be available at PUMA.com, PUMA retail, Totalsports and Sportmans Warehouse from March 9!