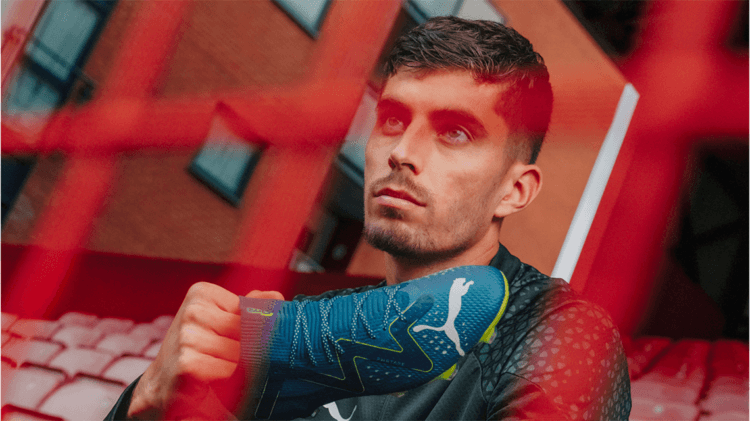 Welcome to the FAM, Kai Havertz 🔥 !
PUMA SIGNS GERMANY & ARSENAL STAR KAI HAVERTZ
October 17, 2023
PUMA SIGNS GERMANY & ARSENAL STAR KAI HAVERTZ
October 17, 2023
We are excited to welcome a new member into our PUMAFam!
German International and Arsenal star Kai Havertz

has signed a new long-term partnership and will become one of

the faces of the FUTURE silo

. Having taken the football world by storm from an early age, we are beyond excited to sign a player regarded as

the future of German football.
With more than 200 professional and over 39 international appearances to his name, Kai is renowned not only for his incredible skill and creativity on the pitch but also for his humility, and generosity off it.
Kai kicked off his career with Bayer Leverkusen and swiftly moved to make his mark in the Premier League, joining Chelsea for a huge transfer fee in 2020. It was there he etched his name in history, scoring the decisive goal in the 2020/21 Champions League final, at just 21 years of age. As of 2023, Kai has embarked on a new chapter with the three-time Premier League champions, Arsenal as he looks to add more success and silverware.
Upon sealing the partnership, Kai expressed his excitement about joining PUMA.
"Growing up in Germany PUMA has always been an iconic brand with some of the greatest players ever wearing their products. PUMA has always been an innovative brand when it comes to football boots and the way they work with athletes. When I met with the team and discussed plans for the future, I knew this was the right fit for me. They understand athletes and really want to be collaborate with their players; it really is a family atmosphere."
"Wearing the FUTURE boot is the perfect fit for my game and is a boot I was eager to move into, there is no other boot like it. PUMA are not only excelling as a brand on the pitch but are making huge waves in other areas of sport and fashion. We are working on some exciting projects, and I am looking forward to what the future holds,"
On the PUMA side, we couldn't be more proud to welcome such a talent into our FAM!
"We're thrilled to have Kai join our family and begin the next chapter of his career together. Kai has achieved so much already. With his quality and positive attitude, we are convinced he is going to remain at the heart of his Club and National team for many years to come. He is an elite athlete with very high aspirations both on and off the pitch and we look forward to working closely together across many exciting initiatives."
Stay tuned for more to come from our newest PUMA Athlete!
Welcome to FOREVER.FASTER. Kai Havertz 🔥!