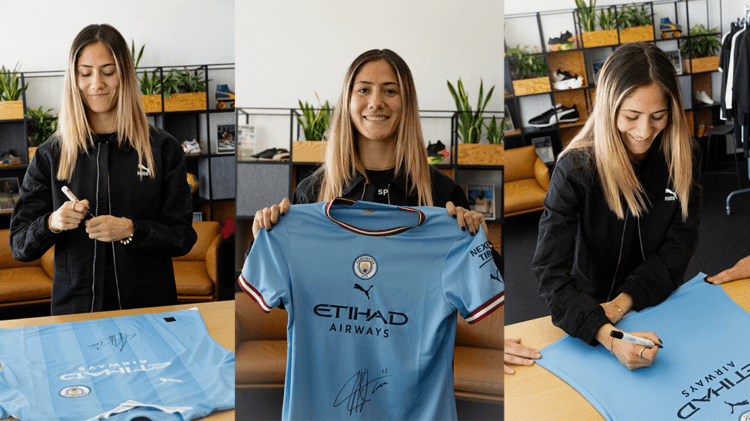 "You have to be focused in
order to be in elite sport"
Interview with Manchester City Footballer Laia Aleixandri
May 26, 2023
Interview with Manchester City Footballer Laia Aleixandri
May 26, 2023
Named in 2020 as one of the ten most promising young football players in Europe by UEFA,
Laia Aleixandri

is a defender to look out for. The 22-year-old PUMA athlete has achieved a lot this far in her career playing for Atlético Madrid and now

Manchester City,

as well as Spain's national team. CATch Up had the opportunity to chat with Laia on her

goals, pre-game rituals and her time so far at Manchester City.
Get to know Laia in FOREVER.FASTER. style:
Sweat or salty snacks? 
Laia: Sweet.
Your favourite snack?
Laia: Sunflower seeds.
Training in winter or in summer? 
Laia: Summer.
Who is your favourite artist? 
Laia: Adele.
A song you can listen to on replay.
Laia: Any reggaeton! Beso by Rosalia.
What's your favourite PUMA product? 
Laia: The Future boots.
Who is your biggest idol? 
Laia: Virginia Torrecilla and Xavi Hernández.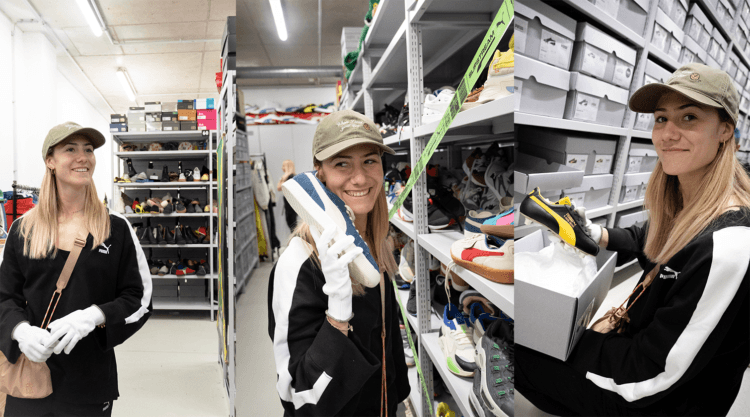 We heard that you were injured – how is the recovery going so far?
Laia: It's getting better. The first month was a little bit slow and boring, you know, because you are training in the gym and trying to improve your injury. But now I'm starting to do some running and some stuff with the ball – that is very nice. I am going in the right direction to recover well. So I'm happy.
You are still very young, but you have already achieved a lot! What are your goals for this year? 
Laia: To play minutes with my new team, with Manchester City and enjoy the journey, the season. And it was really nice to be in a new league, in a new club and also with new teammates. It was a really good season and I'm enjoying the English League.
How did you get into playing football?
Laia: My father always said that I was very young, maybe 2 or 3 years old, and I was in the stadium watching football – and I just fell in love. That is the reason I am playing football.
Did you ever have to make sacrifices for your dream?
Laia: Yeah, always. You are sacrificing things like the anniversaries of your family or your friends. And because you are young, also parties. You have to be, or you should be, focused in order to be in elite sport. So yes, there is a lot of sacrifice, but you know you are doing the right things in order to be a footballer 100%.
Do you have any rituals before your games? 
Laia: I do! I put my right shin guard on before my left one. And when I am going to enter the pitch, I always enter with my right foot first as well.
Is that a superstitious thing?
Laia: For sure.
You moved to Manchester last year from Madrid, how do you cope with the British weather?
Laia: To be fair, the weather is one of the biggest things I miss because the weather in Madrid is so nice. But in Manchester – I am better now – but when I started the season, I was shocked by the difference in weather. But it is okay because you are with the team and you are concentrated on playing and matches. So, the weather is not too important! But is a point to know when you are moving to Manchester.
Do you have hobbies other than football?
Laia: Yeah, art! I really like to draw.
Especially as an athlete you are under constant pressure to perform. How do you manage to withstand this pressure and the expectations?
Laia: I am always saying that we are like in a bubble: we are concentrating on what we have to do, with people close to us around us. If you know how to manage pressure and these situations well, you are going to be fine. Off the pitch and on the pitch. That is the important thing.
What PUMA ambassador do you admire the most?
Laia: That's hard! I am going to say Sara Björk because she was pregnant and now she is back playing football on a high level. I think that is a really important point for woman's football.
What is your biggest football dream; what would you definitely like to achieve as a footballer?
Laia: My dream is to win a World Cup and the Champions League.
Women's soccer has evolved rapidly in recent years. What are your aspirations for the future?
Laia: I think we are growing slowly but in the right direction. All the clubs, they are pushing us to be professionals and to have all the facilities to improve. That's a good point for us. We are very focused on following this path all together.