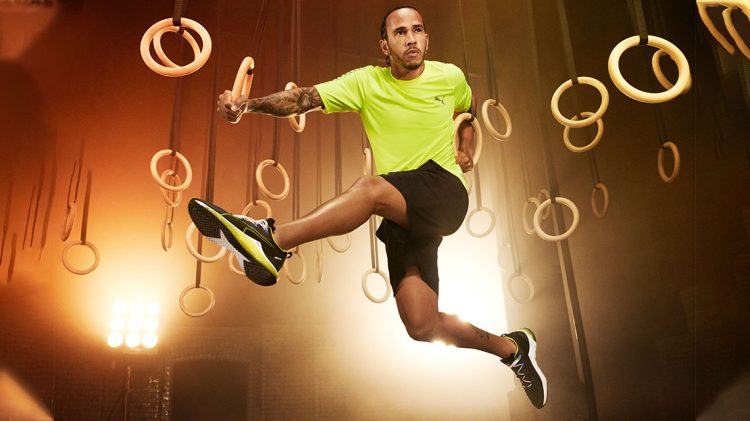 Awards Ceremonies &
Product Launches
Galore
Lewis Hamilton, newly crowned World Sportsman of the Year, helps Launch LQD CELL Hydra, and Zone XT
February 20, 2020
Lewis Hamilton, newly crowned World Sportsman of the Year, helps Launch LQD CELL Hydra, and Zone XT
February 20, 2020
PUMA brand ambassador and
six-time World Champion

Lewis Hamilton seems to be just as busy in the off-season as he is on the track. From pocketing the prestigious

Laureus World Sports Awards

, to launching some new PUMA products, there's not enough time in the day for this busy star.
Last week, Lewis Hamilton headed to a content creation event in London – for the launch of PUMA's latest performance footwear, the LQD CELL Hydra and Zone XT. The unusual environment allowed PUMA thought leaders, ambassadors, and influencers to come together to create a variety of innovative and dynamic pieces of content, ultimately showcasing both of our shoes.
The team made personalized content for a mix of top performance and lifestyle influencers and top tier athletes from across Europe, set in a fun custom-designed "test lab".
The icing on the cake was the Q&A session with Lewis, hosted by AJ Adudu – a well-known British television presenter. In the talks, the star 6-time Formula 1 champ shared his training routines and his views on a plant-based diet, before diving into the hard work that goes into being an F1 pilot and how PUMA has enhanced his training.
On the heels of the London launch event, Lewis was named World Sportsman of the Year 2019 at the annual Lauereus award. For the first time in the history of the awards, the prize was given to two sportsmen at the same time, with Lewis sharing the title with world-famous football player Lionel Messi.
To even be nominated amongst such great names is an honour. To think that my name is going to slot in alongside the legends, who have won this award before me, is really humbling.
The award is given to individual athletes and teams who have performed exceptionally over the past year. The annual awards ceremony is held in various locations around the world. For its 20th anniversary, the awards ceremony was presented by Hollywood-star Hugh Grant in Berlin for the second time.
We're super happy for our World Sportsman of the Year and wish him lots of success in the upcoming Formula 1 Season.