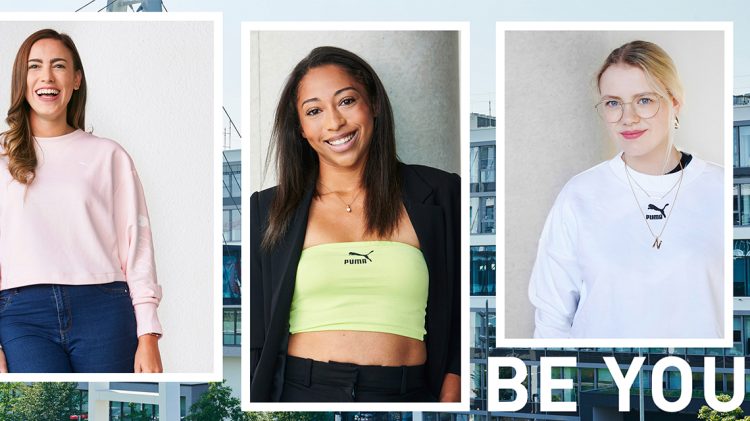 ONE OF THE
WORLD'S BEST
...
PUMA named one of the World's Best Employers & World's Top Female Friendly Companies
November 10, 2021
PUMA named one of the World's Best Employers & World's Top Female Friendly Companies
November 10, 2021
Hurray! You are working for
one of the world's best employers

, according to the latest survey by Forbes and Statista. For the second year in a row, PUMA made it onto the prestigious annual company ranking. Be Well Weeks, sports courses, Flextime, home office, parent-child offices or on-site coffee bars – to work for PUMA comes with many benefits. But it is the

special PUMA culture

that makes the company stand out. The ´

World´s Best Employer 2021

´ survey was conducted in more than 50 countries and more than 150.000 people gave their votes concerning factors such as

image, economic footprint and gender equality

. Talking about gender equality, PUMA has been also listed as one of the

World's Top Female-Friendly Companies in 2021

. It is a very important recognition for us and shows we are on track towards real gender equality. Recent studies document that the COVID-19 pandemic, sadly, has taken an especially heavy toll on women. What is PUMA's stand on this?

CATch Up spoke to PUMA's Global Director People & Organization, Dietmar Knoess about the importance of these rankings, parent-child offices and the special PUMA spirit.
Dietmar, for the second time in a row PUMA has received the ´World's Best Employer´award. Brand new, PUMA was recognized as World's Top Female-Friendly Company. How does that make you feel?
Dietmar: It feels pretty good to be among the top 25 employers worldwide. We didn't apply for this award, which maybe makes it even nicer. More than 150.000 people have voted and obviously recommend us as a good employer. This makes me happy.
Another important recognition is the World's Top Female-Friendly Company 2021 ranking. Surveys now show that women suffered more during the pandemic. At PUMA, we tried to support families as well as possible. We offer a flextime scheme, home office, parent/kids offices, various childcare programs and more. Of course, we try to improve our offer even further. The same applies to women in leadership positions at PUMA. At the moment, 43% of the leading positions globally are headed by women. It is still not quite the gender balance PUMA is aiming for, but we are on a good track and are happy with the progress we have made in all areas over the past years. This is why this ranking is really good news. Statista surveyed 85,000 women in 40 countries and asked respondents to rate their employers' performance on gender-related criteria and their willingness to recommend their employer to others. PUMA ranked #41 and is the only sporting goods company listed in the Top 50.
What makes PUMA unique as an employer to your mind? Where does PUMA stand out?
Dietmar: I think the PUMA working culture is quite unique. For me the key differences between PUMA and other companies are the people and the way we deal with each other. This is reflected in our employer value BE YOU. It means that you do not have to bring an office personality to work, we simply want you to BE YOU. I think this is what most people notice when they enter the building.
At our headquarters we just enjoyed a ´Be Well Week´. How were the initiatives received by PUMAs and what else is planned?

Dietmar: There are various wellbeing programs running at different times at our international offices. At our headquarters we typically have two weeks a year where we highlight certain initiatives. We draw attention to nutrition and we have a great offering of sports. This year, we also had a health insurance coming in. They offered some medical checks for our people. These programs were sold out in minutes, so we are thinking about doing it again in a couple of weeks. During the pandemic many employees probably postponed such health checks. And here at PUMA, they do not have to wait for an appointment and have short distances as it all takes place in the office building. We see great demand here.
Thank you, Dietmar!