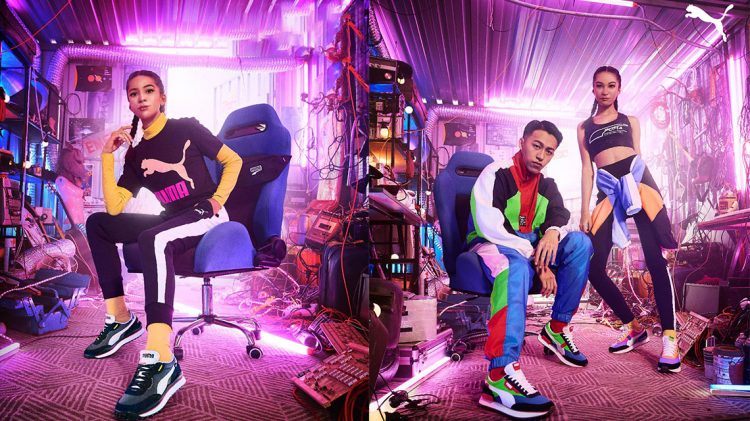 The New Frontier:
Virtual Influencers
and Products
PUMA is a pioneer on the "story-doing" frontier
March 1, 2020
PUMA is a pioneer on the "story-doing" frontier
March 1, 2020
This year appears to be a big year for
the virtual world

. From holographic ads in Chicago to virtual ambassadors in Singapore,

the future is here

and it's

pretty awesome

. Join us as we dive into the virtual reality pool, to see

where PUMA is making a splash

.
There's a new trend in corporate marketing. It's a shift from storytelling, towards story-doing. In other words, people are tired of hearing you talk about your brand. They want to EXPERIENCE your brand. And to accomplish this brands – PUMA included – are turning to the exciting new world of virtual reality.
Take the latest PUMA campaign in Singapore, for example. There's a woman at it's core. But not your average woman. Her name is Maya, and she's what the PUMA team Southeast Asia are calling a "virtual influencer". She's been announced on various Social Media channels, and to-date, 7,635 people have signed up as Instagram "followers", watching her "render". On February 11th she announced that her "render" was 100% complete, and proceeded to post photos with the PUMA colleagues in the Southeast Asia office. Then she gave followers a behind-the-scenes look at her makeover prior to her big debut in the #RiderUnlocked youtube video, where Maya teamed up with real-life influencers Ah Boys to Men star and Singaporean rapper Tosh Zhang, Malaysian singer Ismail Izzani and Indonesian actor Adipati Dolken to unlock the Future Rider studios (see sidebar area).
You might be asking why a brand would venture into somewhat unknown territory. Adam Petrick, Global Director of Brand and Marketing at PUMA explains it like this:
We've had to change the way that we get messages to consumers. I would say that we have to be less about the about message, and more about general behavior. We need to appeal to our consumer in a different way because at the end of the day saying "hi, please buy my shoe" doesn't work.
As brands, we have to push ourselves to be interesting . That's a very different proposition than just a few years ago. I think that's an exciting shift, and one that might even be better for the brand landscape overall.
In addition fascinating topics like virtual influencers and youtube videos which merge the real and virtual worlds, PUMA's Southeast Asia team  launched a campaign which allowed Instagram users to transform themselves into "PUMAN". The #PUMANSOFSG campaign. which uses customized AR face filters,  was a cheeky reference to the Humans of New York movement. The goal? To increase traffic at several of Singapore's newly opened shops. Fans who submitted Instagram stories with the PUMAN filters and the campaign hashtag received a discount on PUMA products at the city's retail stores.
Lastly, on the other side of the world, PUMA began to pioneer yet another exciting new frontier in February: virtual products. At the NBA All-Star Game in Chicago, the premier basketball event in the U.S., PUMA worked together with Havas Media and the Whisk Agency, using vehicle-based screens by Firefly, to do the unimaginable. They projected holographic images of their new Sky Dreamer shoe and PUMA branded basketballs throughout the city. The images were projected above the roofs of cars from February 14th through 16th, turning quite a few heads and raising awareness for PUMA's quickly growing basketball business.
Only time will tell how effective the unusual marketing activities are in increasing awareness, brand loyalty, and retail revenues. But according to Adam it's crucial that the brand "listens" more, with fingers (or paws) on the pules of PUMA consumers:
At the end of the day we are selling goods, but we also have to do it in a way that feels like a service. When I say that, purpose for us is about trying to give us as a brand a reason to exist in the world and to help give people a reason to have us exist in their world. The way we do this is by continuing to create stuff that is cool and fun. We like to take the role of a "co-conspirator" to our audience, our partners and the culture overall. I think that the idea of being a co-conspirator is what gives us meaning. To do this effectively and authentically, we have to listen more, and we have to pay close attention to what's going on in the culture to deliver products that connect, resonate and matter.