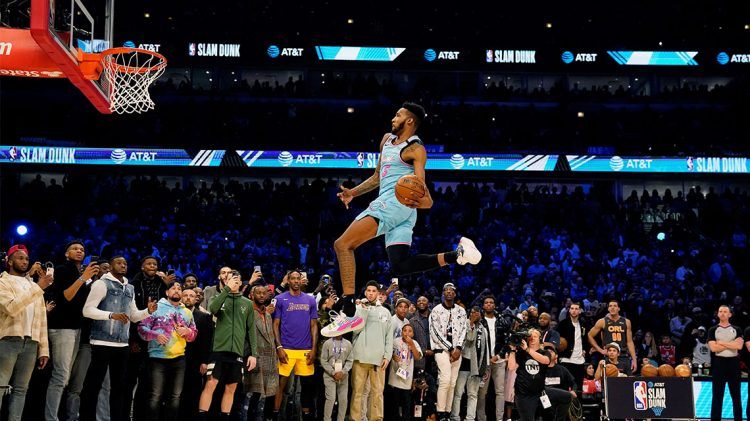 Derrick Jones Jr.
flying high
PUMA's first ever NBA Slam-Dunk Champion wins big in Clydes
February 17, 2020
PUMA's first ever NBA Slam-Dunk Champion wins big in Clydes
February 17, 2020
On Saturday Night, PUMA Hoops athlete Derrick Jones Jr. delivered a jaw-dropping performance at the
Slam Dunk Contest

. And it ended spectacularly, with him being crowned

"Slam Dunk Champion"

. Of course, he did it all in his unmistakable PUMA

Clyde Hardwoods

.
The Slam Dunk Contest presents the creativity and athletic ability of the NBA league´s best and youngest dunkers. After each dunk, the competitors are awarded with points up to 10 from five different judges. "The NBA Slam Dunk Contest is the most anticipated and visible event during All-Star Weekend," says Evan Olesh, Head of Basketball and Sports Marketing @ PUMA, "everyone is watching."
The final duel between Jones Jr. from the Miami Heat and Aaron Gordon from the Orlando Magic was predictably tight, with both competitors reaching the maximum number of 50 points. In the deciding round, Jones Jr. made history with his windmill-dunk, taking off at the zone border before rising up to the basket, then sinking the ball. The judge honored him with 48 points, making the 23-year-old professional basketball player the official winner of the contest.
To have our first ever NBA Slam Dunk Contest Champion is an incredible accomplishment for the brand and the basketball business unit. It brings a lot of awareness and brand heat to PUMA Hoops! Derrick is hands down the best dunker in the league right now and we hope he will defend his title next year.
The National Basketball Association All-Star Weekend is a weekend festival which consists of different basketball events, performances, and exhibitions. The annually event is held one weekend in February during the regular NBA season and peaks with its highlight, the NBA All-Star Game. The festivities also offer some interactive basketball activities for the fans.