Fearless Floating
Football Pitch
PUMA Launches The Fearless Arena on Palm Jumeirah as Part of Dubai's 30x30 Initiative
November 24, 2022
PUMA Launches The Fearless Arena on Palm Jumeirah as Part of Dubai's 30x30 Initiative
November 24, 2022
Do you have a strong urge to play football with the World Cup starting? Check out our new

floating football pitch

in Dubai! As part of the

Dubai 30×30

initiative, our PUMA Middle East team launched

The Fearless Arena

on Palm Jumeirah. With exceedingly high demand, the pitch was booked out in less than 24 hours! 💥 ⚽️ 
PUMA Middle East brought football to the sea with the all new floating pitch. The pitch is located on on the water at Club Vista Mare with a stunning view of the Dubai beach and its skyline. Coordinating with Dubai's 30×30 initiative, the arena aims to inspire and encourage a more active and healthy lifestyle. The one-of-a-kind experience brings the community together for an unforgettable game of football!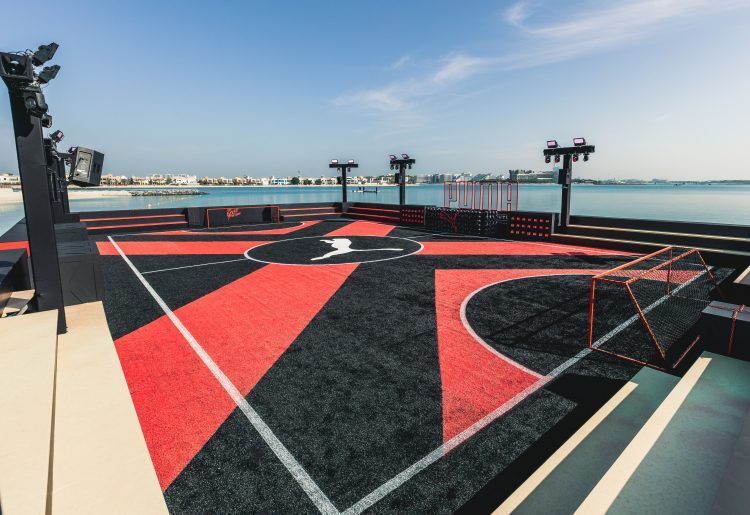 PUMA GENERATION FEARLESS CAMPAIGN
The Fearless Arena embodies PUMA's Generation Fearless Campaign. The campaign is about being yourself, backing yourself and staying true to your own style – this is what it means to be fearless. The pitch comes as we released our two new unisex football boots ahead of the World Cup: ULTRA and FUTURE 1.4 – which players are provided with to play on the pitch. Teams could reserve the pitch free of charge on PUMA's website, but you had to be quick! All of the slots were booked out in less than 24 hours! 
We even had some special guests playing on the pitch. PUMA brand ambassador and world record holder Usain Bolt visited the arena! In a friendly match, he played alongside other high profile names such as paralympian Felix Streng, Chief Commercial Officer at City Football Group Esteve Calzada, and former Cameroon footballer Patrick M'Boma. Aside from the high profile players, we also partnered with Manchester City Academy, GEMS, and CB Football Management to engage players from all age groups and develop fun games and youth tournaments.
What a great way to bring the beloved game to everyone! ⚽️