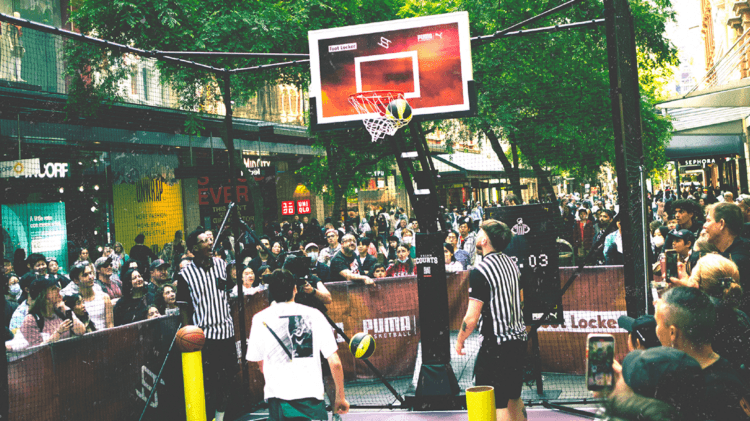 PUMA HOOPS
ALL-STAR CHALLENGE
PUMA Hoops and Foot Locker Host All-Star Weekend at QV Square Melbourne
March 6, 2023
PUMA Hoops and Foot Locker Host All-Star Weekend at QV Square Melbourne
March 6, 2023
PUMA HOOPS ALL-STAR WEEKEND

🏆

For three days, PUMA Hoops together with Foot Locker welcomed the public to take part in an All-Star Weekend event to celebrate PUMA Hoops and their latest

MB.02

collection. At QV Square in Melbourne, visitors competed in an on-court quick shot challenge to win a variety of prizes, including a year's supply of PUMA Hoops sneakers!

PUMA is at the heart of the Australian basketball community with its support of the sport locally and overseas. In Melbourne, basketball fans could take on @FinesseMane in a quick shot challenge. The prize? A year's supply of PUMA Hoops sneakers, Foot Locker gift vouchers or an exclusive poster by Australian artist Tyson Beck! Local 'mini-Melos' topped the leaderboard to win these prizes and more. There was also a dedicated fan chill out zone with a live DJ and MC.
LaMelo Ball MB.02
The latest LaMelo Ball MB.02 release collaborates with Adult Swim show Rick and Morty (Warner Bros. Discovery Global Consumer Products) for a neon hued and left and right mismatched look. The shoes were inspired by Rick and Morty's interdimensional escapades and reflects the character's personalities. Our NITRO foam is featured in the shoes.