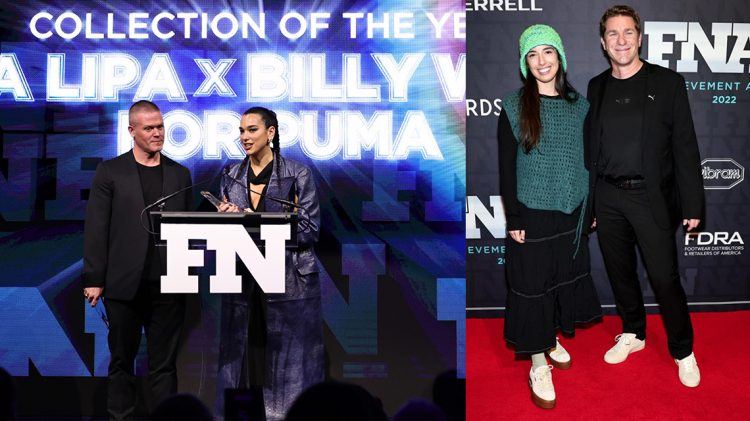 Leadership in the industry
PUMA Honored with 2022 Sustainability Leadership Award & Collection of the Year Award by Footwear News
December 2, 2022
PUMA Honored with 2022 Sustainability Leadership Award & Collection of the Year Award by Footwear News
December 2, 2022
What a successful way to end the year! This week we were honored with
two awards

at the 36th

Annual Footwear News Achievement Awards

in New York City. One of them is the 

Sustainability Leadership Award.

The award was given for our efforts and for implementing sustainable practices throughout the product manufacturing ecosystem, from sourcing to manufacturing, and our 10FOR25 strategy. The second is the

Collection of the Year Award

, for our

PUMA x Dua Lipa Flutur Drop 2 line

. Learn more!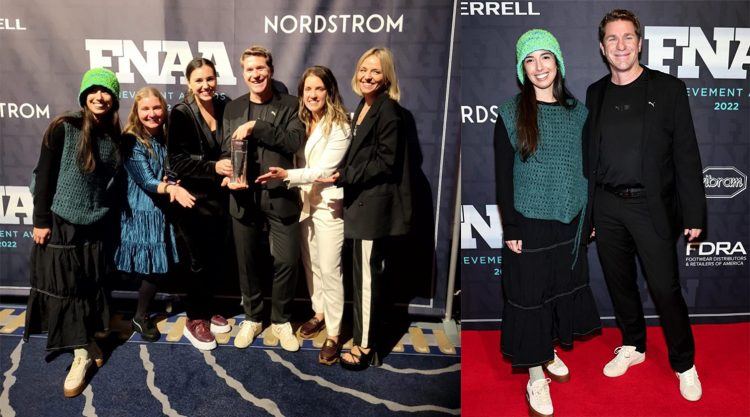 Sustainability Leadership Award
PUMA is constantly working on the implementation of sustainable practices throughout our entire product creation ecosystem, from sourcing to manufacturing. We are very pleased that these efforts have now been recognized.
As part of our 10for25 sustainability goal, we have publicly outlined a series of goals and targets for the year 2025. On the plan are: renewable energy alternatives, using sustainable materials and offering more sustainable products to our consumers.
Senior Head of Corporate Sustainability Stefan Seidel, who received the award for PUMA in New York on Wednesday night, commented on our 10FOR25 goals the other day: "It was always my dream to lead the sustainability efforts of a large corporation and be able to contribute a little bit to make the world a better place." Our targets are very ambitious, and we realized we can't achieve those targets alone and in isolation. We can only reach our ambitious targets — be it greenhouse gas reductions or others — if we work in collaboration with our major industry peers."
In order to do so, we, for instance, recently participated in the United Nations' Sharm el-Sheikh Climate Change Conference, in September this year invited more than 200 sustainability activists, experts, ambassadors, consumers and brand employees to our  "Conference of the People" event and have launched the RE:SUEDE and RE:JERSEY initiatives.
Now the journey continues and this award is certainly a great incentive for it. Anne-Laure Descours, Chief Sourcing Officer at PUMA states: "Sustainability is a journey and often a challenging one, where we must remain humble and constantly learn and adapt."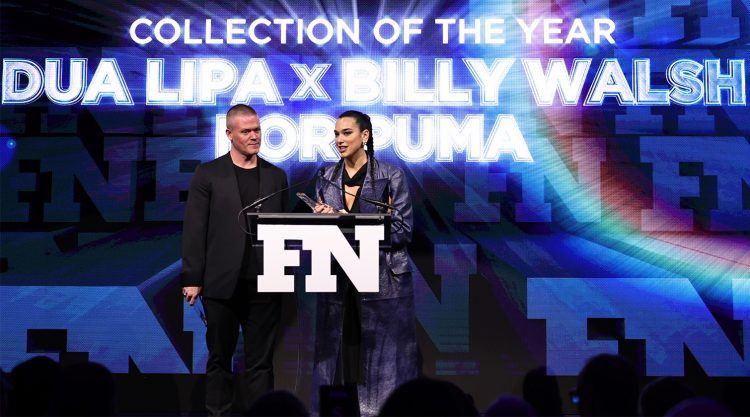 Collection of the Year Award
Our beloved PUMA Ambassador Dua Lipa attended the FN Achievement Awards alongside our longtime PUMA collaborator, designer and songwriter Billy Walsh to receive FN's first-ever Collection of the Year Award for "PUMA x Dua Lipa Flutur Drop 2." What a fantastic achievement! 🦋
When Dua received the award onstage, she said: "I want to say a massive thank you to the PUMA team for allowing us to take the lead on this and giving us creative control to create something we are really proud of. I want to say a massive thank you to the fans, it's because of them, because they wore the collection and I think that's the reason why we are up here tonight."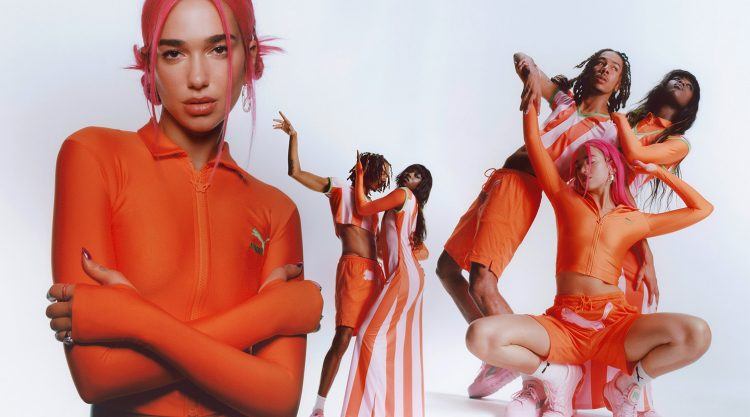 Since Dua joined the PUMA Family in 2020, we have worked together to help inspire women around the world through global campaigns and her own collections. Our awarded PUMA x Dua Lipa Flutur Drop 2 collection launched in July this year.
We worked closely together with Dua and our longtime collaborator, designer and songwriter Billy Walsh on the collection. It was inspired by Dua's Albanian heritage ("flutur" is the Albanian word for "butterfly").
Flutur's unabashed aesthetic invites bright colors and form-fitting looks, inspired by old-school rave culture. It spans over 30 items. The collection is filled with vivid shades, holographic details, and retro silhouettes. A series of bright tracksuits were created based on Dua's vision of a nostalgic, rave-ready tracksuit that is both comfortable and wearable. The full footwear offerings include models like our CELL Dome King, and three variations on the Mayze silhouette including the Mayze, Mayze Boot, and Mayze Metallic.