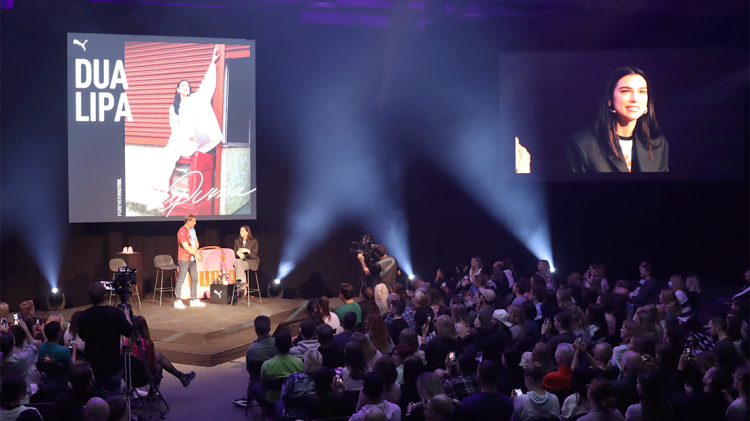 Welcome
Dua!
PUMA Ambassador Dua Lipa visits Herzogenaurach
May 24, 2022
PUMA Ambassador Dua Lipa visits Herzogenaurach
May 24, 2022
Global pop superstar and PUMA ambassador Dua Lipa visited our HQ on Tuesday to answer the questions of the many fans she has in her PUMA Family.
In a fully packed Rudolf Dassler Hall, Dua was introduced by PUMA CEO Bjørn Gulden and talked frankly about her current tour, her new album and how she relaxes when she is travelling to a different country every day. The event was streamed live to PUMA employees around the world.
"It was the PUMA team that made me join as an ambassador. When I spoke to you guys, I felt like we got on, I felt like you guys understood what I'm about that I like to do things that have a purpose," she said. "It felt like it was the right collaboration for me."
Dua, who has been a PUMA brand ambassador since 2020, has been a very productive member of the PUMA Family: She developed her own capsule collection "Flutur" and led the campaigns for important PUMA styles such as the Mayze and the Mayu. She also headed PUMA's brand platform "She Moves Us", which celebrates women who moved sports and culture forward.
Joined on stage by Maria Valdes, General Manager BU Sportstyle, Dua talked about her love for PUMA products, such as the Mayze.
"What I loved about the Mayze when I first saw it was: Often girls think whether they should wear a dress or a skirt and that doesn't always work with trainers, but the Mayze has a platform, and it feels like it has a bit more of an edge. It felt like something I would have loved to wear and something my friends would love to wear. I felt really connected to it in that way," Dua said.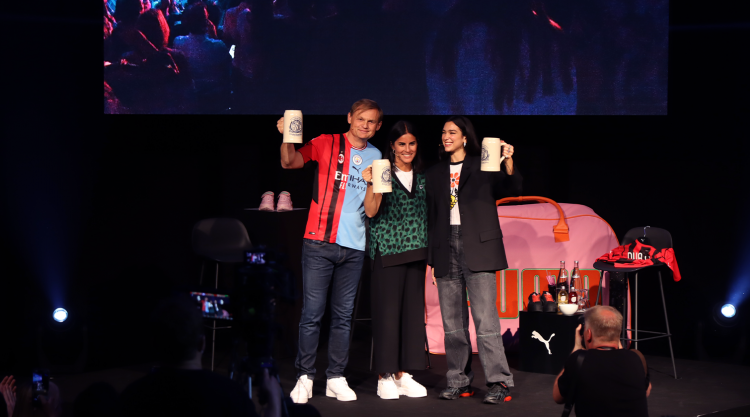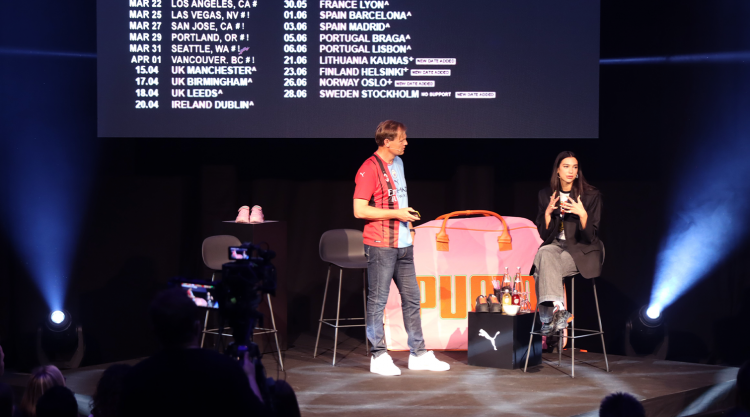 She then took time to answer some of the questions sent in by PUMA employees ahead of the event.
Apart from doing one hour of yoga every day, how does she take care of herself? Does she have a strict diet?
"I try and eat really healthy, I like to experience different restaurants but I still like to make the healthier choices. If you eat the wrong foods, that can exhaust you."
Which song was the most fun to produce?
"Levitating was very fun. I was on a crazy sugar high, jumping up and down, and it was great to work on this song with my friends."
The best advice she's ever been given?
"My dad always said: You have to work hard to get a little bit of luck. And I guess I live by that every day. You have to work to make things happen."
What would have been her other career choice?
"Footballer! No, I'm joking. I never had a plan B. If I weren't an artist, I'd still be trying."
Thank you for stopping by in Herzo, Dua and we hope to see you back again soon!