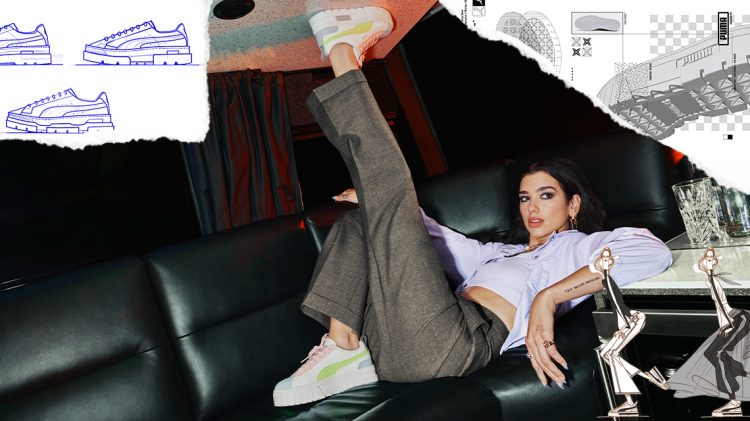 Simply A-Mayze-ing
Interview with PUMA Lead Designers about the new Mayze Lth Pop
April 14, 2022
Interview with PUMA Lead Designers about the new Mayze Lth Pop
April 14, 2022
Taking
inspiration from the streets and the SUEDE

, these trainers feature a stacked rubber sole to give them an edgy, layered look. Elevate your style with

Mayze

! CATch Up spoke to two of the lead designers,

Hyon Park

(Lead Designer Sportstyle Footwear) &

Andrea García

(Teamhead Design Sportstyle Footwear) about the

design process

of the popular silhouette and the

inspiration

behind it.
It's always a pleasure to see how my designs come to life - from the very first sketch to the beautiful campaign images in the end.
ABOUT THE MAYZE…
Hyon, what was your inspiration for the design of the Mayze?

Hyon Park: The key inspiration is PUMAs all-time icon 'SUEDE'. I tried to give the icon a new look by understanding the generation now: they are daring to break with rules and traditions. After the big success of PUMA x Fenty's creeper style, this model can be the new interpretation of PUMA's signature platforms for today.
What was the design process like? Are you proud of the outcome and the market reception?
Hyon Park: Yes. I am very happy to see the market reception. For the design process I started with understanding what the elements are that the 'SUEDE' is made of. There were bars, textures, and diamond grips on the tooling. I played with the scale of all the elements of the SUEDE and exaggerated them into the new look.
When did you take your first steps in design and since when do you work for PUMA?
Hyon Park: I originally studied women's wear in Central Saint Martins in London. For my graduate collection I made a runner-inspired couture sportswear collection and that brought me to the passion in sportswear. After my school, I started my very first professional career as a footwear designer and I've been happily doing footwear design since then. My knowledge and interest in fashion are one of my strengths when it comes to designing the products at PUMA as we are a very fashion-forward sportswear brand. I started working for PUMA in April 2018.
Do you have a favorite design or a design you are particularly proud of?
Hyon Park: I personally like the fashion warrior series (Kyron, Hedra, Eris and Centaur) because it has a very conceptual storytelling through the franchise. I also like the PUMA Rise as it was simply my first shoe with a good marketing support since I started working at PUMA. It's always a pleasure to see how my designs come to live – from the very first sketch to the beautiful campaign images in the end.
Some sketches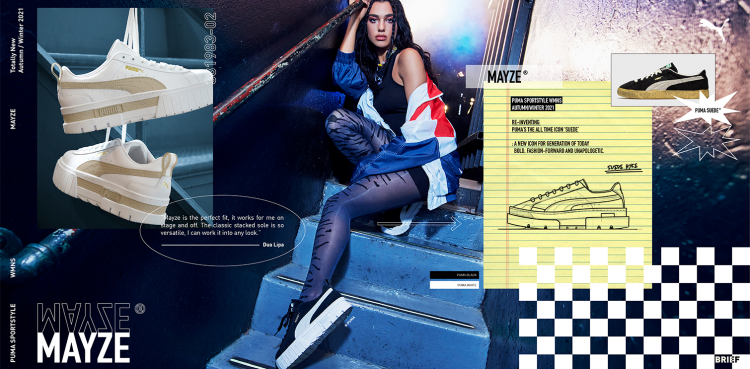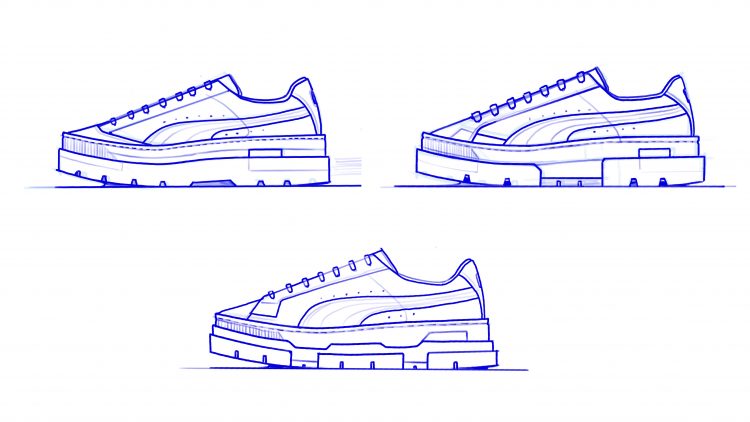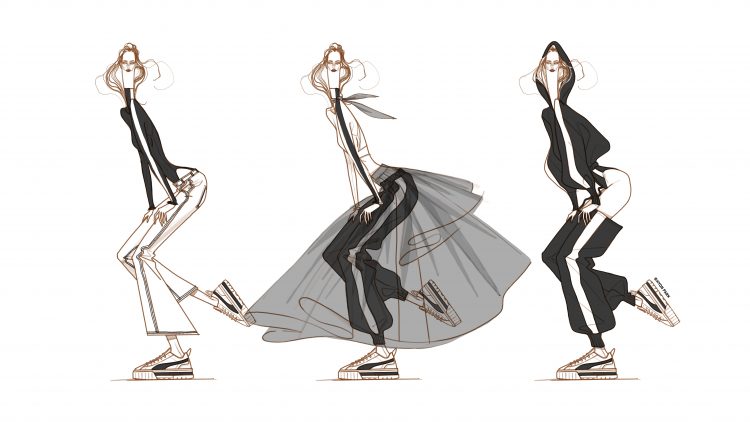 About the new colorway: Mayze Lth Pop
What was the inspiration for the new colorway of the Mayze worn by popstar Dua Lipa?
Andrea Garcia: The inspiration for this new colorway was to bring something more colorful with seasonal color pops and translucent TPU details on the heel, midsole and tongue. This stand-out silhouette perfectly fits the popstar Dua Lipa.