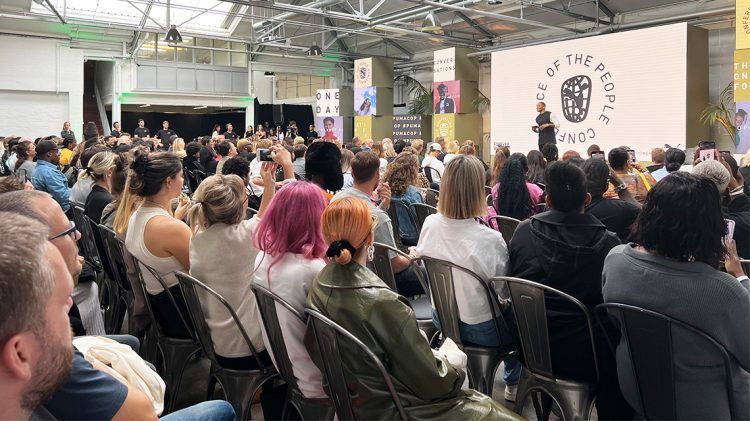 "It's about how
we can make a difference
day to day!"
PUMA's Conference of the People in London brings together young activists, industry peers, NGOs and experts to talk about sustainability
September 7, 2022
PUMA's Conference of the People in London brings together young activists, industry peers, NGOs and experts to talk about sustainability
September 7, 2022
What a day it has been! During our Conference of the People, we had 5 engaging conversations about sustainability, frank questions from our Gen-Z audience and great examples of how the industry can work together to achieve positive change.
On September 6, we invited the world to London to – together with more than 200 on-site guests, including young sustainability activists, industry peers, NGOs, experts, ambassadors, consumers & PUMA employees – discuss the most important sustainability challenges facing the fashion industry. We talked about tackling waste, using more sustainable materials, stopping climate change, protecting forests and finding ways for the industry to collaborate to achieve positive outcomes sooner. And we had so many exciting speakers. Don´t worry in case you missed it, here is a recap. Dive in!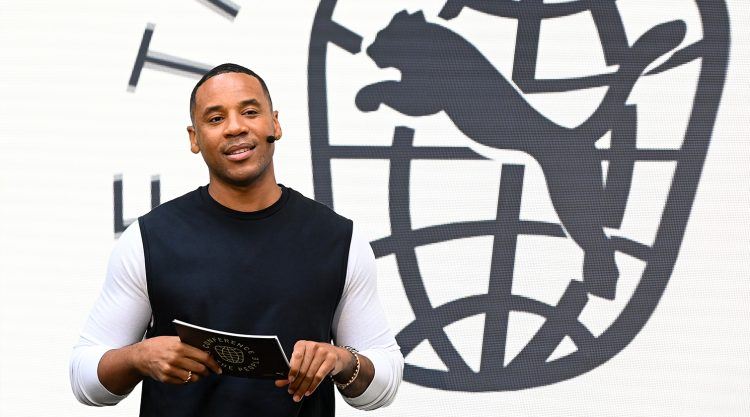 We have a long history of bringing people together to talk about sustainability. Our first stakeholder dialogue about sustainability dates back to 2003 and stakeholder dialogues have been organized regularly since then. PUMA´s first Conference of the People now intended to take this conversation to a wider, global Gen-Z focused audience.
With our globally accessible platform we discussed sustainability topics, the challenges the industry faces and the solutions that already exist today. We paid special attention to the opinions of the younger generation, who will be affected by the decisions taken today.
CONVERSATION 01: RETHINKING WASTE
WHY MAKE A SNEAKER THAT'S DESIGNED TO FALL APART?
We caught up with second-hand clothing champion Izzy Manuel on how she manages style with sustainability. PUMA partners Ortessa and Carbios gave us the dirt on biodegrading our clothes. And PUMA's Anne-Laure Descours and Romain Girard talked about the brand's approach to waste innovation – including the backstory of RE:SUEDE, PUMA's experiment in designing a biodegradable sneaker.
"From a consumer's perspective, we really struggle to find ways to shop sustainably… We need to reduce our consumption as consumers but brands also need to find ways to reduce consumption" – Izzy Manuel, Sustainable and Ethical Fashion Advocate
"One of the biggest challenges is waste collection – it's about building the infrastructure and this requires collaboration from brands" – Anne-Laure Descours, PUMA CSO
"Everybody is responsible. We need to have everybody taking care of their waste. This can be a t-shirt that has holes in that you don't want anymore, this is raw material that we can collect" – Bruno Langlois, Carbios Business Development and Partnerships Director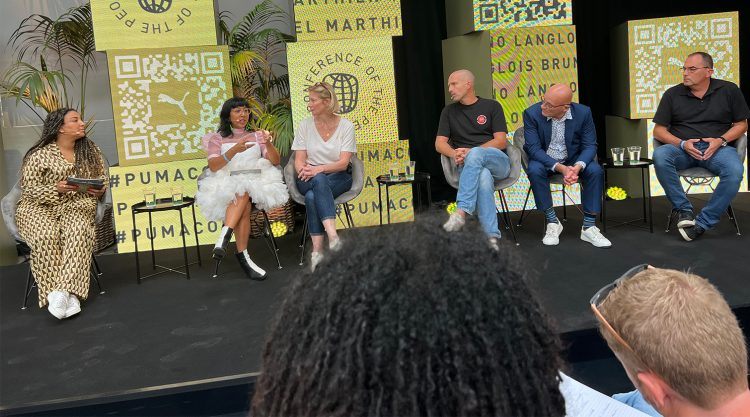 NICOLE MCLAUGHLIN Q&A
In our Q&A session with designer Nicole McLaughlin, we discussed her passion for upcycling and reducing textile waste.
"Upcycling really is problem solving. I think a lot of the time people see it on a one-off scale but it's becoming more popular. It's not something that will happen overnight. You have to think about the entire process from start to finish, looking into sustainable fibres as well as things like if I put a seam here, will it be harder to take apart at the end?" – Nicole McLaughlin, designer
CONVERSATION 02: MATERIAL WORLD
ARE ALL MATERIALS EQUAL?
We deep dived into the progress we can make with material innovation. We found out from Mohammed Jabbar what the opportunities are in manufacturing. We looked at what material innovation offers the biggest impact (spoiler alert: PUMA's Howard Williams knows it's cotton and polyester). And influencer and sustainable materials consultant Monika Poppy gave us the lowdown on what's needed to bring consumers on the journey.
"The important thing about materials is this is where the product starts. Take a look at where the product is coming from and the materials that go into it." – Ashley Gill, Textile Exchange Chief Strategy Officer
"10 years ago was the real dark ages for sustainable fashion, if you wanted to be seen as stylish or sexy it was really hard. Now we're extremely spoilt for choice, innovation has accelerated greatly over the years" – Monika Poppy, Communications Expert and Sustainable Influencer
"One of the most exciting things that we're working towards is plastic free products where we're taking out the polyester in things like labels and embellishments so it's much easier to recycle" – Howard Williams, PUMA Director Global Innovations Apparel and Accessories
"We map the pre-consumer waste, we recycle and then we redistribute that recycled waste and we have found that the fashion industry can be 80% circular with the right investment" – Dana Schou, Global Fashion Agenda Director of Global Partnerships & Development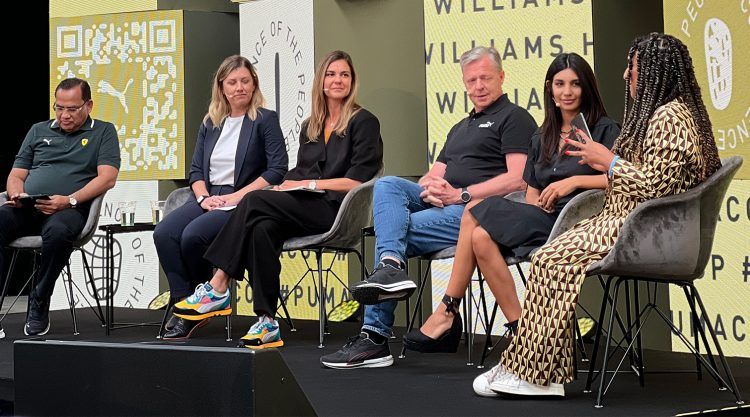 CONVERSATION 03: ECO-ANXIETY INTO ACTION
WHEN THE EARTHS ON FIRE, HOW DO YOU KEEP YOUR COOL?
Do you feel overwhelmed when you think about the scale of the climate crisis? You're not alone! Actress Naomie Harris OBE, filmmaker Jack Harries and presenter Ade Adepitan talked about channelling eco-anxiety into action. Get ready to feel calmed and empowered.
"This is a natural and normal response to what's going on with the planet (…) Everyone in this room has a particular skill that no one else has, and I encourage you to lend that to the movement" – Jack Harries Filmmaker, Broadcaster and Co-founder of Earthrise Studios
"It's man's disconnection from nature that has led us to this point and it's man's reconnection with nature that will help us solve it" – Naomie Harris, critically acclaimed Oscar, Golden Globe and BAFTA nominated actress
"What I look for when I go about this journey about turning anxiety into action, is knowledge. When I have that knowledge, I can begin to make the changes that are necessary" – Ade Adepitan MBE, TV Presenter, Paralympic Medalist, Journalist and Father
CONVERSATION 04: WOOD FOR THE TEES
WHERE ON EARTH ARE YOU WEARING?
We took a global look at how the industry can reduce its footprint. PUMA's Stefan Seidel was joined by Canopy, an NGO that is working to protect the world's forests and climate, start-up Infinited Fiber and long-term textile supply partner Lenzing to talk about the tech that exists right now, and the opportunities we can take advantage of.
"In order for the impact of the environment to be shared better, it's on the brands to communicate that message better" – Nadeem Perera, Co-Founder of Flock Together
"Re-designing supply chains is so critically important when it comes to climate action and addressing biodiversity" – Nicole Rycroft, Canopy Founder and Executive Director
"It's not fast enough and that's why we need to work together (…) because we need to accelerate the speed of the transition" – Stefan Seidel, PUMA Senior Head of Corporate Responsibility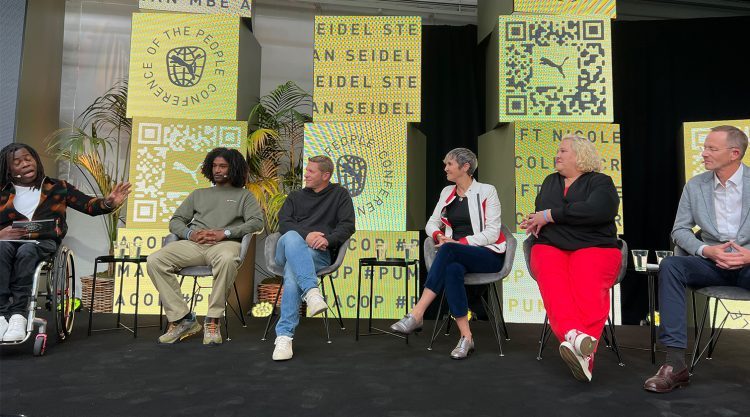 PERFORMANCE
Hit-making R&B artist Bellah joined us on stage. London-born and one of PUMA UK's ambassadors, she fuses nostalgic 2000s beats with crystal clear vocals to produce music that truly speaks to the soul. She represents the soundtrack of a generation.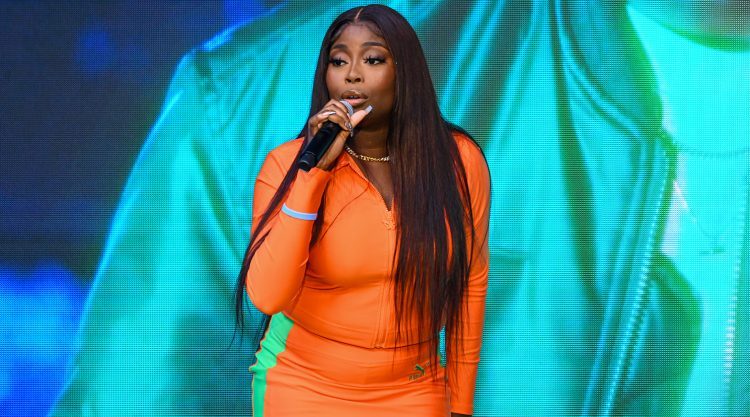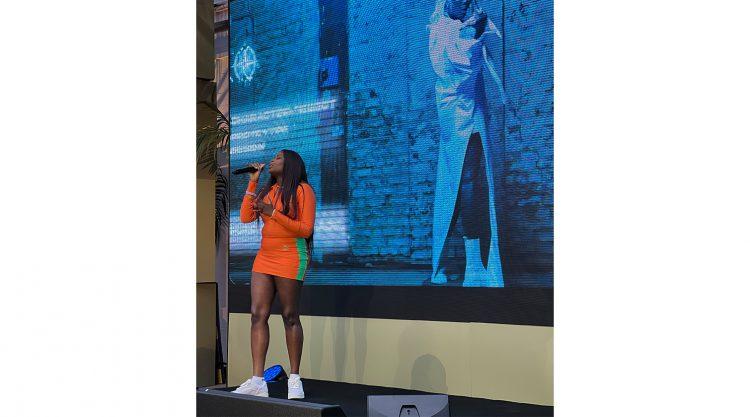 CONVERSATION 05: FOREVER BETTER
HOW DO WE DO BETTER TOGETHER?
It's the collaboration story we never share. The one where industry players know that if they act together, they can make more progress,faster. At PUMA, we're focused on better forever. This means decarbonised apparel and footwear industry, decent working conditions with fair wages and a motivated supply chain that sees sustainability as business and planet critical. We can achieve this – and more – if we collaborate. We've invited specialists who work across the fashion industry – peers, suppliers, NGOs – to help us identify the opportunities and scale true collaboration could have, not just on our industry,but our planet.
"There isn't one day as a CEO that sustainability, the environment and how we treat the planet isn't on the table" – Bjørn Gulden, PUMA CEO
"Like every young person here, I'm desperately looking at what to do, how to act. I think collaboration is a necessity, and survival strategy for businesses. It's an investment in the long term" – Alice Aedy, Documentary Photographer, Filmmaker and Co-founder of Earthrise Studios
"We're not talking about stopping competing as brands, we're still going to compete. But that isn't to say that at the back end of the businesses we're not working together. It's about how we work with our partners to unlock that" – Bjørn Gulden, PUMA CEO
"We're not going to be able to solve the climate change problem alone. The only way we're going to do that is by being cooperative. There's a huge amount of opportunity here" – Colin Browne, CEO Under Armour
"It isn't about sustainability yes or no, it's about how we can make a difference day to day." Bjørn Gulden, PUMA CEO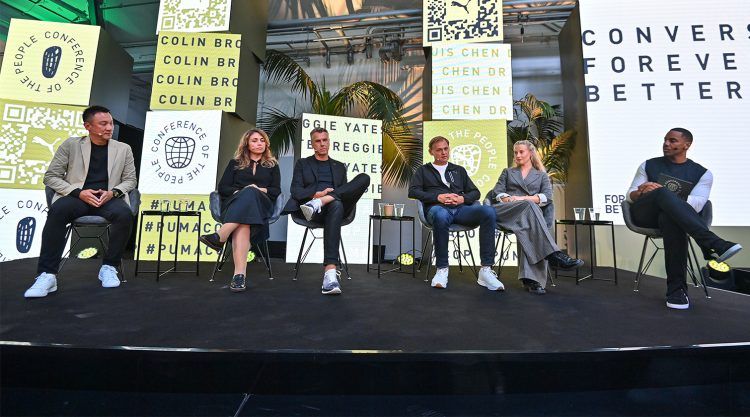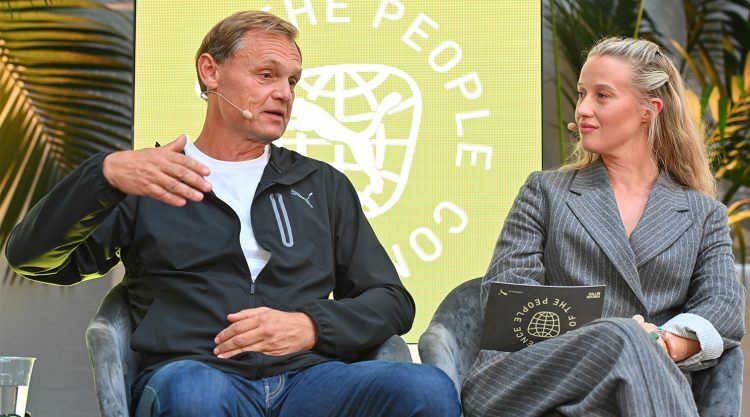 You missed #PUMACOP? Rewatch it here.