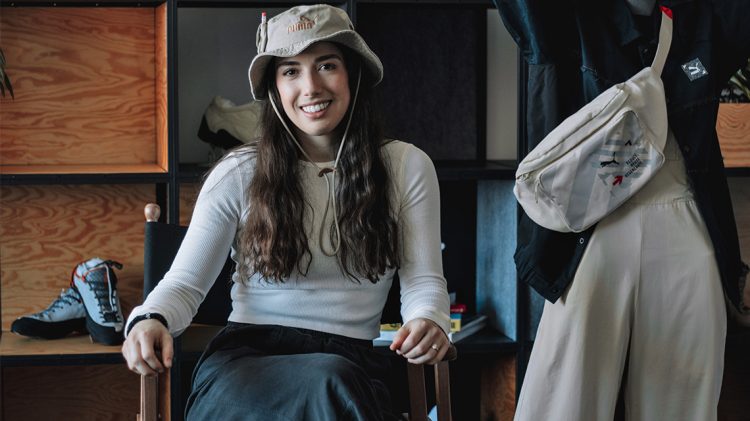 "Nothing feels the same,
every project is unique."
PUMA interview with Brooklyn-based upcycling artist and designer Nicole McLaughlin
May 4, 2022
PUMA interview with Brooklyn-based upcycling artist and designer Nicole McLaughlin
May 4, 2022
Reduce – reuse – recycle! This is a mission Nicole McLaughlin is trying to live to the fullest. We had the pleasure to welcome the New York-based designer at our PUMA headquarters this week. Nicole's art is all about upcycling and sustainable fashion. Whether it is transforming an old PUMA basketball into a pump up glove or a T7 tracksuit made of PUMA sample backpacks: The unexpected translation of materials allows Nicole to uniquely highlight the sustainability message to a wider audience. Her 788.000 followers on instagram would probably agree. CATch Up had a speed interview with Nicole to get to know her a bit better. She also talks about her unique work and style, her perception around waste and sustainable design, planned PUMA projects and her significant focus on workshops to help people realize the possibilities of pre-existing items.
View this post on Instagram
15 QUESTIONS IN TWO MINUTES!
SPEED INTERVIEW WITH NICOLE MC LAUGHLIN
Get Up or snooze?
Nicole: Get up!
Black or white?
Nicole: White.
Pizza or sushi?
Nicole: Pizza. That one is hard. Just for the record, it depends on the day.
Coffee or tea?
Nicole: Coffee.
Rock or Pop?
Nicole: Rock.
Mountains or seaside?
Nicole: Mountains.
Jay Z or Dua Lipa?
Nicole: This is too hard. Can we make it a tie?
Basketball or soccer?
Nicole: Basketball.
PUMA Suede or PUMA Mayze?
Nicole: Suede.
My favorite vintage piece is…
Nicole: PUMA rock climbing shoes. I am wearing a vintage pair today. I love climbing and went to a climbing gym close to Herzogenaurach yesterday.
My Go-To-Outfit is…

Nicole: a RE.GEN skirt. I wear that with a sweatshirt, styled with a sneaker. And a hat. That is very important and my "go-to". I wear pretty basic outfits, but then like to style it with a cool, crazy hat. Like today, I put a pencil in my hat, because you never know…
The best thing about NYC is…
Nicole: the people. The community.
Sustainability for me means…
Nicole: perseverance and problem solving.
Upcycling is a fine art because…
Nicole: you have to make people think that it's cool and exciting and the material is the medium for art. For me it is creating art using fabrics and shoes and clothes.
PUMA in three words?
Nicole: Iconic. Forward-thinking. Inclusive.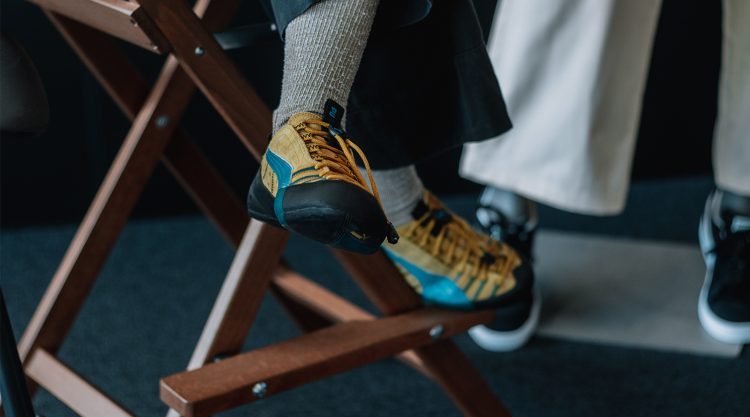 Asked about a specific moment when she realised she wanted to be a full-time artist, Nicole replies: "I realized there is so much stuff in the fashion industry that hasn´t really been claimed. There is a lot of potential and materials that is getting so easily discarded. I was having so much fun making things out of it. It was a realization that I could do this as a job. I can do this honestly forever and it is always different. Nothing feels the same, every project feels unique." If you look at her instagram channel, you can really feel the fun she must have during the creation process. The fun really translates through her work. "Sustainability is a tough topic and it's difficult for people to have hope when they think about it, especially within fashion. It is a huge contributor to waste. So, to show people that there is fun to be had and everyone can get involved. This is important to me." Nicole makes this fun sustainable fashion accessible to a wider audience.
Where does she take her inspiration from? "I know it sounds so cheesy, but I get it from everything. I think it's more about helping me to see the potential in everything. I can go for a walk in the city or in the forest and still be inspired by the materials and structures. I think it has helped me a lot to be more aware of my surroundings. It also helps you realise that you don't need as much as you think, especially to create something. I think that's cool and exciting. We tend to think that we need the perfect tools and machines to make fashion and art."
View this post on Instagram
During her stay at the PUMA HQ, Nicole also paid our PUMA Archive a visit. When she tells us about it, her eyes shine: "I was freaking out. It was my favorite. I think it is important to understand where the products came from to build new innovation. There are a lot of really fun and inspirational things in the archive." Nicole particularly liked all the PUMA water shoes and she wasn't aware of PUMA's history in ice skating "It was cool to see them and to learn more about PUMA's heritage in that field."
I her career going forward, Nicole would love to focus more on education. "I am looking at it as a personal exploration. I´d love to continue to excite people about upcycling and to show them how to get involved in it. My biggest dream would be to have a museum, where people could come and mess around, mostly kids. Where they can come and play and explore and learn more about upcycling in a fun way."
Education and having fun is important for Nicole. She also wants to convey this in the workshops she gives. Workshops with PUMA designers are also planned. "I really hope that the designers can go crazy and feel that there are no limits. Maybe I can help to inspire future designs somehow."