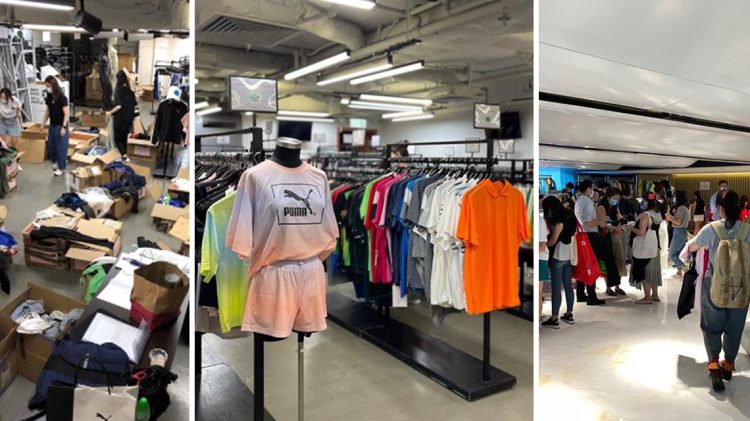 New life
for used
clothes
PUMA pilots Swop Shop project in Hong Kong
February 14, 2022
PUMA pilots Swop Shop project in Hong Kong
February 14, 2022
You have a track jacket you've worn once or twice but now it's gathering dust in your wardrobe? You fancy a new outfit but don't want to pay too much? Our team in Hong Kong has you covered! They held two Swop Shop events last summer to test out the appetite among PUMA consumers for sales events which extend the useful life of sportswear.
The recipe was simple: Over the course of two long weekends, customers would bring in their used but clean sports clothes to a PUMA Swop Shop, which was set up specifically for the project. If the items were in good condition, the customers received a voucher which they could use to buy other sportswear at the event. To make sure the first customers didn't stand in front of empty shelves, the Swop Shop was initially stocked with samples from PUMA's own production. Items that were brought in but could no longer be sold were donated to charity.
At the end of the event, the remaining stock was given to two NGOs, Redress and Crossroads. Volunteers who worked at the Swop Shops came from different departments of PUMA's Hong Kong operations.
"Thanks to our volunteers, the Swop Shop events were a success and there were many things we learned along the way," said Howard Williams, Director of Apparel Technology at PUMA. "We consider rolling out Swop Shops to other locations as well, in Asia and elsewhere."
Redress is an environmental charity based in Hong Kong, which aims to tackle textile waste. Crossroads provides aid in more than 90 countries and distributes quality goods, such as clothes, from Hong Kong to people in need around the world.
It is not the first time PUMA has worked with Crossroads. In 2019, Hong Kong customers could bring back their used items to a PUMA store, which were then also donated to the charity.
As part of its 10For25 targets, PUMA has committed to reduce waste in its production process and establish product take-back schemes in its major markets. Extending the life of clothes with initiatives such as Swop Shops could be one way to reduce waste.
Product initiatives which address textile waste include PUMA's RE.GEN Collection, which re-uses textile offcuts from our production process, and the biodegradability experiment RE:SUEDE.