The Deforestation-Free
Call to Action
PUMA has committed to sourcing deforestation-free leather
July 6, 2023
PUMA has committed to sourcing deforestation-free leather
July 6, 2023
Forever.Better. is not just a claim, it is our commitment. Therefore, we have committed to sourcing all the bovine leather used in our products from verified deforestation-free supply chains by 2030 or earlier. We have signed up for the
Deforestation-Free Call to Action for Leather
, launched by global non-profits Textile Exchange and Leather Working Group. 
The initiative aims to create equitable, transparent, and deforestation-free leather supply chains. The cross-sector initiative is aimed at galvanizing actions from brands to end the deforestation and conversion of natural ecosystems linked to leather sourcing. In doing so, it looks to protect wildlife habitats and biodiversity, preserve carbon stocks to mitigate climate change, and protect human rights.
Apparel supply chains are linked to soil degradation, conversion of natural ecosystems and waterway pollution. Most of the negative impact on biodiversity comes from three stages in the value chain: raw material production, material preparation and processing, and end of life.
"To mitigate the risk of biodiversity loss due to our production processes, PUMA addresses environmental pollution risk through our targets to increase the use of more sustainable materials and through our suppliers' program on climate, chemicals, water, and air. This deforestation-free commitment also directly supports one of PUMA's 10FOR25 sustainability targets dedicated to reducing our impact on biodiversity. To help the protection of endangered forests and species, PUMA also commits to not using any wood or wood-derived fabrics made from ancient and endangered forests,"
However, half of the leather used at PUMA is Suede, a byproduct of the full grain leather business. The challenge faced currently by PUMA and others in the industry is that most suede tanneries work with agents and intermediaries alongside direct tanneries, to guarantee a stable supply which creates a challenge to have full traceability at cattle ranch level.
PUMA x The Leather Working Group
100% of the leather that PUMA currently sources is from Leather Working Group certified tanneries. This means that the leather used in PUMA products comes from manufacturers who are working to implement industry good practice standards of environmental management and traceability. PUMA currently monitors its LWG (Leather Working Group) medal-rated tanneries' upstream traceability performance.
Traceability also takes center stage in our newest episode of the RE:GEN Reports.
Climate justice advocate Diandra Market interviews Vanessa Brain from the Leather Working Group on 'traceability' in the Leather Industry and what that means – only on RE:GEN REPORTS.
We look forward to collaborating with the industry, its leather supply chain, Textile Exchange, and the Leather Working Group to address the barriers and find solutions to be FOREVER.BETTER. together!
You want to hear more about the most burning questions about a more sustainable future of fashion?
Listen to our RE:GEN REPORTS, our podcast-series hosted by next-gen changemakers.
EP 01 / HUMAN RIGHTS
Join community organiser Anya Dillard on the RE:GEN REPORTS podcast as they speak with PUMA's, Viola Wan about the challenges garment workers face.
EP 02 / CHEMICALS
Tune into content creator Luke Jaque-Rodney and ZDHC's Klaas Nuttbohm discussing the future of chemicals in fashion – on our second episode of the RE:GEN REPORTS.
EP 03 / CIRCULARITY
Listen to fashion designer Andrew Burgess chat with PUMA's, Simon Hessel, about 'circularity' and PUMA's RE: FIBRE project – only on RE:GEN REPORTS.
EP 04 / FAIR WAGES
Human Rights Student Amina Shakeel talks to Shelly Han from the FLA on creating a fairer labour market in the global south – only on RE:GEN REPORTS.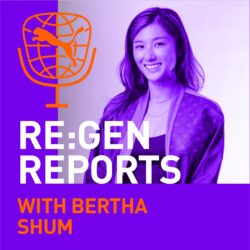 EP 05 / CLIMATE ACTION
Fashion Designer Bertha Shum is joined by UNFCCC's, Lindita Xhaferi-Salihu on RE:GEN REPORTS to discuss radical collaboration and climate change.
EP 06 / BIODIVERSITY
Eco activist Ripu Daman Bevli talks with Nicole Rycroft, of Canopy Planet on RE:GEN REPORTS on how fashion impacts our ancient forests' biodiversity.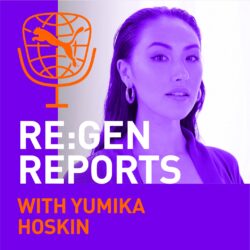 EP 07 / PLASTICS AND OCEANS
Founder of sustainable bag company (Peco) Yumika Hoskin joins PUMA's Jordan Eichenberger on RE:GEN REPORTS to discuss the use of plastic in the fashion industry.