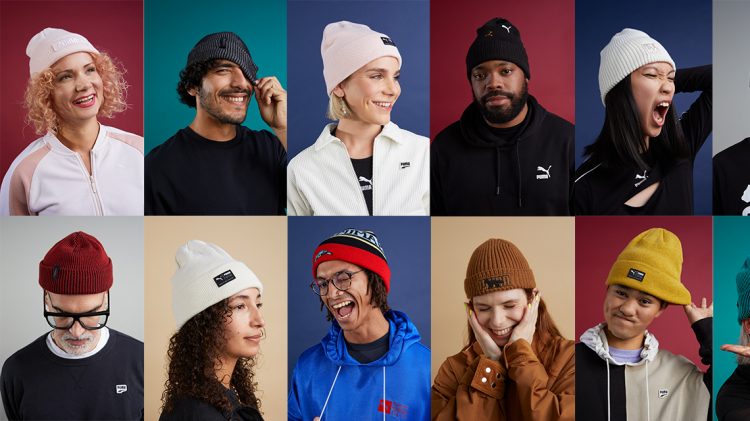 A hat
for every
head
PUMA´s new beanie campaign "A hat for every head"
October 14, 2021
PUMA´s new beanie campaign "A hat for every head"
October 14, 2021
PUMA employees are
fun, diverse and unique

. Just like our headwear! A beanie is one of those accessories that looks good on anyone. That's beautiful, if you ask us. Diversity and Inclusion are key components in our working culture and is expressed in our employer value

BE YOU

.To show this, we feature our very own employees in the

new beanie collection

. Each member of the PUMA Fam is different and brings something amazing to the team no matter their backgrounds. Only thing in common? They all look really good in a beanie. Don´t you think?

Take a look yourself

!
They rock the beanie! Check out the campaign lookbook which features 21 PUMAs and captures their uniqueness in a quirky, colorful portrait. During the photoshoot we asked some of the models and crew what diversity means to them. Learn more! Because YOU are what makes PUMA special.

Joshua rocking the Basketball Classic Cuff Beanie
Sara wears the ARCHIVE Heather Beanie
Diversity means including anyone regardless of their heritage, shape, color, religion, sexuality, background.
Elena presents the PUMA Classic Cuff Beanie
Hernan rocking the PRIME Rib Fisherman
Gregory and his CORE Fisherman Beanie
Natalia shows off her PUMA x MAISON KITSUNE FISHERMAN
Diversity for me means celebrating that we are all special and unique in our very different ways. The idea that we can all work together, be together, be friends, be colleagues and just interact with each other in different ways and respect each other's opinions - that's diversity for me.
Katharina shows us the Trend Beanie
Tung reveals the Archive Heather Beanie
James puts the spotlight on the ARCHIVE Heather Beanie
Polina and her Pom Beanie
Diversity for me means that everyone is represented - also advertisements & movies for instance, they need to be diverse.
Jalen wears the Trend Beanie
Simone presents the MAPF1 Beanie
Juliana put on the Infuse High Top Beanie
Rafael reveals the Prime Rib Fisherman
Diversity is accepting yourself and accepting the others. Treat the others and interact with the others like you want to be treated or interacted with.
Adrian presents the Active Slouchy Cuffless Beanie
Lien rocking the PUMA Classic Cuff Beanie
Taylor wears the ARCHIVE Heather Beanie
Rami and his ARCHIVE Heather Beanie
Jeanne reveals the Pom Beanie
A perfect match! Valentina and her ARCHIVE Heather Beanie
FROM OUR FAM TO YOURS
The new PUMA Beanie Collection is available now.